Opinion: Central American asylum seekers are still fleeing persecution – they're heading south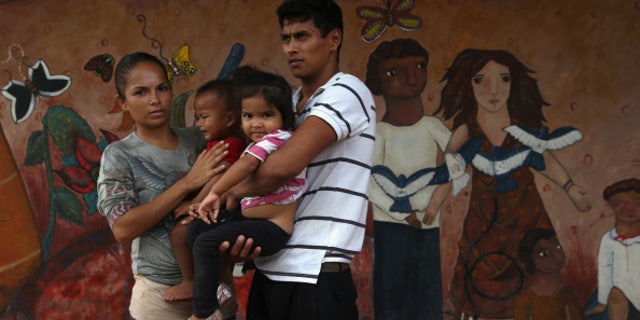 NEWYou can now listen to Fox News articles!
Panama has long been a country of refuge for asylum seekers in Latin America. For decades, Colombians have been coming north to Panama to escape persecution.
While most of the refugees currently arriving in Panama are Colombian, the country has recently seen an increase in asylum seekers from the volatile "northern triangle" of Central America – the countries of El Salvador, Guatemala, and Honduras. The increase of asylum seekers from the northern triangle has coincided with a decrease in the number of asylum seekers reaching the United States.
The U.S. should support the Panamanian government to make reforms to their system in order to better assist asylum seekers and to provide services to asylum seekers and refugees
Since January, 1,600 people have filed asylum claims in Panama. By comparison, there were 1,800 claims filed during all of 2014. Despite a long history as a country of refuge, the asylum system in Panama is under-resourced and cannot keep up with the volume of asylum claims. The country does not allow asylum seekers to work and struggles to provide support for asylum seekers in the country.
Asylum seekers from Central America are mostly families — many are parents traveling with children. They come to Panama because it is simply unsafe for their children in their home countries.
When I visited Panama this spring, I spoke with a number of asylum seekers. One Salvadoran family I met – a mother, father, and two pre-teen sons – left El Salvador last summer. Their daughter had become the girlfriend of a gang member. When the parents tried to intervene, the gang threatened them with death. When gang members said they would be going after their sons, the family felt they had no choice but to leave the country, as there is no safe place to hide from the gangs in El Salvador.
Before their daughter became involved with the gang member, both parents had been working and their children were good students. They fled to Panama because they knew they had to choose their safety over their job security. Ultimately, the parents left with their sons, though they had to leave their daughter behind. They were told she had been beaten, and though they desperately tried to find her, they were unsuccessful.
A year and a half after last seeing her, and after they arrived in Panama, they finally heard from her. They are working to have her join the rest of the family in Panama.
Another asylum seeker I met, this one from Honduras, said that entire neighborhoods in San Pedro Sula, one of the most dangerous cities on earth, have been abandoned because of the extortion by the gangs against families. In El Salvador, asylum seekers have told refugee aid workers that pregnant women will leave their neighborhoods to give birth elsewhere because babies are claimed by gangs at birth. Boys as young as four are marked by having gang-related stripes shaved into their haircuts.
Because El Salvador is so small and so completely controlled by gangs that have infiltrated the police throughout the country, there is no place in the country where people can go to be safe.
Most of the refugees arriving from Central America wish to remain in Panama. They feel safe in Panama. There is work (for those who are ultimately granted asylum), and there are schools for their children.
However, asylum seekers in Panama face a number of challenges. First, the Panamanian government lacks the capacity to process asylum claims quickly or efficiently. Despite a commitment and some steps by government officials to improve procedures and transparency, asylum seekers report long waits, poor treatment, and a lack of information. A preliminary screening process screens most asylum seekers out of the asylum process without a full examination of the case, and even those that are allowed to pursue their claims rarely have their cases granted.
Asylum seekers are prohibited from working in Panama. In Panama City, where most reside, they report harassment by the police and are subject to large fines for working without authorization in jobs such as construction and small-scale vending. With the asylum process taking several years, it is very difficult for people to support themselves while waiting for a decision on their cases. While some international organizations provide legal services, there is not enough to meet the growing need.
In addition, discrimination is a serious problem for asylum seekers. Some legislators are openly anti-immigrant. This has contributed atmosphere of mistrust and fear of asylum seekers and has made it difficult even for those granted refugee status to integrate into Panamanian society.
Now is the time for the United States and the international community to support Panama.
The United States and Mexico have made it very difficult for refugees to flee north from Central America. The U.S. should immediately reverse course and ensure that its policies in the region do not keep those who are persecuted from fleeing or applying for asylum.
At the same time, the U.S. should support the Panamanian government to make reforms to their system in order to better assist asylum seekers and to provide services to asylum seekers and refugees. Central Americans who cannot remain safely in their countries must be helped in their journey to find safety somewhere.