Meet the new face of immigration reform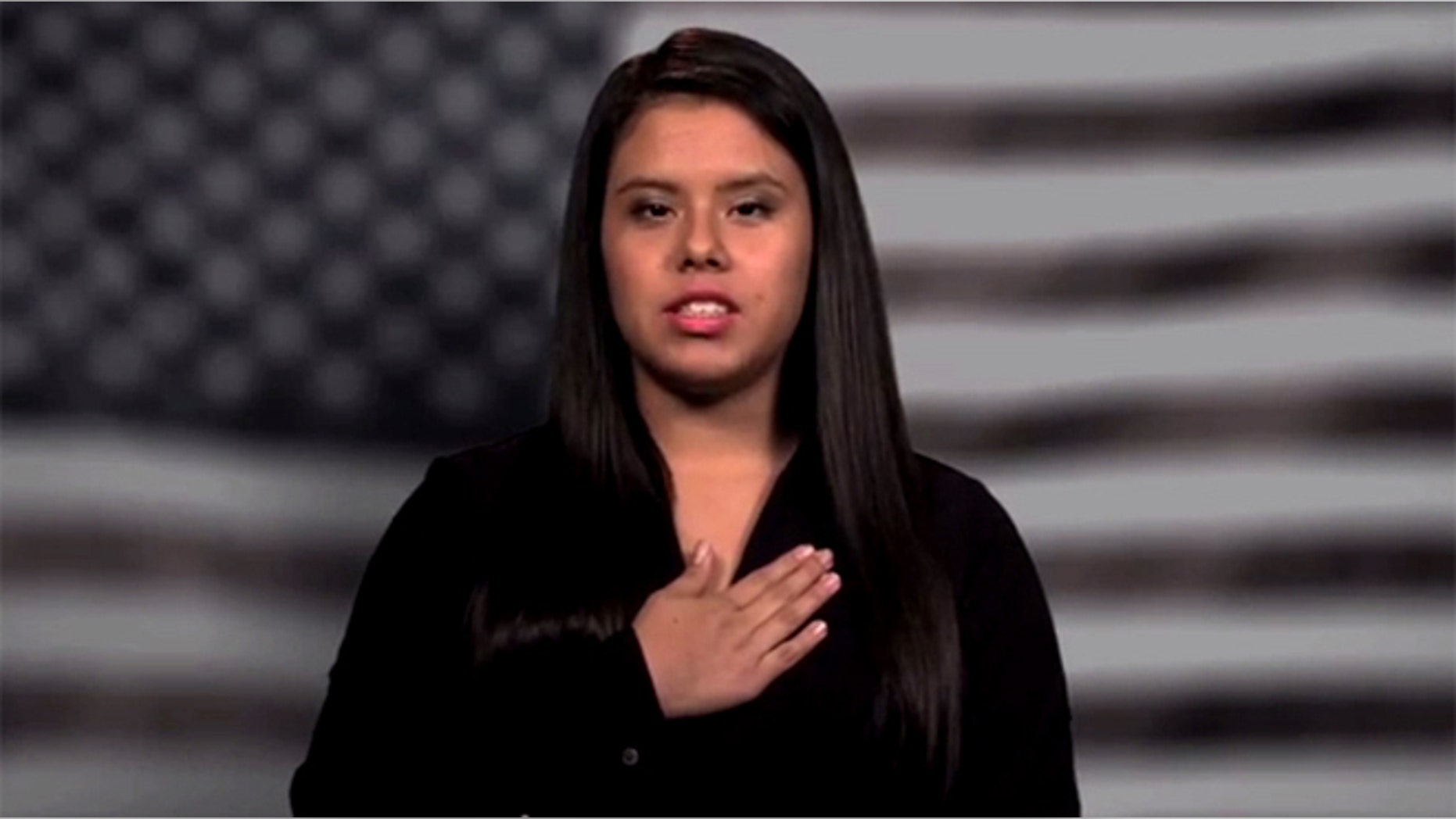 Adriana Garcia, 21, is about to become a very unusual poster girl for immigration reform.
Beginning this week Ms. Garcia and the American flag appear in an on-line advertisement for immigration reform called "The Pledge."
Garcia is one of more than a dozen undocumented young people appearing in the advertisement and holding up their hands as they say the pledge of allegiance to the U.S. flag.
Since she left Mexico and arrived in Arizona at age 10 Ms. Garcia has put her hand over heart every day in school and pledged allegiance "to the flag of the United States of America and to the republic for which it stands, one nation under God, indivisible with liberty and justice for all."
Garcia is not a U.S. citizen. The only reason she can show her face without fear of trouble is because President Obama ordered federal immigration authorities not to deport "Dreamers," high school and college students who lack legal immigration status.
She calls the U.S. her country and she calls the American flag her flag.
But her American identity has no legal standing. Her parents, who have been in Arizona since the early 1990s, don't have any legal status at all.
None of the other young people in the on-line advertisements are American citizens. But all of them grew up in the U.S. happily pledging their oath to the red, white and blue flag of a country they call home.
But they have been ignored failed to move immigration reform under President Bush, a Republican, and President Obama, a Democrat.
Garcia, a junior marketing major at Grand Canyon State University who worked as a congressional intern this year, agreed to appear in the advertisement to reach out to American citizens and ask them to insist Congress take immediate action on reforming the immigration broken immigration system.
The symbol in the ad is an open hand of the kind lift to their hearts when they recite the pledge of allegiance.
"The immigration rights movement doesn't have a symbol," said Jose Antonio Vargas, another undocumented immigrant who has been saying the pledge of allegiance since he was 12. Now 32 he has written for several American newspapers, won a Pulitzer Prize, and founded the pro-immigration reform group 'Define American.' His feature length documentary on his life as a child without citizenship papers will debut on television next year.
But he still lacks citizenship.
"We want the symbol of the pledge hand to unify U.S. citizens and undocumented people in the fight for immigration reform," said Vargas. "Looking at American history we know that in the civil rights movement, the women's movement, and the gay rights movement it was crucial to attract allies from all parts of American life. Those movements took off when everyone got involved."
Garcia, a Girl Scout, has two sisters, 13 and 9, who are citizens because they were born in the U.S.
"I hope people who don't feel involved with immigration reform take a look at the video and see themselves in a group of all-around American young people who say the pledge but don't have citizenship," said Garcia. "If they get involved it will strengthen the movement."
The only hope remaining for the immigration reform movement is that the House of Representatives will take up the issue in early 2014 before mid-term elections. The Senate passed an immigration bill last summer but the House has taken no action.
Once 2014 primary campaigns begin in Republican congressional districts it will be difficult, if not impossible, for Republican Congressmen to support any reforms without fear of being attacked by GOP primary opponents as soft on criminals.
But this Christmas the happy, welcome symbol of an open hand  -- ready to pledge allegiance with other Americans – is Ms. Garcia's gift to efforts to bring all Americans together and get the House to finally to take action on immigration reform.