Liz Peek: Is Trump-hater Michael Avenatti ready to run for president? His left-media allies certainly hope so!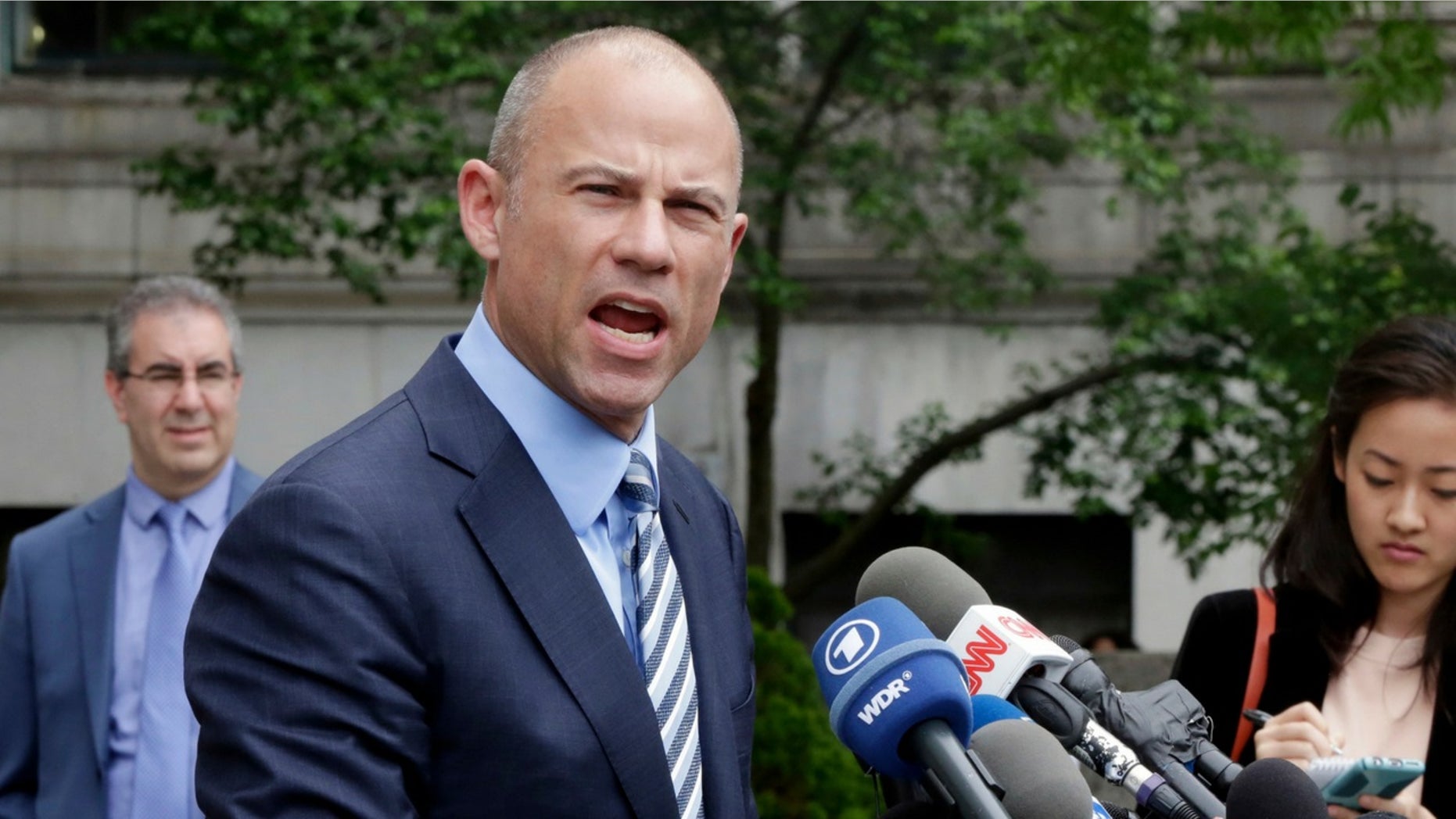 Michael Avenatti is itching to run for president. On Friday he spoke at the Democratic Wing Ding dinner in Iowa, an appropriate setting and a rite of passage for presidential wannabes.
"Michael who?" you might ask – if you've been touring the outback for the past six months. Otherwise, you can't have escaped Avenatti, who's become a non-stop self-promoting cable news jockey and pugnacious scourge of President Trump.
The legal blowhard has made it his life's work to bring Trump down, adopting the president's own tactics of hardball tweeting and take-no-prisoners public combat.
That's Avenatti's platform – dethroning President Trump. Unhappily for the nation, that's all he needs to lock in left-wing backing.
In his maiden political speech, Avenatti repudiated Michelle Obama's tactic of "when they go low, we go high." Instead, he embraced a strategy of "when they go low, I say hit back harder." The audience, devout anti-Trumpers, cheered.
Avenatti slithered onto the national scene representing Stormy Daniels (real name: Stephanie Clifford), a porn star who wanted to escape a nondisclosure agreement she signed with representatives of Donald Trump before he became president.
Daniels claims to have been "coerced" into signing that agreement, under which she was paid $130,000. Avenatti argues the agreement is invalid, since Trump did not personally ink the document.
Avenatti filed suit against the president and his then-lawyer Michael Cohen in March. Since the nondisclosure pact covers a supposed one-night stand that took place 12 years ago, you might wonder why anyone cares.
Daniels may care because at some point she probably realized her story could be worth a whole lot more than she received for the nondisclosure agreement. Also, because of the media frenzy fed by Avenatti, her earning power, according to industry insiders, has gone through the roof.
Avenatti's platform is dethroning President Trump – and, unhappily for the nation, that's all he needs to lock in left-wing backing.
Avenatti cares because teaming up with Daniels has brought him long-sought attention.
And Democrats care because Avenatti, in partnership with the liberal media, hopes the case will reveal that in 2016 Trump participated in violating campaign finance laws – and that it will ultimately end his presidency.
The raid on Michael Cohen's office, Avenatti claims, will provide the evidence. In a news conference in May, he boasted: "Just like the Nixon tapes years ago, we now have what I will refer to as the 'Trump tapes.'"
Desperate Democrats have no idea how to undermine President Trump's astonishing standing with core voters. They may consequently overlook Avenatti's obvious deficiencies, including his sparse political resume.
For all the happy talk of restoring "civility" to our political discourse, many may be spoiling for a gutter fight and willing to embrace someone they think is brash enough to take on and defeat the president.
A New York Times Magazine piece about the showboating lawyer said that by early July, after teaming up with Stormy Daniels, he had scored more than 200 interviews with cable and network TV shows, becoming a fixture with left-wing hosts like Lawrence O'Donnell on MSNBC and Anderson Cooper on CNN.
With the Times reporter looking on, Avenatti prepared for yet another CNN hit by chatting privately with a "grinning" CNN President Jeff Zucker.
With the liberal media in his pocket, Avenatti is not alone in this fight, but he is new to it. Despite making a practice (literally) of taking on high-profile cases, including clashes with celebrities like Jim Carey and Paris Hilton, Avenatti is new to the national scene.
In February, as the Times pointed out, the publicity hound had only 500 Twitter followers. Today he has 676,000.
Avenatti is also new to the spotlight. As his publicity tour (as one New York judge called it) exploded, his warts have become public. He has had to fend off inquiries about the bankruptcy of his former firm, along with his numerous fights with ex-partners, ex-clients and ex-wives.
In June The Wall Street Journal  noted: "In the past year alone, more than a dozen creditors … have gone to court to collect millions of dollars more in debts they allege are owed them by Mr. Avenatti, his law practice or his corporate entities."
The Daily Caller wrote  about Avenatti's "questionable" past, which included a coffee company's claim that Avenatti had stiffed it on $160,000 in supplies. Avenatti went full pit bull about the story, threatening to sue, but soon thereafter apparently paid off the vendor.
Avenatti now wants to take on President Trump not only in the courts (he has so far filed three lawsuits against the president) or in the court of public opinion, but on the campaign trail as well.
Avenatti's platform is, primarily, that he hates Donald Trump, which is only modestly less vapid than the platforms of numerous other Democrat hopefuls. It is also propelled by his belief that only someone with the equivalent of media martial arts training has a prayer against the president.
In talking about his possible presidential candidacy, Avenatti said to reporters in Iowa: "I think there's a huge appetite within the party for a fighter. I think the party has yearned for a fighter – a fighter for good, if you will – for a significant period of time. And for many, I'm probably seen as that individual."
I'd love to see the list of those "many" who are yearning for Avenatti to run. I doubt it includes former Democratic Vice President Joe Biden or Democratic Senators Cory Booker of New Jersey, Kamala Harris of California, Liz Warren of Massachusetts, Kirtsten Gillibrand of New York, or the other gazillion liberal Democrats hoping to challenge President Trump in 2020.
Those folks, just like some who skipped out of the Iowa fundraiser apparently offended by Avenatti's participation, may doubt his comment to the Des Moines Register that "I would never think to come to Iowa in order to use the state or the people of the state to raise my profile."
We doubt it, bigly.