Lindsey Graham and other highlights from the first Reagan Library debate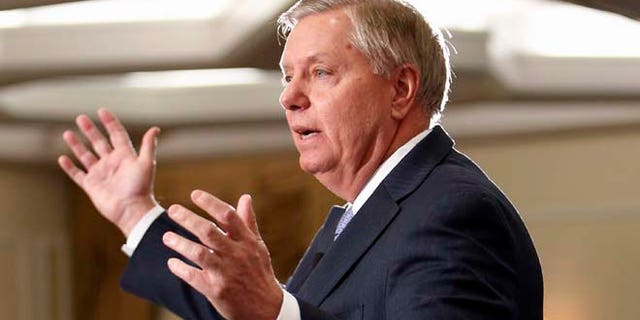 NEWYou can now listen to Fox News articles!
Before the main event at the Reagan Presidential Library, there was the "kiddie table" debate featuring the four Republican presidential hopefuls who couldn't meet CNN's polling criteria for the prime time gathering.
If you were stuck in rush-hour traffic (happens all the time at Dodgers' games, where fans don't arrive until an hour after the national anthem), here's what you missed in the conversation involving South Carolina Sen. Lindsey Graham, Louisiana Sen. Bobby Jindal, former New York Gov. George Pataki and former Pennsylvania Sen. Rick Santorum.
First, these are four gentlemen who each sports an impressive record as a public servant. Yet barring the unexpected – i.e., several of the 11 prime-time debaters crashing to earth – their candidacies seemed doomed.
Graham may be more Rambo on military intervention than most Americans would prefer, but he doesn't pull his punches.
You can chalk it up to crowded spaces (too many current ands former governor and senators in the field), over-fished constituencies (social and religious conservatives) and only so much hard and soft money to go around.
As in any debate, we insist upon a winner. The choice here: Graham.
Here's why:
1. He passed the so-called "beer test" – the candidate with whom you'd like to have a cold one and a conservation. Graham was down-home funny (invoking the late Strom Thurmond's fertility as an economic yardstick was brilliant, though not the greatest of visuals).
2. He also gave the most pragmatic answers on immigration, foreign policy and economics. Graham may be more Rambo on military intervention than most Americans would prefer, but he doesn't pull his punches.
3. The other three candidates spent too much time in the realm of unreality. Flat taxes and closing all loopholes are lovely notions, as is defying Supreme Court ruling, but they simply will never fly. Add to that: too much telegraphing: Santorum, for example, mentioning his opposition to partial-birth abortion in what obviously was a lifeline to the same Iowa caucus-goers who catapulted him to a win there in 2012.
Where does this leave these four? Expect a lot of chatter about Jindal being the second candidate to leave the race.
As for Graham: given his Air Force background, let's call it "a wing and a prayer" strategy. If any of the prime time candidates fold, maybe he gets folded into future main events. Which means a chance to shine again – and maybe a nice consolation prize after the election.
Secretary of Defense Graham?