John Fund: Mr. Trump, the GDP number looks great! Now, let's do this for Trumponomics' next act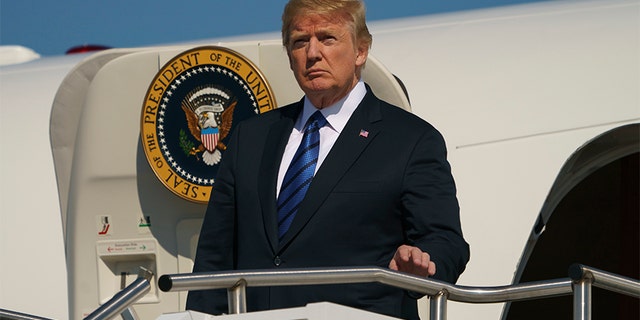 NEWYou can now listen to Fox News articles!
This week's Wall Street Journal/NBC News poll found 50 percent of those surveyed back President Trump's handling of the economy. That number may rise with Friday's news that U.S. gross domestic product (GDP) soared in the second quarter of this year by 4.1 percent.
That kind of growth makes it almost certain the country will see more than a 3 percent rate economic growth this year – the first time that's happened since before the financial crisis of 2008. That will prompt President Trump and other supporters of the 2017 tax cut bill to claim that the tax cut the president signed into law ushered in a new era of prosperity.
The growth being produced by the tax cut is bringing in more revenues. Dan Clifton of Strategas Research Partners calculates using estimates by the Congressional Budget Office that the tax cut has already paid for about 30 percent of its static revenue losses.
Sen. David Perdue, a Georgia Republican, told reporters Thursday that "the "pullback of regulations – the energy work that we did, the tax work and the Dodd-Frank" reforms of financial regulations have all helped propel economic growth.
Kevin Hassett, the chair of the president's Council of Economic Advisers, says the contrast with pre-Trump economic results is clear. The country is in the midst of a building boom, with investment in structures up 16 percent from 2017. Total business fixed investment has increased 10 percent, up from 6 percent last year.
Most importantly, real disposable income has increased by 3 percent this year following last year's gain of 2.3 percent. Many American families are seeing the first real increases in take-home pay in over a decade.
Democrats are likely to gather around tubs of sour grapes with the release of the good economic good news.
After all, Senate Majority Leader Chuck Schumer, D-N.Y., stood on the Senate floor last January before President Trump's State of the Union message to declare: "Here are two words we will not hear President Trump say tonight about the economy – 'Thanks, Obama!' – because much of the growth in 2017 was created by President Obama's policies and, by many measures, the growth under President Obama was better than under President Trump."
Expect Schumer and his allies to point to rising gasoline and health-care costs to put a damper on the economic growth numbers.
Supporters of Trump economic policies acknowledge the economy faces challenges, including higher interest rates that will boost federal debt payments and runaway entitlement programs. But they say the way to address those is to push for more tax and regulatory reform to further boost growth.
"After the JFK tax cuts we routinely saw 6 percent growth in the 1960s, with a stable dollar and low inflation. In the 1980s, Reagan delivered quarters with 8 percent growth, even as inflation fell," says Stephen Moore of the Heritage Foundation.
"Trump's policies have produced the best of all economic worlds – surging growth and employment, with little inflation and a rising dollar." Moore added. "The sports truism applies here: Never, ever change a winning strategy."
So what should be the Second Act of Trumponomics to keep the economic expansion going?
First, Congress should make the 2017 tax cuts permanent, giving even more assurance to businesses that economic policy will be stable. Congress should also revisit efforts to reshape ObamaCare to help rein in rising health care costs.
But an even bolder approach would be for the White House to initiate a capital gains tax cut that wouldn't require endless wrangling with a polarized Congress.
Using an executive order to eliminate the tax on inflationary capital gains makes sense on the grounds of both growth and fairness. Back in the 1980s, President Reagan included in his tax reform the indexing of much of the federal tax code for inflation, so wage earners wouldn't be automatically bumped into higher tax brackets.
Larry Kudlow, who is now President Trump's director of the National Economic Council, was the deputy director of the Office of Management and Budget in the Reagan administration. He notes that the horse-trading that led to the omission of capital gains indexation from the Reagan program "has bedeviled economists who consider it bad policy to levy a tax on inflationary gains."
Kudlow laid out an example of what he meant in a CNBC column last August: "You invest $1,000 and, after ten years, you sell that investment for $1,200. But if inflation averaged 2.5 percent in that period, the $1,200 you receive will be worth less in real terms than the $1,000 you invested. And yet, under current law, you will pay a tax on your $200 capital gain."
In other words, the capital gains tax paid on such investments can easily exceed 100 percent once inflation is factored in.
Former Treasury Department economist Gary Robbins has calculated that about one-fourth of capital gains revenue stems from taxing inflationary gains. Indexing all parts of the tax code to inflation would end that disparity, while also unleashing economic growth.
Kudlow has quoted Robbins' prediction that indexing capital gains for inflation starting last year would, by 2025, create an additional 400,000 jobs and boost our gross domestic product by roughly $500 billion. That would translate into an additional $3,600 for the average American household.
So far, the Trump administration is being cagey about the prospects of issuing such a bold executive order. Treasury Secretary Steve Mnuchin told reporters last month that if efforts to extend and expand the 2017 tax cuts stall in Congress "we will go back to the drawing board and decide whether we want to consider this on a nonlegislative basis."
The good news is that the economy is growing. The sobering news is that the current economic expansion has been going on for nearly a decade. By normal standards, we are due for a recession.
The way to keep the current economic growth going is through even more fundamental reform of the U.S. tax code and regulations. That's why while members of Team Trump bask in the rosy glow of Friday's economic numbers they can't waste any time figuring out what they are going to do for an encore.