In Venezuela, Every Vote Counts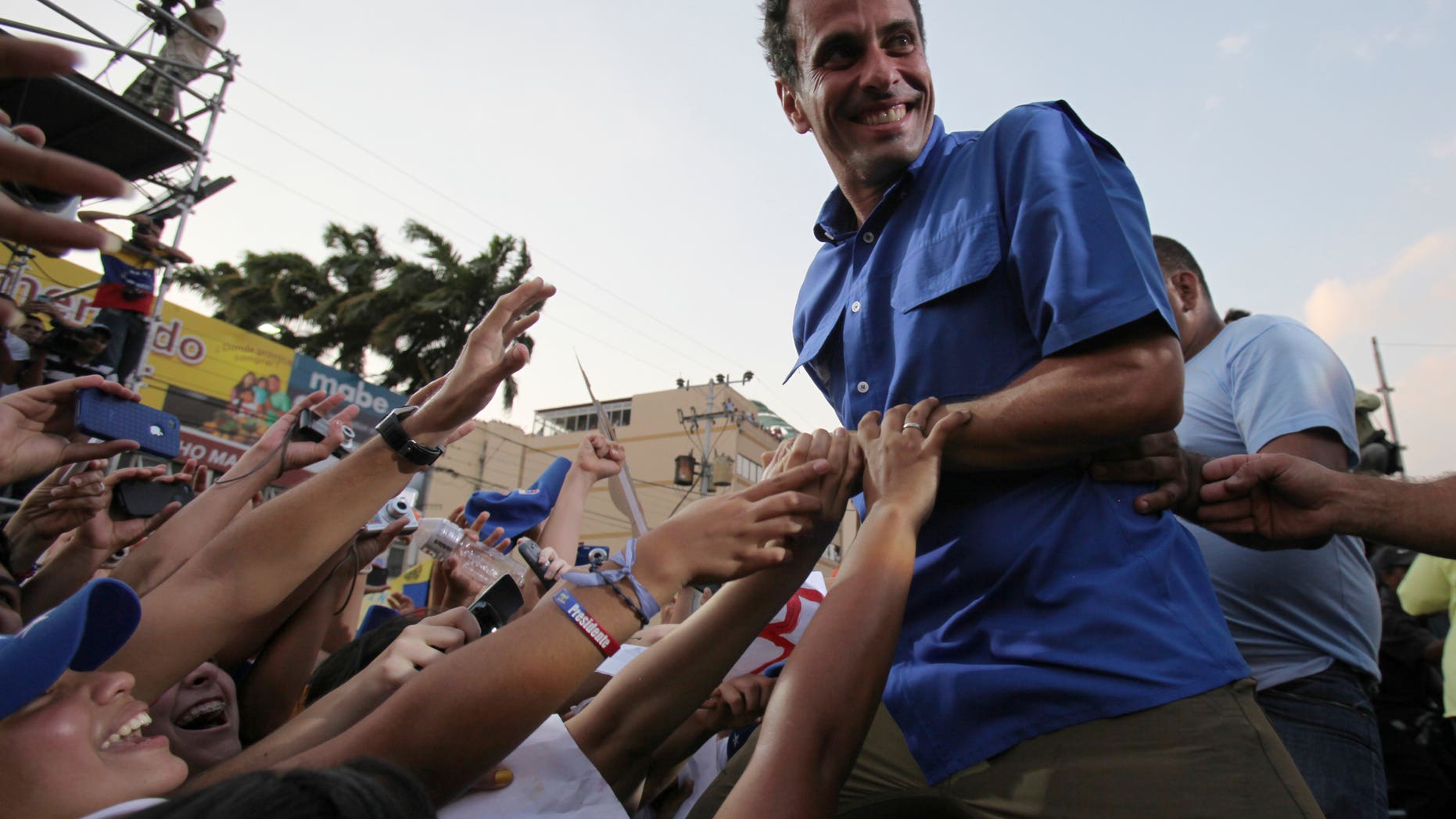 As we approach this Sunday's presidential election in Venezuela, there is a new spirit lifting the campaign of opposition leader Henrique Capriles Radonski.
Millions of Venezuelans who felt alienated during the Hugo Chávez era are now daring to think what was, in the weeks following Chávez's death, quite unthinkable: that we can win.
Capriles is setting the agenda for debate, and this is driving Maduro and his regime cronies to desperate, increasingly crazy rhetoric. They drag out Chávez's ghost at every opportunity.
That belief was on tangible display at last Sunday's opposition rally in Caracas. With hundreds of thousands of people in attendance, it was one of the largest demonstrations in the history of our capital. The mood was determined, but also joyful. People chanted, sang and laughed together beneath the sweltering sun. It was as if the great moments of recent world history – the triumphs during the American civil rights struggle, the defeat of apartheid in South Africa, the peoples' revolutions against communism in eastern Europe, the overthrow of corrupt Arab dictatorships – all coalesced in our little corner of the globe.
What makes this development even more extraordinary is the fact that this Sunday's presidential election is the second in just over six months. Last October, Capriles was also the opposition candidate, and he acquitted himself well against the domineering Chávez, whose victory was in part down to his success in persuading much of the electorate that he'd been cured from the cancer that felled him before taking office for his new term.
This time around, Capriles faces the dour, uninspiring Nicolás Maduro, the handpicked successor of Chávez. Many advantages that favored Chávez electorally are also stacked in Maduro's favor: absolute control over state-run media, influence over millions of poorer voters who have benefited from the corrupt and arbitrary social development programs launched by Chávez, and the overwhelming presence of his political allies in both the Venezuelan judiciary and the National Electoral Council, or CNE.
One might have expected – especially when this last point is taken into account, and when you remember that the opposition has had only a few weeks to prepare for the vote – that the Capriles campaign would have resigned itself to a defeat before the polls even opened. And indeed, many loyal opposition members have argued that we would be better off boycotting elections that we could not win, because the regime seems determined to pull off a victory by means both fair and foul.
That argument was and remains wrong — in my view, dangerously so. If we are to fulfill the promise that was manifested on the streets of Caracas, we need to argue the reverse: that every vote counts.
Capriles is setting the agenda for debate, and this is driving Maduro and his regime cronies to desperate, increasingly crazy rhetoric. They drag out Chávez's ghost at every opportunity. They abuse Capriles and his supporters as "Nazis" and "faggots." They see American plots behind every political development (Maduro has claimed that the U.S. backed the gang of pro-Chavez motorcycle bullies that viciously attacked a group of unarmed students carrying out a peaceful demonstration in Altamira Square!)
This is not the behavior of a party that is convinced it will win. It is the behavior of a regime mired in the past, and one that relies on paranoia and threats, rather than reason and persuasion, to get its message across.
In addition, the nation's catastrophic economic situation, symbolized by two currency devaluations in quick succession, stagnation in wages, and a 10 per cent surge in inflation since Maduro took over, could well mean that hundreds of thousands of voters who might have voted for the regime will abstain. Signs are sprouting up around Venezuela: "With Chávez, everything; with Maduro, nothing".
If the final result does hinge on abstentions, then Capriles needs everyone who can cast a vote for him to do exactly that. And that means not just Venezuelans living in the country, but those outside — including the more than 200,000 qualified voters currently living in the United States and other countries.
Like many countries stunted by political tyranny, Venezuela experienced something of a "brain drain" during the Chávez years, with young people especially driven abroad because of rising crime and lack of opportunity. During last October's election, many of the 1.2 million Venezuelans living around the world, from Houston, Texas, to Madrid, Spain, descended on their local consulates to cast their votes, the vast majority opting for the opposition.
In some major expatriate centers, voting isn't possible because the regime has closed its diplomatic offices in these locations, partly to prevent émigrés from exercising their right to vote – Miami, where Chávez closed the Venezuelan consulate in the summer of 2012, and which is home to well over half of the Venezuelans domiciled in America, is the most infamous example.
But in other cities, overseas voting is possible. That is why those of us who continue struggling inside our country and are working overtime to bring the Chavez era to an end, urge our brothers and sisters abroad to do everything they can to bring about a free Venezuela.
Electoral defeat is still a serious possibility. But Venezuela's vocation for democracy and voting is one of the barriers that prevented Chávez and his cronies from imposing a full-fledged dictatorship for the past 14 years. Should Maduro win, we will face several more years of political and economic decay, and an increased trend toward political repression. That's why we must seize the moment — and the moment is now.