Hey kids, how much privilege do you have? Quiz riles Florida parents
Kids at Monroe Middle School in Florida got a lesson on privilege the other day – in their Spanish class.
"How much privilege do you have?" That was the name of the survey administered to seventh and eighth grade students.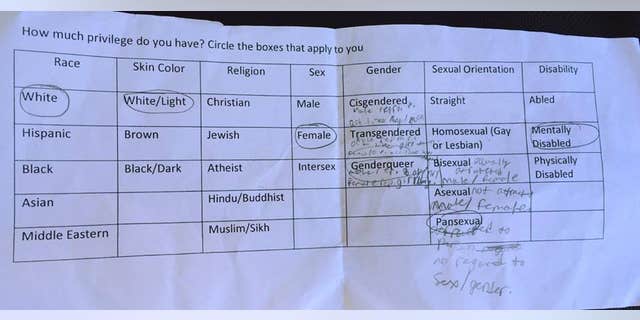 Click here to join Todd's American Dispatch – a must-read for Conservatives!
It wasn't quite as bad as the white-shaming exercises we've seen on university campuses and in the Armed Forces. But it was certainly inappropriate for a bunch of 12, 13 and 14-year-olds.
The youngsters were asked about religion and skin color and sexual orientation. The teacher wanted to know if the children identified as straight, homosexual, bisexual, asexual or pansexual.
They were also queried on their gender. They had to choose between transgender, cisgender or gender queer.
Sweet Lord Almighty! Don't even get me started, folks.
Let's just say the Spanish teacher's lesson got lost in translation. A number of moms and dads were mucho-angry that their kids were asked such probing questions --- in a Spanish class.
"Her sexuality has nothing to do with school," parent Regina Stile told television station WTSP.
And Hillsborough County Schools wholeheartedly agrees with the outraged parents.
Spokesperson Tayna Arja tells me the teacher has been removed from the classroom pending the outcome of a district investigation.
"We expect our teachers to create a safe learning environment for our students and this assignment could put students in an uncomfortable position or could compromise a safe environment for them," Arja told me.
The school district says the privilege lesson was not approved or appropriate for the students.
"This was a teacher-generated assignment without any type of principal approval," the spokesperson said. "It's absolutely something we would not want our teachers to use."
To make matters worse, at least one of the parents had to explain what some of the terms meant.
"She's twelve. Some of these things should be taught at home," Stile told the television station.
It's a bell that can't be un-rung, as they say.
And it's still unclear why the Spanish teacher wanted to know how much privilege her students had.
"The teacher says she was discussing inequality in pieces of literature and was using this to further the discussion," Arja said.
Tolerance, meet diversity.
It's a classic episode of how a public school classroom has been turned into a social engineering petri dish.
It's muy loco, amigos. Muy loco.