God bless the thin blue line
NEWYou can now listen to Fox News articles!
Thank God Capitol Police were on scene when the deranged man began his shooting spree aimed at GOP congressmen and senators. It's clear the courageous police officers on the scene prevented a tragedy of epic proportions. Those GOP members of Congress were sitting ducks. Without brave police there, wiling to lay down their lives in the line of duty, it would have been a massacre.
But this was no anomaly. The police protect and serve every day, in every corner of our country.
Take my hometown of Las Vegas.
Last weekend, Vegas was home to one of the great positive stories in the media this year. It was Saturday's graduation of Las Vegas high school senior Daxton Alyn Beck, the son of slain Las Vegas police officer Alyn Beck.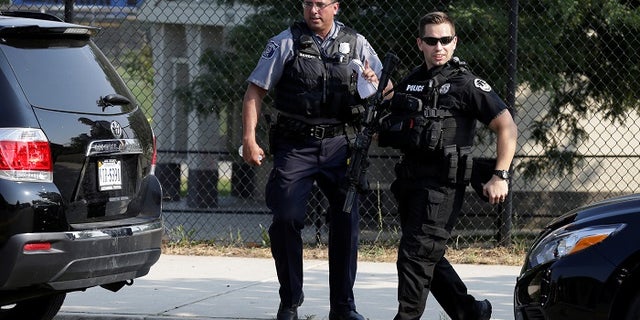 I could not read that story without crying. Tears were flowing from this macho Republican businessman who never cries. I was taught by my wonderful dad David Root- a real man's man- that men don't cry. Well I broke his rule on Sunday when I read the story of Daxton Alyn Beck. My tears were tears of both sadness and joy.
I can't help it. I love the police. I was raised to love and respect cops. To me, cops are America's biggest heroes. They run towards the sound of gunfire. They drive towards reports of violence. If tomorrow they heard there was a terror attack in progress on the famous Vegas Strip, every cop on Metro would be speeding towards the scene.
Do you appreciate how remarkable that reaction is?
Cops are willing to die to keep you and me safe - even if they don't know you and me. Cops get up every morning, eat breakfast, kiss their spouse and kids goodbye, and then head off to work - but unlike the rest of us, they don't know if they'll ever come home again, if they'll ever see their family again. They do this to keep us safe, so we can get home to see our families. That my friends, is the definition of heroism.
That's why they call them "The Thin Blue Line." Because a few hundred cops in each city are the only thing standing between the good, honest, law-abiding citizens, taxpayers, homeowners and business owners…and robbery, murder, mayhem, anarchy, and rioting. These brave men and women in blue are our last line of defense.
I can't help thinking this way. I am a S.O.B.- son of a butcher. My dad was a patriotic, conservative butcher and Navy veteran from Brownville, Brooklyn. There weren't too many Jewish cops in those days. But my Uncle and Godfather Alvin Root was a Jewish police detective in Brooklyn, New York. I idolized Uncle Alvin.
I grew up in a typical rough, ethnic New York neighborhood. My next-door neighbor was Tom Lennox, a tough Irish cop in the Bronx. He became like my second father. He actually took me out on patrol, to see him "on the job" on the rough streets of the Bronx. Tom the Irish cop and my Uncle Alvin the Jewish cop were my boyhood heroes.
I can't even imagine waking up one day to hear they were never coming home. I can't imagine a little boy hearing his dad and hero is never coming home again.
Daxton Alyn Beck had to hear that news. His dad and his Vegas police partner Igor Soldo were assassinated in cold blood three years ago. It was a dark day in Vegas history. I cried that day too. I shed tears every time I hear a cop is killed. I can't help it - I wear blue on my sleeves.
But last Saturday here in Vegas was a great day. Because Daxton Alyn Beck didn't graduate high school without his dad Alyn. I know Alyn was looking down from heaven. But Daxton also had 150 surrogate dads there - 150 Las Vegas Metro cops showed up at Daxton's graduation as "stand-in dads."
The entire Vegas police department is now Daxton's extended family. They pledged to be there for all the important moments in his life - his college graduation, his wedding, the birth of his first child. That's the strength of the police bond.
What a great story. What heroes these Vegas cops are. I don't care how macho you are - if that story doesn't make you cry, you have no heart.
Now you know why I love cops. Now you know why I will always stand behind the police.
Thank you, Daxton for your family's and your father's sacrifice to our community. Your dad will forever be in our hearts. But I'm so thrilled to hear you have 150 "stand in dads."
Just like Vegas police officer Alan Beck, those Capitol Policemen and Policewomen were willing to sacrifice their own lives to protect those GOP Congressmen and Senators. That takes quite a hero. We should all be thankful we have people like that in our communities.
God bless the Thin Blue Line.