Democratic Debate preview: Can Hillary keep it controversy-free?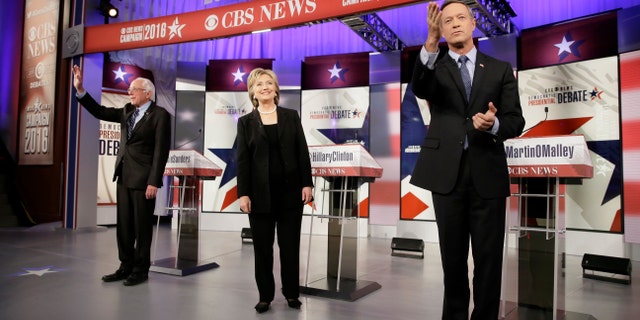 Saturday night's "alright" for fighting, if you believe the Elton John. But as far as presidential debates go, it's a good way to go unnoticed.
The last time the three Democratic hopefuls went with this non-comical version of "Saturday Night Live" – it was Nov. 14, in Iowa – the result was an 8.5 million person audience nationwide, not quite half what the Republican field drew Tuesday night in Las Vegas in the GOP's fifth candidate forum of the year.
Saturday night's debate in Manchester, N.H. – the third and final Democratic debate of 2015, airing on ABC – offers more of the same. Good luck with that Nielsen number when there's shopping, holiday parties and the new "Star Wars" film to be had.
So who will be watching, other than diehard Democrats?
The third group of debate-watchers: Republican opposition researchers, who'll be tuning in to engage in their own brand of data mining.
For starters, political junkies curious as to which version of Vermont Sen. Bernie Sanders engages with frontrunner Hillary Clinton.
In the first Democratic debate back in mid-October, Sanders gave Clinton a free pass when he dismissed her State Department server controversy. A different Sanders showed up for the second debate; he laid into Clinton for voting in favor of the Iraq invasion.
Sanders has told reporters to expect more of the same in New Hampshire: he won't pull his punches; foreign policy again will be in play.
Not that New Hampshire is foreign to Sanders, a next-door neighbor and frequent visitor. He holds a 50 to 40 percent lead over Clinton in the Granite State, per the most recent CNN/WMUR Poll.
He also has more field offices in New Hampshire (15, to Hillary's 11) and has outspent her by 50 percent on television buys since early November. Hillary losing in New Hampshire? It's possible (for what it's worth, the last three presidents all lost their party's New Hampshire primary).
As for Hillary Clinton, who enjoys a 13-point edge in Iowa in the latest Fox News Poll and a commanding lead nationwide, timing may be her toughest opponent.
Perhaps you believe that Sanders and former Maryland Gov. Martin O'Malley are in this race for the long haul. Then again, with O'Malley polling below 5 percent in Iowa, Sanders' best hope is to overachieve in Iowa and New Hampshire, survive expected drubbings later that same month in Nevada and South Carolina, then spring back to life in the March 1 caucus states of Colorado, Massachusetts, Minnesota and Vermont.
Otherwise, the Democrats have done their best to reverse-engineer their primaries into a drama-free zone. The party's scheduled only six presidential debates for the 2016 election, down from 25 in 2008, 15 in 2004 and 9 in the two-man race of 2000.
Unfortunately, for Hillary Clinton, current events keep getting in the way.
That second Democratic debate came just a day after the terrorist attacks in Paris.
The San Bernardino mass shooting and concerns over domestic terrorism and national security overshadow this next debate.
That's not to the Clintonistas' liking. Rather than defend a wobbly Obama foreign policy that Clinton once headlined, they'd prefer a return to the first debate and Hillary's rote script of income and gender inequality and walking the fine line between true-believer and believes-in-dealing ("I'm a progressive," said Clinton in the first debate. "But I'm a progressive who likes to get things done.")
And that takes us to the third group of debate-watchers: Republican opposition researchers, who'll be tuning in to engage in their own brand of data mining.
There's precedent here: in April 1988, the Democratic presidential race had an air of inevitability. Michael Dukakis was on his way to his party's nomination, followed by Jesse Jackson and, much further back, Al Gore.
But Gore wouldn't go away quietly. In a debate preceding that year's New York primary, he accused Dukakis of cutting state welfare programs and neglecting a prison reform program that had granted weekend furloughs to state prisoners, including some given life sentences for murder. Gore pointed out that 11 released convicts failed to return; two committed murders.
Gore didn't mention anyone by name (or race) and Dukakis did his best to fend off the charge: "Al, the difference between you and me is that I have run a criminal justice system and you never have. Let me tell you that I'm very proud of my record when it comes to fighting crime."
However, Republican operatives took notice of the back-and-forth – and took notes on what Gore said.
Two months later, George H.W. Bush was uttering the name "Willie Horton" ("By the time we're finished, boasted Bush campaign manager, "they're going to wonder whether Willie Horton is Dukakis' running mate.")
Such is the way to score Saturday's debate:
1) Given that the unstated purpose behind Saturday's scheduling is to keep the frontrunner off the radar and out of trouble, does Clinton succeed in making the night controversy-free?
2) Does Sanders disrupt that coronation by giving a fickle electorate something new to ponder (in 2008's New Hampshire Democratic primary, nearly one-third of voters made up their minds in the final week)?
3) Is there an opening, a vulnerability or a faux pas that, while not denying Clinton the nomination, comes back to haunt her next year?
Enjoy the debate – for the Democrats, a rarity.