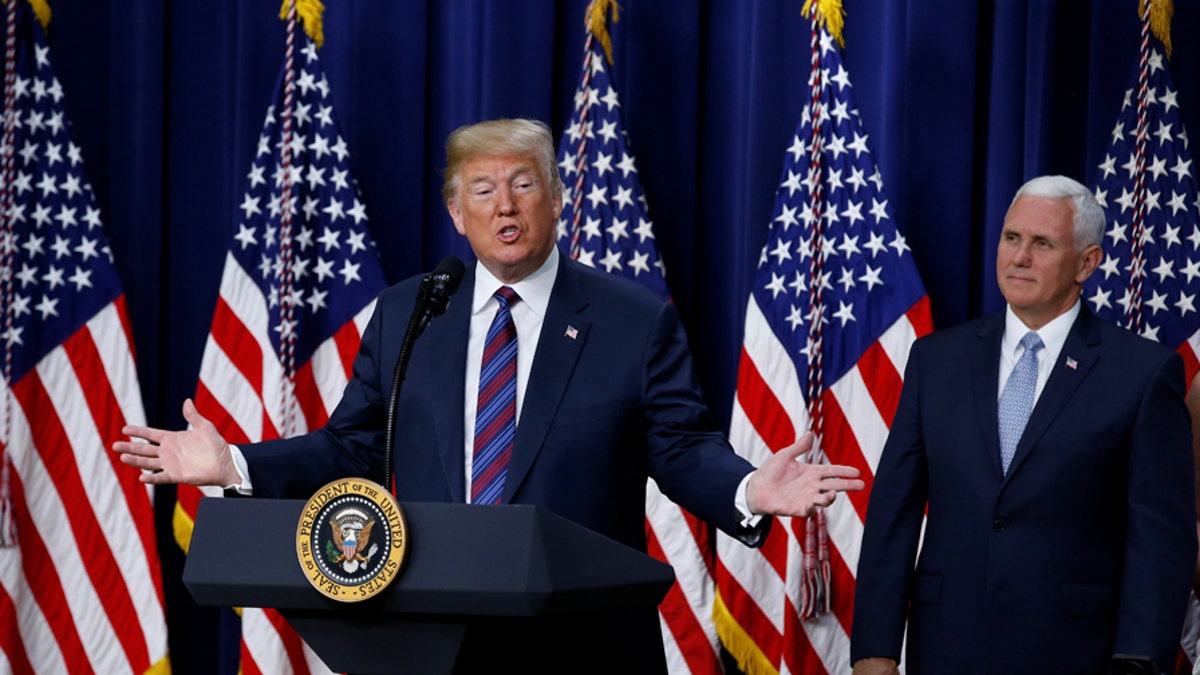 The results in Tuesday's primaries in eight states are an early indication that President Trump's "America First" agenda and accomplishments are winning the support of the American people. This is good news for Republicans running in the Nov. 6 midterm elections.
The Trump agenda of economic growth, job creation, border security, and peace through strength abroad is causing voters to seriously consider the consequences of supporting candidates who carry the Democratic mantle of tax hikes, protecting sanctuary cities, and the hyper-partisan and baseless impeachment witch hunt.
In California, it will be hard for Democrats to point to evidence that a blue wave is coming in November. In congressional districts 39, 45 and 48 – all key pieces of the puzzle for a Democratic takeover of the House of Representatives – Republican candidates received over 50 percent of the vote in the "jungle primary" system.
With Democrats clinging to a meager 3 percent advantage in generic ballot polling averages, picking up the 23 House seats necessary to win a Democratic majority looks like it will be more difficult than expected.
Fresh off one of the best jobs reports in years, voters came to the polls in the eight states where primaries were held with growing optimism and a feeling that there is reason to feel good again in America.
Democrats also failed in their quest to send two open-border liberals to the general election in the California gubernatorial contest. Republican businessman John Cox captured second place, due to strong support from President Trump.
Cox will be a strong advocate for the president's pro-growth economic record in California. This will be a sharp contrast to Democrat Gavin Newsom's ultra-liberal objectives, which will only continue California's charge into the abyss.
Also worth noting is that a Democratic state senator in California was recalled for voting for gas tax increases, costing California Democrats the supermajority in the Legislature necessary to raise taxes even more.
Fresh off one of the best jobs reports in years, voters came to the polls in the eight states where primaries were held with growing optimism and a feeling that there is reason to feel good again in America.
Hardworking Americans understand full well that voting for a Democrat for the U.S. House or U.S. Senate is a vote against the Trump prosperity and security agenda that has paved the way for the lowest unemployment rate in 18 years (3.8 percent), the highest consumer confidence in 17 years, the decimation of ISIS, and the return of American respect around the globe.
When folks consider the fact that nearly 3 million jobs have been created since President Trump took office, they are rightly nervous to give House Minority Leader Nancy Pelosi, D-Calif., the chance to once again become speaker of the House with a Democratic majority.
In the Republican Senate primary in Montana, conservative state Auditor Matt Rosendale prevailed in a crowded field. Rosendale, a statewide elected official and strong supporter of President Trump's agenda, will give Montanans a clear choice in November in a state that President Trump carried by a whopping 20 points in 2016.
The people of Montana can re-elect anti-Trump Democratic Sen. Jon Tester – who has become Cryin' Chuck Schumer's puppet in the D.C. swamp – or vote for Rosendale, a reform-minded Washington outsider.
In New Jersey, Republicans nominated Republican businessman and Washington outsider Bob Hugin. He will be a formidable candidate matched up against ethically challenged career politician Bob Menendez.
A contested Senate race in deep blue New Jersey is something that national Democrats did not count on and will certainly make their pathway to a Senate majority that much more difficult.
The Tuesday primary results from California to Montana to New Jersey are cause for concern for the Democrats.
Voters showed that they appreciate it when politicians make promises and keep them. President Trump is making good on his campaign pledges. Voters are happy with our nation's economic outlook and want it to continue. And they are tired of the two-year, $17 million phony Russia collusion investigation.
As a result, Washington Democrats with no positive agenda for the American people will have a very hard time convincing voters to overturn the Republican majorities in the House and Senate.
If Bill Clinton is asked what matters most to voters on his book tour, he would undoubtedly say that it's still "the economy stupid!"
President Trump and the Republicans in Congress understand this and are focused like a laser beam on continuing the unprecedented progress that's been made. The Democrats, on the other hand, are in the wilderness with no plans of turning back.