Cancer expert: The good news from the Cancer Moonshot Summit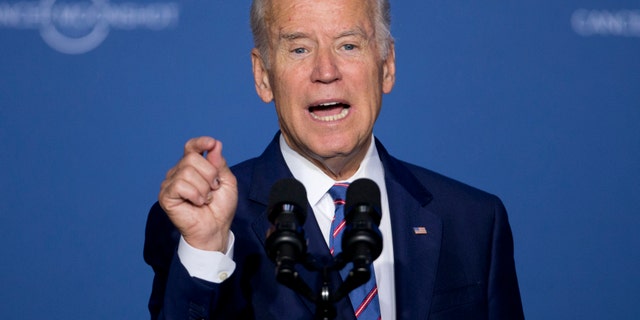 NEWYou can now listen to Fox News articles!
Vice President Biden held a national summit about the Cancer Moonshot initiative last week. In addition to a central event in Washington, D.C., local summits were simultaneously held in over 270 locations nationwide.
The vice president gave an introductory speech detailing the importance of the program, and introducing many new initiatives to help achieve the goal of accelerating 10 years of progress against cancer to just five years.
Vice President Biden is the perfect person to lead this extraordinarily important effort. He is passionate about the subject, having a personal experience with the disease that has deeply affected him.
In his own words, he is good at "removing stuff," particularly the arbitrary bureaucratic challenges that can clog up the path towards scientific progress. And he has the stature and gravitas to lead an effort that has such bipartisan appeal.
The initiative is important, because many challenges exist in the prevention, detection and treatment of cancer. Last week I underscored the critical importance of cancer screening in a column on FoxNews.com.
Uninsured individuals have breast and colon cancer screening rates of only 38 percent and 24 percent, respectively. Patient navigation programs have been shown to address this challenge. Raising appropriate cancer screening rates for all citizens to 100 percent would save thousands of lives annually.
Another challenge, as the vice president discussed in his speech last week, is the reality that the cost of new cancer drugs is soaring uncontrollably. A small number of cancer patients go bankrupt while receiving cancer treatment. A recent study found that financial insolvency is a risk factor for early mortality among patients with cancer. This as a complex issue, but fortunately the vice president appears poised to address it.
In listening to the vice president at the summit, I was encouraged to hear that he intimately understands the harsh realities of cancer patients today.
He also underscored his commitment to helping patients both today and in the future. Over 30 new initiatives were announced at the summit including public-private partnerships with many pharmaceutical and biotechnology companies; expediting cancer researchers' access to investigational agents; and establishing a fast track patent review in selected fields of cancer therapies. Moonshot includes one billion new dollars for federal funding of cancer research, and private sector commitments make this figure even higher—as an example, the American Cancer Society is doubling its research budget to $200 million over the next five years.
Such funding is of vital importance, as our expanding knowledge of genomics and immunology are leading to new treatments that are generating unprecedented positive results today—right now. Undoubtedly this infusion of research funding will lead to new discoveries and insights that have the real potential to improve patient outcomes.
Moonshot programs are also aimed at prevention and screening. While often used synonymously, these are two different things. Prevention programs are designed to stop cancer before it develops, with smoking cessation as the best example. The quickest way to reduce the cancer burden in the U.S. is to end smoking.
Notably, one Moonshot initiative includes a Massive Acceleration in Prevention Science (MAPS) effort, designed to explore novel ways to lower smoking rates for at-risk populations in pilot programs in Washington, D.C. and Cleveland.
Screening involves the early detection of cancer to identify it before it has a chance to spread, or metastasize. Pap smears, mammograms and screening colonoscopies have all been shown to be cost effective ways to detect cervical, breast and colon cancer at earlier stages and lead to more cures. One promising Moonshot screening initiative is the use of proteogenomics to potentially detect cancer with a simple blood test.
Too often, clinical research today is clogged with "stuff." Only 4 percent of cancer patients are enrolled on clinical trials. It takes as long as six months to even open a trial due to logistical challenges. On top of that the enormous regulatory aspect of conducting clinical trials has contributed to the soaring cost of cancer treatments. This is the type of "stuff" that needs to be eliminated. Enormous opportunities exist to streamline the clinical trial process. Fortunately, as I heard last week, the Moonshot program has several initiatives aimed at addressing these challenges, too.
Vice President Biden came to Cleveland the day after the summit to tour a Cleveland Clinic community facility in a disadvantaged neighborhood, designed to facilitate wellness, cancer prevention, and screening. Mammography and pap smears are provided free of charge, and a robust patient navigation program exists to remove barriers to health care access. This visit was symbolic, and underscores the importance of cancer screening as part of the Moonshot initiative. I had the privilege of greeting the Vice President, and his commitment to address these complex issues is genuine.
There is no quick fix to solve the cancer crisis. There are over 200 cancers, not one; the biology of the disease is extraordinarily complex; the cost of treatments is rising exponentially; access to basic care, especially for the underserved, is an ongoing challenge; and more and more people are being diagnosed with cancer as our population ages. But our knowledge about this disease is also growing exponentially, and new therapies are showing exciting results.
All of us in the cancer field, especially those of us who interact with cancer patients every day, and see their fear, and their courage, every day, welcome the Moonshot initiative.
Time matters for cancer patients. Vice President Biden says that the time for Moonshot is now. He is correct.