Benghazi hearings: Three truths not revealed during Clinton questioning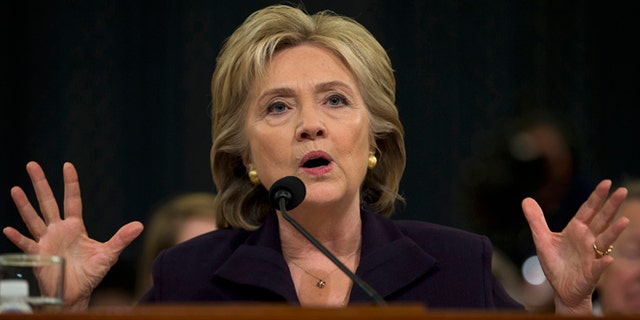 NEWYou can now listen to Fox News articles!
I have long maintained that Democrats can spread a lie better and faster than Republicans can tell the truth. The Benghazi Select Committee Hearings proved my thesis.
A few salient points were made. For example, Rep. Jim Jordan unearthed an email from Clinton to daughter Chelsea, penned while the violence still raged, describing the attack as perpetrated by an "Al-Qaeda-like group," and a next day conversation with the Egyptian Prime Minister admitting "We know the attack in Libya had nothing to do with the film. It was a planned attack, not a protest." All the while, Clinton was telling the world and the victims' relatives an anti Islamic video was to blame.
Unfortunately, crucial truths remain undisclosed or so botched by the Committee it was worthless to raise them. I know these truths because I have long represented former Tripoli DCM Greg Hicks, whose May 2013 House testimony was quoted extensively throughout the hearing. Three truths not revealed:
1. The number of security personnel available to Ambassador Stevens dropped from 38 in May 2012, when he was sworn in, to 9, when he went to Benghazi. It is a very simple concept, a loss of 29 security personnel during a time when there were hundreds of requests to Clinton's State Department for increased security. Hicks published an Op-Ed for the Wall Street Journal in 2014 describing the bases and process for this reduction. Yet, not one Member asked her for that information.
Unfortunately, crucial truths remain undisclosed or so botched by the Committee it was worthless to raise them.
2. By law, Clinton was required to waive the security in Benghazi and could not delegate that decision.
Repeatedly, the Committee allowed Clinton to claim she had nothing to do with security in Libya. Such requests "were rightly handled by the security professionals…. I did not see them. I did not approve them. I did not deny them." However, the Secure Embassy Construction and Counterterrorism Act of 1999, SECCA, passed in the wake of the 1998 Embassy twin bombings in Africa when Bill Clinton was president, required her to rule on the substandard security in Benghazi.
As with Benghazi, an Accountability Review Board (ARB) for each African bombing was convened. The ARBs faulted the State Department for no accountability for the security in Kenya and Tanzania, and made specific recommendations for future Secretaries of State. But Congress went further. SECCA requires the Secretary to waive any situation where all the embassy buildings are not housed in one facility, as was the case with Benghazi, and states that the decision cannot be delegated.
For a long time, the Committee seemed to be aware only of the ARB language, quoting it extensively while ignoring the statutory mandate. Finally, during the dinner hour, Rep. Susan Brooks broached the issue but clearly did not understand the law. When Sec. Clinton demurred she did not sign a waiver because the Benghazi consulate was "temporary," Brooks abandoned the subject. But Brooks' acquiescence missed the point of the law. It was intended to cover such "temporary" facilities.
The Benghazi ARB admitted in its 2013 report that there had been a waiver, describing the Benghazi compound as being "excepted" under the law. Was no one on the Committee aware of that fact? An obvious follow up question: "But Ms. Clinton, who did the ARB refer to when saying Benghazi had been excepted?" And then: "If you did not sign the waiver, who did?" But the Committee let her escape an admission of violating the law by falsely claiming it did not cover a temporary facility.
3. Ambassador Stevens was in Benghazi in September 2012 because Clinton requested him to recommend a permanent status for Benghazi.
On the day she swore Stevens in as Ambassador, Clinton requested him to go to Benghazi to determine whether it could be a permanent post.
The report had to be written before the end of the fiscal year, September 30, because funds had to be requested. Moreover, Clinton was planning a trip to exploit that decision later in 2012. The ARB tried to conceal Clinton's role, falsely claiming that Stevens went there "independently" of Washington, when it had been told the truth by Hicks.
Throughout the hearing, Clinton's attitude about Stevens was that he went of his own accord "He did not need permission to travel." Yet, her request was the reason for his trip and its timing.