Abbas' dangerous gambit: PA leader foments religious war with Israel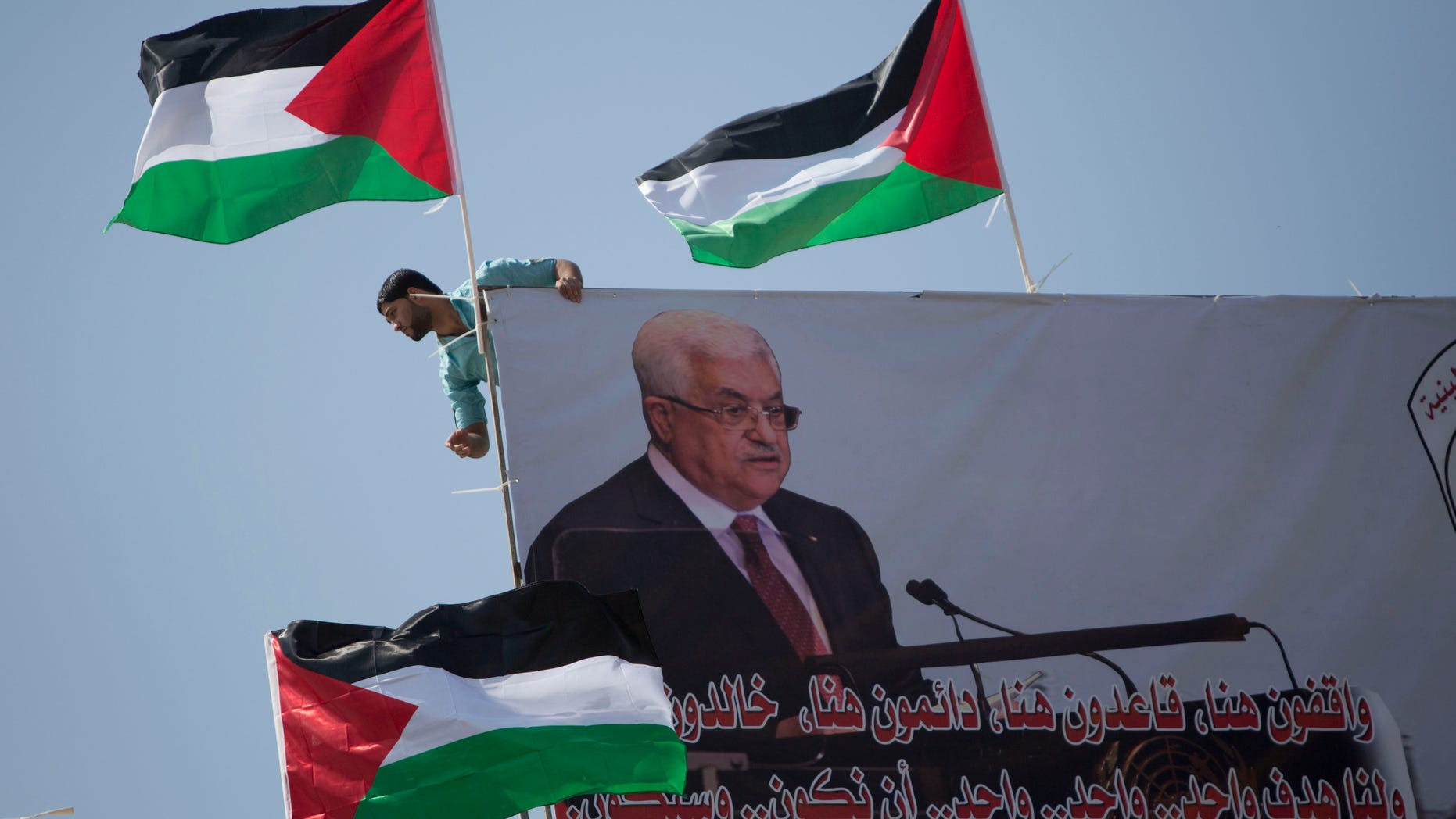 I had the privilege of praying last week at Judaism's holiest site-the Western Wall --  on our holiest day, Yom Kippur.
I wore my white prayer shawl, white Kittel robe, and white yarmulke.
It felt like a local call to heaven. I sad prayers for family, for good health, for friends in need, and I repeated my prayers for the ultimate blessing—peace.
But it took just three minutes and a short walk of a mere 100 feet away from the Kotel Plaza to be reminded about how distant peace in the Holy Land remains.
With the Arab world imploding in the Middle East—only images of a religious war with Jews can force Abbas' agenda to become theirs.
There, as I turned on my way into the Arab Suk, was a committee of young Muslim women and one man.
Armed with iPhones, they were clearly hoping to instigate a phony selfie moment with Israeli police so it could be immediately go viral on countless pre-cooked hateIsrael hashtags.
All this on a day that coincided with the Feast of Eid al-Adha (which recall the willingness of Abraham to sacrifice his son. Jews believe he chose Isaac; Muslims believe our patriarch chose Ishmael).
The well-trained young Israeli police didn't bite. There was no selfie moment. So I was quickly selected for an edgy chorus of "Allah Akbar."
I, too, believe that "G-d is Great" but this wasn't an ecumenical moment.
The hate in their eyes not only defiled my spiritual moment, it was part of a carefully-orchestrated campaign by the Palestinian leadership to mix sticks and stones and (religious) words to heat up a third Intifada.
Beyond the nexus of the two religious holidays, the intensifying violence, physical and verbal, coincide with two pivotal events at the UN: The symbolic hoisting of a Palestinian flag outside UN headquarters and Palestinian Authority President Mahmoud Abbas' appearance this week at the United Nations' 70th General Assembly.
Now in the eleventh year of his four year term, some expect Abbas to use that speech to vacate some or all of the historic Oslo Accords with Israel.
Whether Abbas risks losing U.S. funding with such a draconian move, he's already thrown the two-state solution under the bus with moves like this recent screed about Jews on the eve of the Jewish New Year:
"Al-Aqsa is ours and so is the Church of the Holy Sepulchre. They have no right to desecrate them with their filthy feet. We won't allow them to do so and we will do whatever we can to defend Jerusalem."
Why now?
First, Abbas is sending a signal to Jerusalem and Washington that he no longer cares to do any of the heavy lifting set forth by the Oslo Accords. And why should he when a bullet-proof majority at the UN General Assembly could get him his state without U.S. support or Israeli approval.
Secondly, Abbas hopes that playing bad boy with Israelis will win him back some of approval he's lost with the Palestinian street which has become so disgusted by his Palestinian Authority's corruption that recent polls show that Hamas would win an election today hands down in the West Bank, if Abbas dared to call for new elections.
Finally, there's one other critical audience Abbas is desperate to bring on to his side: The Muslim world.
A few years ago I brought seven Indonesians, representing 60 million Muslims, to Israel.
At the end of the week, here's what the leader said to me:
"We were always told that there is a religious war here. But this week we prayed at Al-Aqsa, visited your Western Wall, and even danced at a Chanukah party. We also spent a day in Ramallah. What we see is a political, not a religious dispute. Political? We have plenty political fights back home."
With the Arab world imploding in the Middle East—only images of a religious war with Jews can force Abbas' agenda to become theirs.
For now, we can only pray for G-d's mercy that Abbas' gambit fails.