Super Bowl LIV draws 102 million viewers
Super Bowl LIV averaged 102 million viewers across FOX, FOX Deportes and digital properties, making it the 10th most-watched Super Bowl in history, according to Nielsen Media Research.
The massive audience witnessed Kansas City Chiefs quarterback Patrick Mahomes become the youngest player to win a Super Bowl MVP by leading his team over the San Francisco 49ers 31-20, in addition to a halftime performance by Jennifer Lopez and Shakira.
CLICK HERE FOR MORE SUPER BOWL LIV COVERAGE
Lopez and Shakira took the stage for a medley of their hits and a stunning dance performance and were joined by Bad Bunny, J Balvin and Lopez' 11-year-old daughter, Emme, in a celebration of Latino culture. Viewers stuck around and FOX's ratings benefited from a wild fourth-quarter comeback.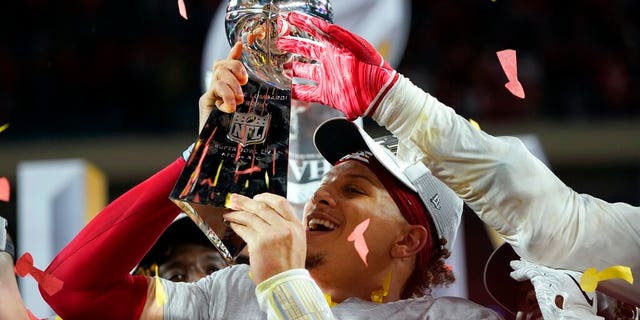 Roughly 99.9 million of the 102 million viewers watched the game on FOX, a 1.4 percent increase compared to last season, according to Sports Business.
"The totals meant that the Super Bowl... posted the event's first viewership increase in four years," Sports Business wrote. "The game will again be far and away the most-watched programming on American television all year, regardless of genre."
"The Super Bowl linear TV audience record remains NBC's 2015 broadcast, Patriots vs. Eagles, which was watched by an average of 114.4 million total viewers," TVNewser's A.J. Katz wrote, adding that FOX's total should climb when the out-of-home audience is factored in.
Meanwhile, Fox News host Sean Hannity's pregame interview with President Trump was the "Hannity" namesake's highest-rated interview ever with the president, according to Nielsen Media Research.
CLICK HERE FOR THE FOX NEWS APP
"Hannity" is the most-watched program on cable news but his broadcast interview with Trump was expected to attract a wider audience. The midday interview averaged over 8 million viewers with 3.2 million of them coming from the key advertising demo of adults age 25-54. Hannity's interview brought a double-digit percent increase in all categories versus CBS' 2019 Super Bowl interview with Trump.
Some of the most talked-about Super Bowl commercials that aired included Bill Murray re-enacting scenes from the iconic "Groundhog Day" in the Jeep ad, the Snickers commercial showing people all over the country singing in unison about the world's problems and feeding the planet a giant version of the chocolate bar hoping to "fix the world," Amazon's "Before Alexa" ad featuring Ellen DeGeneres and Portia de Rossi, the heartstring-tugging Google commercial starring an elderly man using Google Assistant to remember his late wife, as well as an emotional Trump campaign ad featuring Alice Marie Johnson, the great-grandmother whose prison sentence was commuted by President Trump in 2018, in an effort to promote his administration's accomplishments in criminal justice reform.
Fox News' Ryan Gaydos, Nate Day and Joseph A. Wulfsohn contributed to this report.