Eighty years after missing his college graduation ceremony, a 101-year-old WWII vet walked the stage and officially received his diploma on Sunday, May 14, in Mount Vernon, Iowa.
"Every able-bodied man and lots of women were involved in World War II," Fred Taylor of La Mesa, California, told Fox News Digital.
"I think 16 million altogether," Taylor added. "I have no regrets about going into the service." He went on, "I really enjoyed flying. My only regret is missing my graduation ceremony, as you normally would end your senior year."
TEXAS 98-YEAR-OLD WWII VETERAN RECEIVES HIGH SCHOOL DIPLOMA
Taylor joined more than 200 graduates of the Cornell College Class of 2023 — and when he did, they embraced him as one of their own.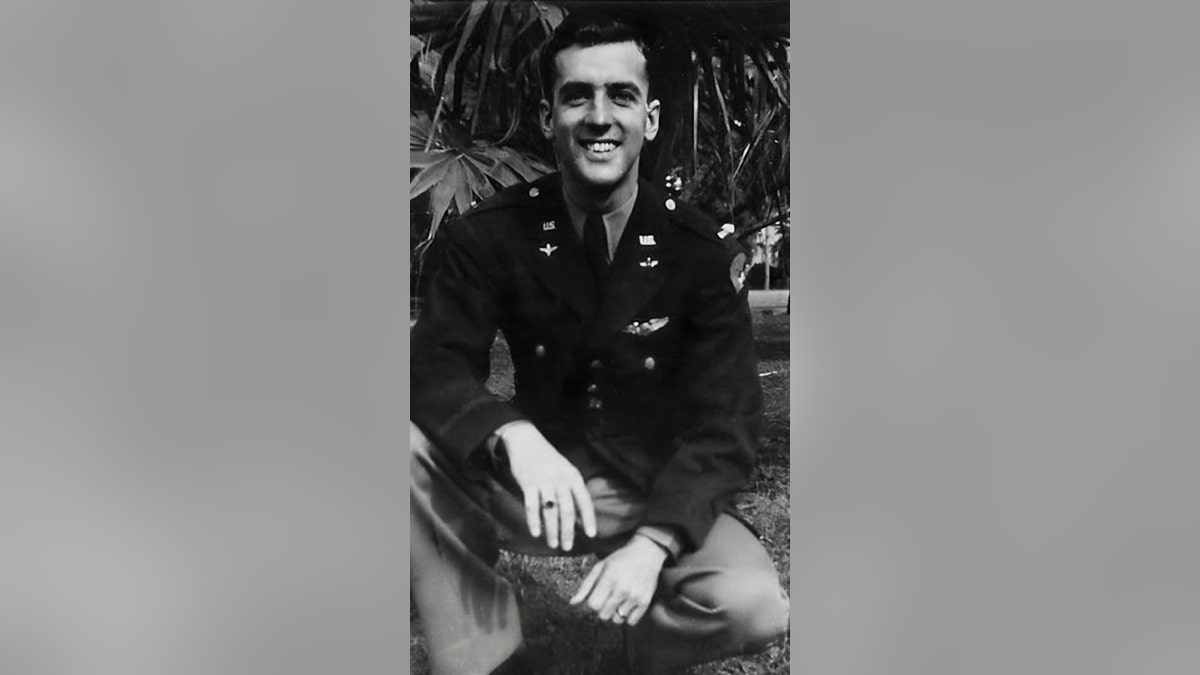 "Every time I mentioned his name — standing ovation," Jonathan Brand, the president of Cornell College, told Fox News Digital in a phone interview.
"It was heartwarming. It was emotional. It brought full circle his own connection with Cornell," Brand added. "He's gracious, humble, articulate, warm, loving. He is everything that one could ever hope a Cornellian would be."
Brand went on, "I think there was love for him because of his connection to Cornell, because of his military service, because of his endurance."
Taylor had completed the requirements for his music degree at Cornell College, but the attack on Pearl Harbor in December 1941 catapulted the United States into World War II — putting the plans of many in his generation on hold.
"Some friends and I joined the Army Air Corp Reserve because we wanted to fly rather than be foot soldiers," Taylor said.
"On Feb. 19, 1943, of my senior year, the Air Corp Reserves were activated and we had to leave the college for basic training in Jefferson Barracks in Missouri. So, of course, we missed our graduation ceremony and that was a very incomplete feeling," Taylor added.
He said that at the time, his dad drove 10 miles to campus to pick up his son's diploma while he was away.
"I have no regrets about going into the service … My only regret is missing my graduation ceremony, as you normally would end your senior year."
But earlier this year, Taylor's daughter, Linda Taylor, a professor emeritus at the University of Miami, contacted Cornell College to see if it was possible for her father to walk across the stage and finish what he started.
TIKTOK STAR AND WWII VETERAN 'PAPA JAKE' TURNS 100, WANTS FUTURE GENERATIONS TO KNOW HIS STORIES
"To find out that we [had] a student who, 80 years ago, missed that culminating moment in his life to actually celebrate the completion of his study — there's sort of this feeling that something wasn't finished," Brand said.
"Here's somebody who served our country during World World War II, somebody who left college so that he could help literally save the world from the greatest threat. What a wonderful way to honor him in front of our students," Brand added.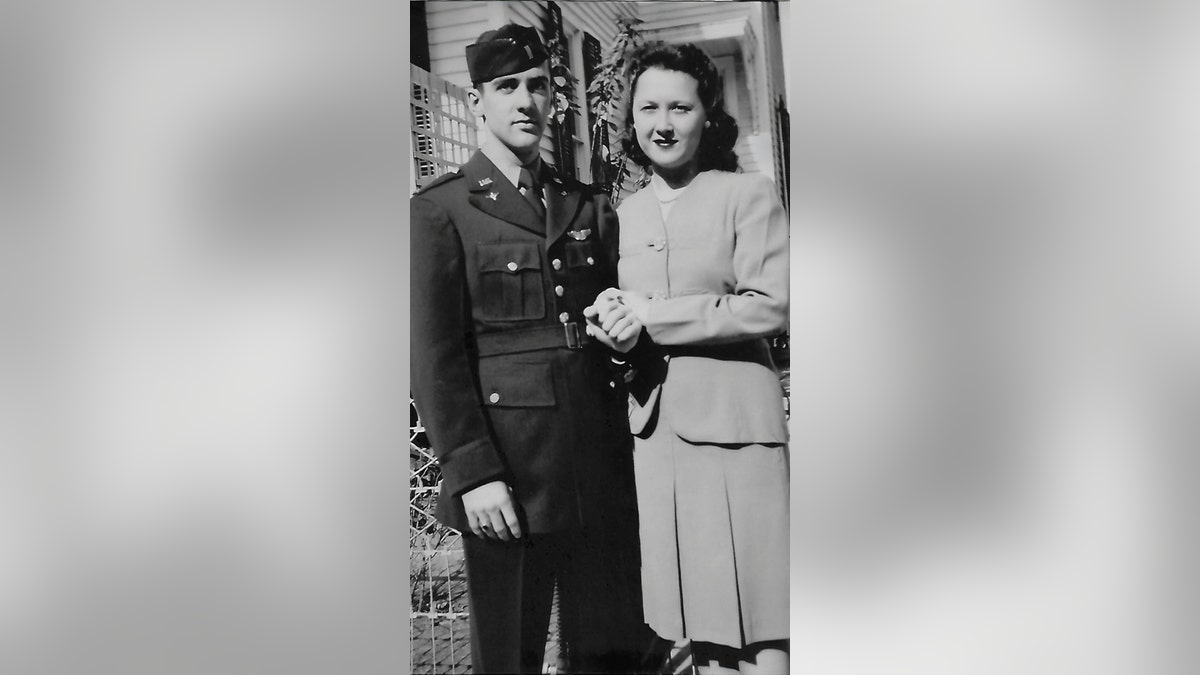 "I was thinking … finally," Taylor said, laughing. "It was exhilarating and sparked a lot of memories. I was also thinking of my 75-and-a-half-year marriage."
Taylor's training took him around the country, including to Colorado Springs, where he married "the love of his life," Peggy Newberg, whom he met at Cornell College.
His wife died in 2020, according to media representatives at the school.
During the war, Taylor flew fighter planes.
VIRGINIA DAD, A VETERAN, GRADUATES FROM COLLEGE ALONGSIDE HIS DAUGHTER
"I flew the P51 Mustang in Italy," Taylor said. "And that's a terrific airplane."
"Here's somebody who served our country during World World War II, somebody who left college so that he could help literally save the world from the greatest threat."
After leaving the service in 1945, Taylor earned his graduate degree in music education from Drake University in Des Moines, Iowa.
He became a music teacher — first in the tiny town of Bayard, Iowa.
"I was the band director there for 10 years and we really enjoyed living in a small town and made a lot of lifelong friends there," Taylor said.
The family moved to California, where Taylor continued teaching for 26 years in the La Mesa-Spring Valley School District. He then retired.
102-YEAR-OLD WWII VETERAN FROM SEGREGATED MAIL UNIT TO RECEIVE CONGRESSIONAL MEDAL
For his 80th birthday, Taylor went for a ride in a P51 again — another experience arranged by his only child, Linda.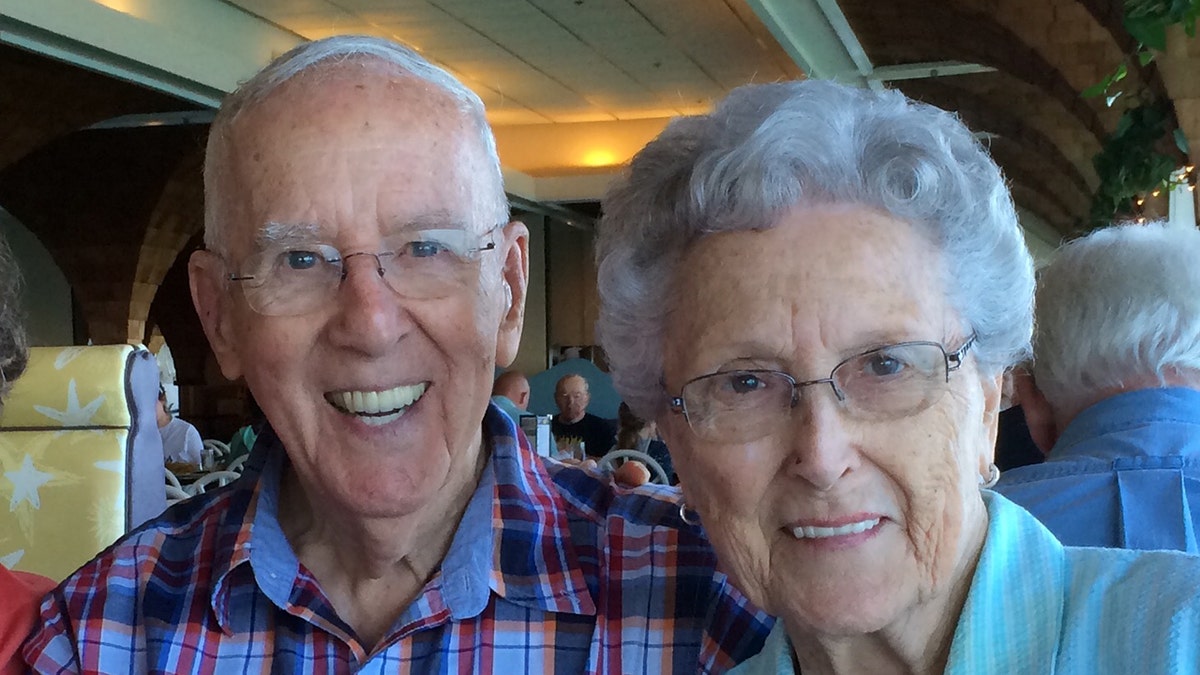 "The P51 is a one-man airplane, but on several of them now, they have removed some of the equipment behind the pilot seat and put a little jump seat there so that they can take a passenger," Taylor said. "It was a lot of fun."
Linda Taylor recalls that the pilot was impressed with her father's experience.
"He commented that it was really nice to have someone on board who had actually flown one because a lot of kids, meaning anybody younger than 80, would get in there and immediately get stomach distress from the G forces and the power," she said.
MINNESOTA WWII VETERAN CELEBRATES TURNING 100 YEARS OLD, WISHES TODAY'S YOUNG PEOPLE HAD 'MORE BACKBONE'
"Dad was like, 'Great, let's get upside down. Let's go for it,'" Linda Taylor said.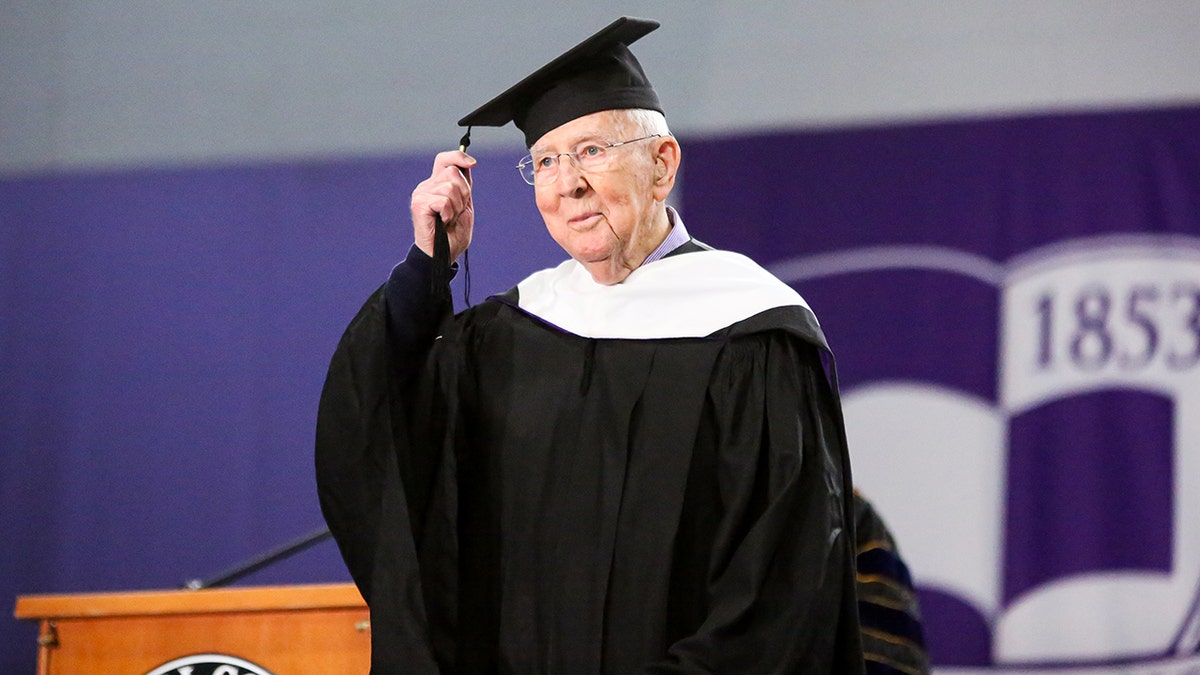 Being able to see her dad walk the stage meant a lot, she added.
"I don't think there's one word for it," she said. "I was proud. I was very happy. You know, you have a lump in your throat for all the good reasons. It's just really nice when someone who means so much to you is recognized and honored. It's one of those once-in-a-lifetime moments."
Brand said it means a lot to Cornell College as well.
WWII VETERAN CELEBRATES 100TH BIRTHDAY, REVEALS HIS SECRETS AND 'LIFETIME OF INSPIRATION'
"When we finally got to conferring the degrees, I introduced him and he walked up to the stage alone," the Cornell College president said.
"There was another standing ovation as he came up onto the platform. He was looking at me. You could see that it was gratifying. He waited 80 years for that moment. He was at ease."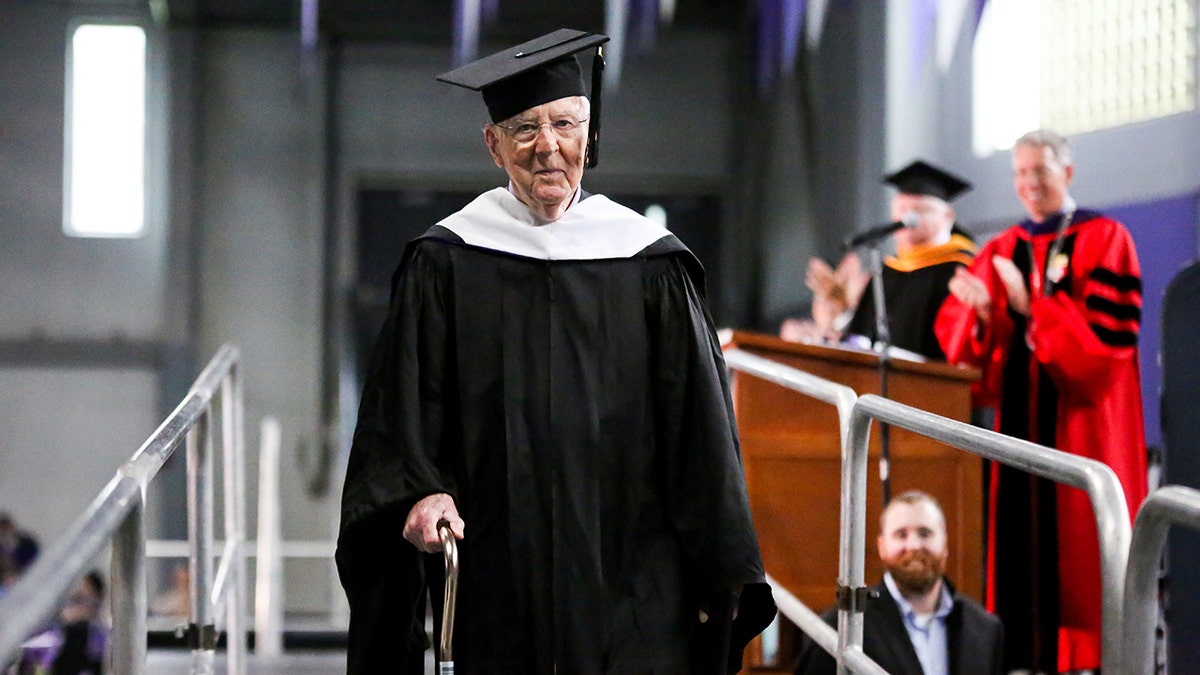 Brand said that as he officially conferred the degrees of all the graduates from the class of 2023 and 1943, he "had goosebumps."
"He [Taylor] led everyone in moving their tassels from the right to the left," Brand said. "And then with appropriate military music, he recessed back to his seat."
After the ceremony, Taylor traveled to Drake University in Des Moines, where there was a small get-together with the president, the provost and several other faculty and administrators who presented him with his master's degree in music education.
Taylor earned that degree in 1953 — but was unable to participate in the ceremony due to work.
"I waited 70 years for that one," Taylor said. "I was working for Armour & Company in the Black Hills at the time. I worked for them on the road as a traveling salesman for about three years. Then I decided if I was ever going to use my degree, I better get started."
CLICK HERE TO SIGN UP FOR OUR LIFESTYLE NEWSLETTER
With all the knowledge and experience that comes at age 101, Taylor said he doesn't think he is qualified to dole out advice to his fellow graduates of today.
"I would just say that they are well-prepared for their future life," Taylor said.
"They have everything, all the good things, ahead of them. All they have to do is pay attention, do their best work and be kind to others."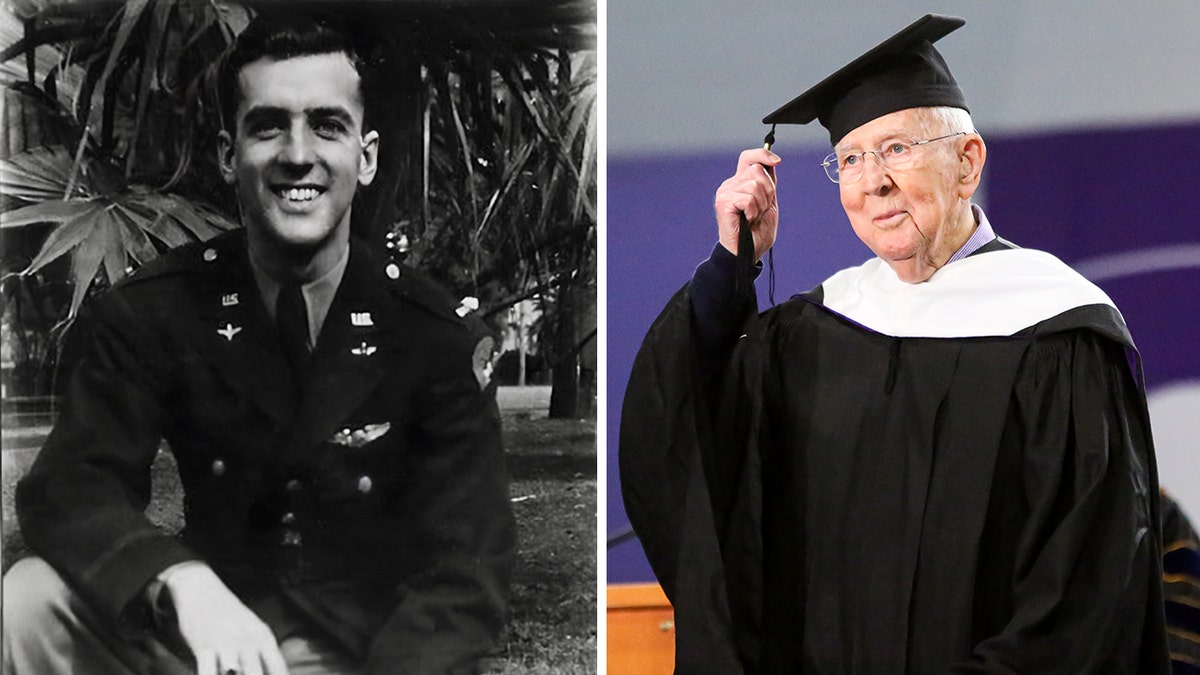 Brand said Taylor's presence added depth and meaning to this year's commencement ceremony.
CLICK HERE TO GET THE FOX NEWS APP
"We tell our students that we want them to graduate with a focus on others, a compassion for helping others," Brand said.
"How often do they get to have somebody in front of them who actually represents that, who lives it? I am excited for him to be back on his campus, not just for him, but frankly as an inspiration for our students."