The 'migraine pose' taking over Instagram getting backlash on social media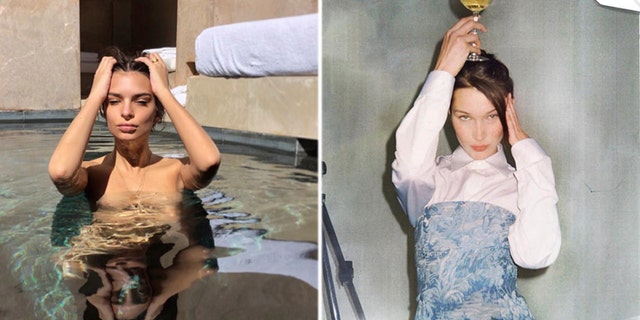 NEWYou can now listen to Fox News articles!
The latest trend to take over Instagram, the "migraine pose," has sparked backlash from those who suffer from the painful headaches.
The pose, given its name by makeup artist Nam Vo, "involves posing with one or two hands pulling your face up by your temples as if you had a, well, migraine…The pose tightens the face, makes your cheekbones look more prominent, and lifts the brows. It's a temporary facelift for the 'gram," according to a recent Elle article titled "All the Pretty People on Instagram Are Doing the 'Headache Pose.'"
NOTE WRITTEN ON WOOLWORTHS CHICKEN PACKAGE MISTAKEN FOR CURSE WORD
Chances are you've seen a number of your favorite models, actresses and influencers posing this way. Elle credits Kylie Jenner as one of the first to strike the pose, which she did for the cover of Love magazine in December. Vo did her makeup for the shoot, which might even be where Jenner got the inspiration. But others, like Jenner's sister Kylie, Gigi and Bella Hadid and Emily Ratajkowski, have all posted photos on Instagram doing the "migraine pose" as well.
However, not everyone is a fan of the trend. Vo's Instagram post where she first tagged the term "migraine pose" was met with heavy criticism from people who claim to suffer from migraines, arguing that they're neither pretty nor fashionable.
"This troubles me so much. 38 million Americans suffer from migraines. It has destroyed my quality of life. #itsnotpretty," one person commented.
"Migraines are no joke I suffer from them every day and spend my days in a dark room in severe pain. When I am having a severe migraine attack my face sure as hell does not look like these poses," another critic wrote.
Vo has since removed the hashtag from her photo and posted an apology on Instagram. "Hi my Dewey Dumplings, my apologies. This wasn't meant to be offensive or hurt anyone's feelings. I am touched by the personal stories that you have all shared. I love all my Dumplings and want you all to be happy and healthy! Its all about the LOVE," she wrote.
The backlash toward the term gained traction on social media and someone even started a Change.org petition to advocate for "migraine awareness."
FOLLOW US ON FACEBOOK FOR MORE FOX LIFESTYLE NEWS
"In identifying a 'pose' with a neurological illness that affects millions of people, you missed an incredible opportunity to create true beauty by raising awareness. Instead of advocating, you exploited.
People on Twitter angry with both Vo and Elle are encouraging others to sign the petition and "take a stand against migraine pose."