Texas middle school's 'bathroom inspiration project' aims to empower students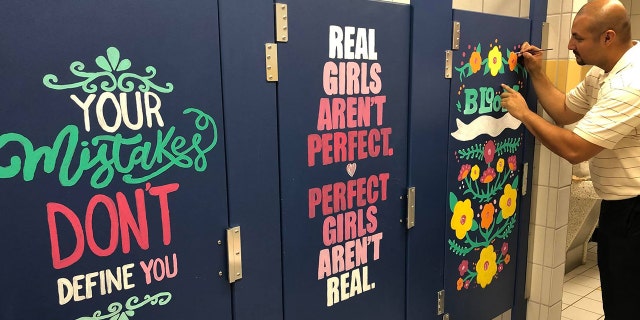 Middle school can be rough, which is why a group of Texas teachers were inspired to spruce up the school bathrooms with motivational messages and help students start the new school year with confidence.
Over the summer, a handful of teachers and staffers at Warren Middle School in Forney volunteered and broke out art supplies to decorate the girls and boys lavatories with positive, uplifting messages. In the weeks since, the so-called "bathroom inspiration project" has gone viral on Facebook and proven to be a hit with the school community.
"Real girls aren't perfect, perfect girls aren't real," one message in the girls' room reads.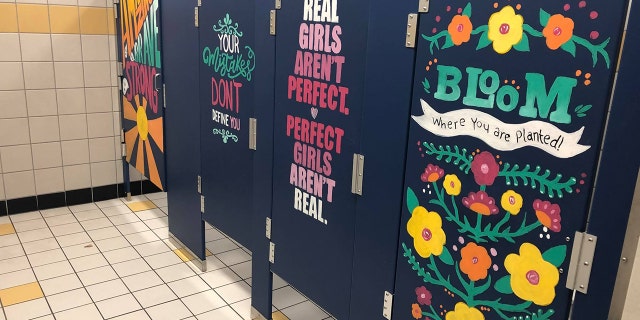 "Your mistakes don't define you," another says.
"Mirror mirror on the wall, there's a leader in us all," a sign above the bathroom reads.
NORTH CAROLINA TEACHER GOES VIRAL FOR '1,080TH DAY OF SCHOOL' SIGN
"One of the goals was to create a culture of positivity and welcoming to our students, a place that our students and teachers want to be a part of and want to come to each and every day," the school's new principal, Joshua Garcia, told USA Today.
"Middle school is rough, so sometimes you don't have that drive that our kids have. In the past we've had difficulties where our kids need motivation and, 'Why should I come?' or 'What should I do?'" assistant principal Kristy Mach agreed.
"I think what makes this small little action so valuable is that it has set the tone for our campus."
The "bathroom inspiration project" has won applause online since Warren Middle School posted photos to social media in July, and Garcia says the fanfare has continued through the start of classes.
"Students have been talking about the murals from the moment the pictures had been posted. Some even took the time to find a reason to come up to the campus to see the murals," the principal told Yahoo Lifestyle. "I think what makes this small little action so valuable is that it has set the tone for our campus."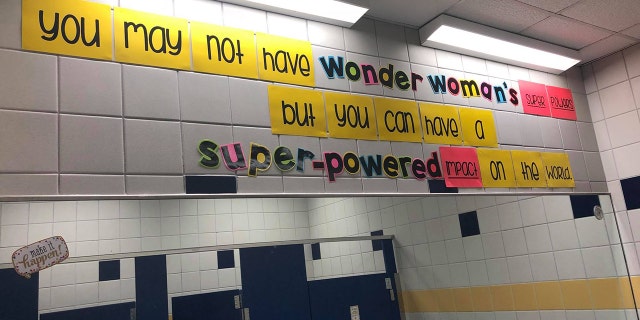 "I have had many parents tell me how they can just feel a difference in the campus climate and how much they are enjoying seeing their children wanting to come here," Garcia continued. "These murals have put trust back in the campus and its teachers, and by doing so we are able to build a culture in which our students want to be here and learn."
FOLLOW US ON FACEBOOK FOR MORE FOX LIFESTYLE NEWS
Child and adolescent psychologist Barbara Greenberg agreed that a positive learning atmosphere can only benefit students through the occasionally challenging teenage years.
"While kids are dealing with issues of rejection, and they see these affirming statements, it will be very meaningful and very necessary and might appear at exactly the right moment," Greenberg told Yahoo. "I absolutely hope that this [project] spreads like wildfire."
Representatives for the Forney Independent School District confirmed to Fox News that other schools in the district have followed Warren Middle School's lead and "posted positive messages at their campuses as well."