Shakira and Argentina's president among the most influential on the Internet, according to Time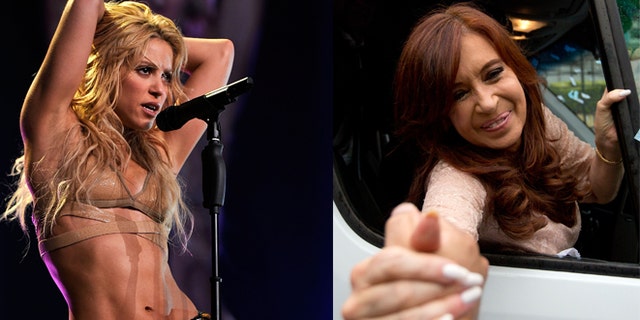 NEWYou can now listen to Fox News articles!
Time Magazine's list of the most influential people on the world wide web is out, and two Latin-American powerhouses, both women, made the cut.
Colombia's Shakira and Argentina's President Cristina Fernandez de Kirchner are the only Latinos featured in Time Magazine's "The 30 Most Influential People on the Internet" list, which is unranked.
Others include Beyonce, Justin Bieber, President Barack Obama and "The Jester."
The magazine did not rank the celebrities but says they determined who made the cut based on analyzing how many social media followers each celebrity had, the level of traffic their sites garner, their ability to drive news headlines and more.
For Shakira, it's all about the Colombian singer's rabid fan base. They are obsessed with everything about her, her two children and now her other half — famous soccer player Gerard Piqué.
"The two-time Grammy winner touts 107 million Facebook fans—more than any other person on the site, including President Obama and Taylor Swift—giving her an unparalleled platform to promote her work and her causes," Time wrote about Shakira.
The magazine referred to a Facebook post when she asked people to donate money for UNICEF's "World Baby Shower." That post alone garnered more than 1.3 million likes, nearly 90,0000 shares, and brought so much awareness it "helped raise enough money to provide 80,000 polio vaccines and four tons of food worldwide."
For Fernandez, it's more about her ability to drive news headlines --- and lately, not for good reasons.
"The embattled Argentinian president, 62, may well be Twitter's most candid—and controversial—politician," wrote Time.
The embattled president has recently been at the center of an investigation into the mysterious death of a prosecutor who was about to demand her arrest - accusing her of covering-up Iran's involvement in the 1994 bombing of a Buenos Aires Jewish center. The attack is frequently referred to as the country's 9/11.
Since then she's been outspoken in sometimes rambling newspaper op-eds, Facebook statuses and tweets.
Her candid tweets got her in trouble in early February when she tweeted to her 3.6 million followers a joke about Chinese accents during an official visit to China.
She tweeted an apology within a minute of posting the tweet, but not before the world took note.
Like us on Facebook