Rare and lost masterpiece of 18th century Mexican Colonial art found under couch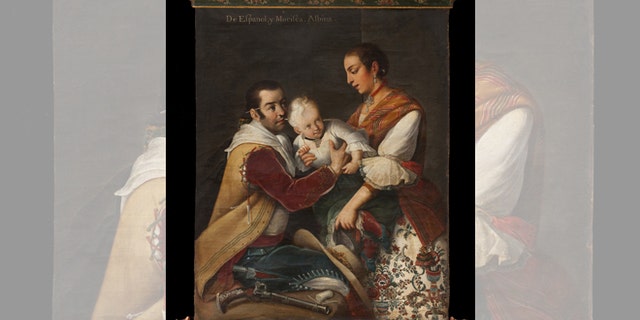 NEWYou can now listen to Fox News articles!
An extremely rare and thought lost masterpiece from the Mexican Colonial era was found in the most unlikely of places.
A painting by Miguel Cabrera, considered the greatest painter of his era, was found neatly rolled up and well-preserved under the couch of retired corporate attorney Christina Jones Janssen, the Los Angeles Times reported.
"My dad always told me it was old and probably from Spain," she told The Times. "He though it had some mates there. He wanted me to look into it someday."
Janssen said she didn't know the importance of the painting's legacy, but that her father always said it belonged in a museum.
Cabrera's work is a casta painting – a controversial genre invented in Mexico that explores the Enlightenment Age theme of interracial marriage among Indians, Spaniards and Africans. The artist painted only one set and is widely considered the genre's finest.
According to the LA Times, the painting shows "a prosperous Spanish father and doting Moorish North African (or Morisca) mother dandling their cheerful albino baby."
Art experts are considering the painting's rediscovery a major historical event in the art world.
The Los Angeles County Museum of Art purchased the newly found masterpiece for an undisclosed sum.
Curator Ilona Katzew told the Times it was "easily the most important Mexican Colonial painting to come to market in years." She said it could bring in at least $1 million at auction.
Janssen said "From Spaniard and Morisca, Albino" came to the U.S. in the early 1920s after it was purchased by David Gray, son of Ford Motor Co.'s founding president.
Prior to his death in 1928, Gray gave the painting to his neighbor James R.H. Wagner, who just happened to be Janssen's great-grandfather.
Joseph Fronek, conservator at LACMA, said the painting was in overall very good condition with only minor paint loss in secondary areas.
Like us on Facebook
Follow us on Twitter & Instagram