Pole-dancing mom in Switzerland credits hobby with helping her recover from pregnancy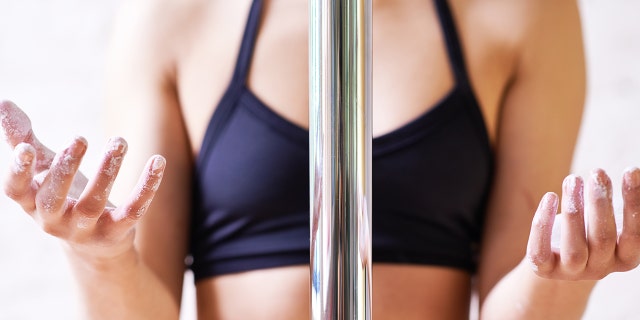 NEWYou can now listen to Fox News articles!
A mother in Switzerland ignored her family's advice to stop pole dancing while pregnant, and was even on the pole hours before her contractions began.
Christina Spirig, a pole-dancing instructor, continued her sport up until her last trimester. The 31-year-old even claims pole dancing helped her recover quicker from her difficult labor.
Spirig, who already has an eight-year-old son, continued pole dancing throughout her pregnancy despite her family's fears.
CALIFORNIA SCHOOL DISTRICT'S 'PERMISSIVE' DRESS CODE WELCOMES TUBE TOPS, RIPPED JEANS
"Some people were worried that I would fall, or I was putting my baby in an unnecessary risk, especially my close friends and my family. Other people gave me lots of compliments about the videos on Instagram, and other pregnant pole dancers asked me for advice on certain tricks," Spirig told the Sun.
"My baby was always sleeping when I was dancing so it was never seemed distressed."
Spirig revealed she was on the pole just two hours before her contractions began, and was back pole dancing just seven weeks after she gave birth in June.
Christina, who owns Poledance Luzern, explained she took up the practice after the birth of her first child.
"I have been doing pole dancing since 2010, after the birth of my son, when I wanted to find a sport like gymnastics that I could be really passionate about," she said.
"When I saw a picture of a friend on a pole that's where the journey began," she added. "Pole [dancing] can give you so many physical and mental benefits. You can get fit, muscular, flexible and balanced while doing it.
"It's the combination of strength, flexibility, art and dance that make it such a forever passion."
AUSTRALIAN TOURIST GETS INCREDIBLE RESPONSE TO BIKINI PIC WHILE ON ITALIAN GETAWAY
But Spirig admitted there are risks involved with pole dancing while heavily pregnant.
"From the beginning of my fifth month of pregnancy, when my belly really started to grow, I eliminated every trick that touched the pole with the belly and all the drops and flips," the mom of two said. "It's important to make a smooth landing and to avoid hitting anything … It can be dangerous if you fall from the pole or if you crash into it with your belly," she added.
"I also was inverting with more speed than just the strength it takes so that my abs could separate healthily — to give the uterus enough space. It's important to have a good body balance and to know what your body is capable of.
"The longer you've already done pole dancing for, before you get pregnant, the better."
Spirig also credits pole dancing with her speedy recovery, saying it was "much easier because I practiced deep core activations which helped me to recover from my difficult labor."
FOLLOW US ON FACEBOOK FOR MORE FOX LIFESTYLE NEWS
Christina trained on the pole three to four times a week until she was six months pregnant, then reduced that to 45 minutes a week for the remaining two months.
"At times it was hard to mentally accept that my body was changing and to be happy with everything that works and what doesn't work while being heavily pregnant," she admitted.
"I listened to my body, and if it felt bad, weird or insecure then I wouldn't do something.
"In my own opinion, it's good to stay in the same level throughout your pregnancy or even to take a lower level class rather than try new things."