Model protests Gucci's runway straitjackets during show: 'Mental health is not fashion'
A model took matters into their own hands while walking the Gucci runway in Milan on Sunday, blasting the luxury brand's "vulgar" use of straitjackets during a runway show in a surprise, silent protest.
Ayesha Tan-Jones, a non-binary model and musician, rolled down Gucci's conveyor belt-style runway for the fashion house's Spring/Summer 2020 show on Sept. 22. Tan-Jones put a twist on the assigned outfit — a utilitarian, white jumpsuit — by holding up both hands, written with a message reading "mental health is not fashion" across the palms.
As part of the 89-look presentation, Gucci creative director Alessandro Michele sent 20 straitjacket-inspired looks down the runway, the New York Times reports. The ensembles included "straitjackets that looked like giant coveralls, straitjacket smocks, [and] straitjacket anoraks" as well as "straitjackets that buttoned up, laced up and buckled up."
MEGHAN MARKLE WEARS $85 DRESS DURING ROYAL TOUR OF AFRICA
Uncomfortable with the fashions, 26-year-old Tan-Jones decided to stage a protest during the big event, in a "last-minute" decision after a fellow model reportedly "walked off the job" because he was so "disgusted" by the plans, Tan-Jones told BuzzFeed News.
"For me, I chose to use the platform to highlight the issue," Tan-Jones said.
Though the London-based model was the only Gucci runway model who chose to protest the straitjackets and how they were displayed, Tan-Jones said some of the other talent lended their support.
"I would not have had the courage to walk out and peacefully protest [without their support,]" the protester said.
Tan-Jones added that the luxury fashion house's use of straitjackets struck "especially close to home" because "the modeling industry isn't particularly nourishing for one's mental health."
"As an artist and model who has experienced my own struggles with mental health, as well as family members and loved ones who have been affected by depression, anxiety, bipolar and schizophrenia, it is hurtful and insensitive for a major fashion house such as Gucci to use this imagery as a concept for a fleeting fashion moment," the model later wrote on Instagram.
"It is in bad taste for Gucci to use the imagery of straitjackets and outfits alluding to mental patients while being rolled out on a conveyor belt as if a piece of factory meat," Tan-Jones continued. "Presenting these struggles as props for selling clothes in today's capitalist climate is vulgar, unimaginative and offensive to millions of people around the world affected by these issues."
Moving forward, Tan-Jones intends to donate 100 percent of the paycheck received from Gucci to charitable mental health causes.
CLICK HERE TO SIGN UP FOR OUR LIFESTYLE NEWSLETTER
After the show, Michele told the Times that he hoped the clothing collection communicated "how society today can have the ability to confine individuality and that Gucci can be the antidote."
"For me, the show was the journey from conformity to freedom and creativity. Uniforms, utilitarian clothes, such straitjackets, were included in the fashion show as the most extreme version of restriction imposed by society and those who control it," Michele said. "These clothes were a statement for the fashion show and part of a performance."
According to the Times, the Italian luxury brand also felt "the model should be free to protest" as the fashion show was "partly about freedom."
Reps for the luxury brand were not immediately available to offer further comment on the story.
FOLLOW US ON FACEBOOK FOR MORE FOX LIFESTYLE NEWS
Instagram users, meanwhile, had strong feelings on Tan-Jones' complaint. Some skeptics questioned why the model walked in the show at all if Gucci's plans were so upsetting, while others praised Tan-Jones for making an "amazing" stand for mental health.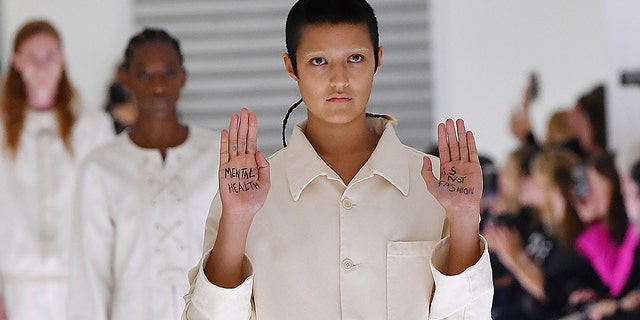 "If you're so against the message of these looks then why are you representing it in the first place?" one critic asked. "Just as much as it shouldn't 'glamorize' mental health, the looks shouldn't be used to propel you in the social sphere and reward you for doing something so inappropriate at an event which was not the time and place."
"If you didn't like these outfits, then you simply shouldn't have walked out in them and left if it's a message you don't support," they added.
Another accused the model of "ruining" the show, while one described the stunt as "stupid."
CLICK HERE TO GET THE FOX NEWS APP
Fans of the protest, meanwhile, felt the performance hit all the right notes.
"Yes! The fashion is wrong," one wrote.
"Amazing" another cheered.
"Thank you," someone else responded.
No stranger to style controversies, Gucci has previously made headlines for releasing a turtleneck which drew comparisons to blackface, an $800 turban, a pair of "dirty" sneakers, and more.