Lara Trump sports MAGA swimsuit for Memorial Day weekend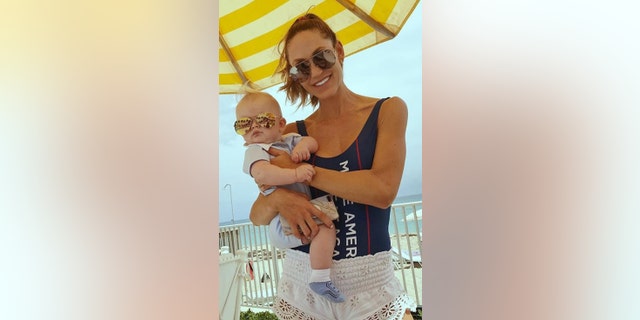 NEWYou can now listen to Fox News articles!
Lara Trump is embracing the holiday spirit, sharing a photo of herself to Instagram in a $55 navy blue "Make America Great Again" one-piece swimsuit.
"In honor of the holiday weekend: #flashback to double mirrored sunglasses!! By popular request, link to bathing suit in bio‼" the 35-year-old wrote in a May 26 post, which has since been liked over 21,000 times.
HIGH SCHOOL SPEAKS OUT AFTER BEING CRITICIZED FOR NOT ALLOWING GRADUATING SENIOR TO WEAR ARMY SASH
President Trump's daughter-in-law completed the look with white lace shorts and a ponytail. She holds her son Luke, eight and a half months old, also wearing mirrored shades, at a beachfront location.
According to the swimsuit's listing at the Trump online campaign store, wearers can "make a YUGE splash" this summer in the one-piece with a high-rise style cut and low back.
Similarly, men's swim trunks are also offered with the same design, with the president's tagline printed vertically with red stripes.
Both suits are "proudly made in the USA."