Iconic fashion designer Karl Lagerfeld dies at 85
Fashion icon Karl Lagerfeld, a fixture in the luxury fashion industry over the last 50 years, died early Tuesday, Chanel announced. He was 85.
The creative director of Chanel – who was known for his trademark ponytail, tinted glasses paired with a dark suit and fingerless gloves – died at the American Hospital located outside of Paris, Sky News reported, citing French media.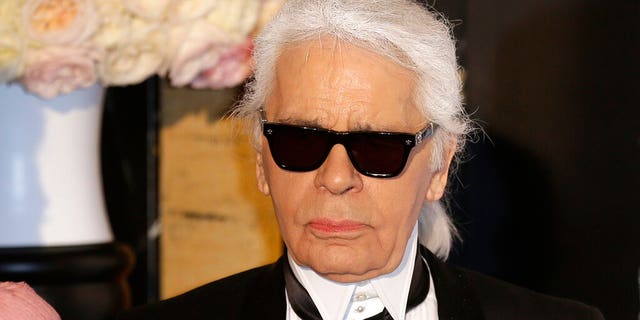 Lagerfeld's declining health became more apparent last month when he didn't come out to take a bow at Chanel's show in Paris. The fashion company said Lagerfeld "was feeling tired," but did not provide further details.
KARL LAGERFELD'S PASSING: MODELS, CELEBS AND FRIENDS PAY TRIBUTE TO 'GENIUS' FASHION DESIGNER
The German designer, who was nicknamed "Kaiser Karl," was of the most hardworking figures in the industry. He held down the top design jobs at LVMH-owned luxury label Fendi from 1977, and Paris' family-owned power-house Chanel in 1983. His fashion career kicked off in the 1950s, when he apprenticed for Balmain and later hired by Paris-based house, Patou.
Despite dominating the luxury fashion industry, Lagerfeld's designs quickly trickled down to low-end retailers, giving him an almost unprecedented impact on the entire fashion industry.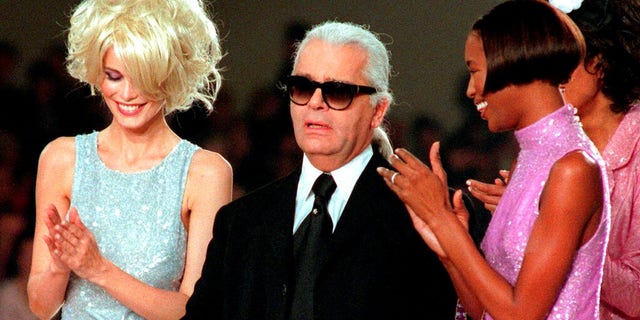 He was known for his distinctive look later in his years and was once quoted by the British Vogue saying: "I am like a caricature of myself, and I like that."
"It is like a mask. And for me the Carnival of Venice lasts all year long," he added.
KARL LAGERFELD UPSETS FRANCE WITH HOLOCAUST COMMENTS ABOUT IMMIGRANTS IN GERMANY
Lagerfeld also started his own label, Karl Lagerfeld, which though less commercially successful than his other ventures, was widely seen as a sort of sketchpad where the designer worked through his audacious ideas.
Despite his very public life, Lagerfeld's exact age remained a mystery. The designer reportedly had two birth certificates — one dated 1933 and the other 1938 — and Lagerfeld created even more confusion when he told French magazine "Paris Match" in 2013 that he was born in 1935. His assistant also told the Associated Press that the designer, who many reported being 85, liked "to scramble the tracks on his year of birth [because] that's part of the character."
Shortly after his death was announced, designer Donatella Versace along with other prominent fashion figures paid tribute to Lagerfeld.
"We will never forget your incredible talent and endless inspiration. We were always learning from you."
Singer-turned-designer Victoria Beckham described Chanel's creative director "a genius."
"So incredibly sad to hear this. Karl was a genius and always so kind and generous to me both personally and professionally. RIP," Beckham captioned a photo of Lagerfeld on Instagram.
CLICK HERE TO GET THE FOX NEWS APP
Although he was often praised, Lagerfeld faced criticism throughout his career. He received backlash when he once told France's Metro newspaper that Grammy-winning singer Adele was "a little too fat."
The Associated Press contributed to this report.