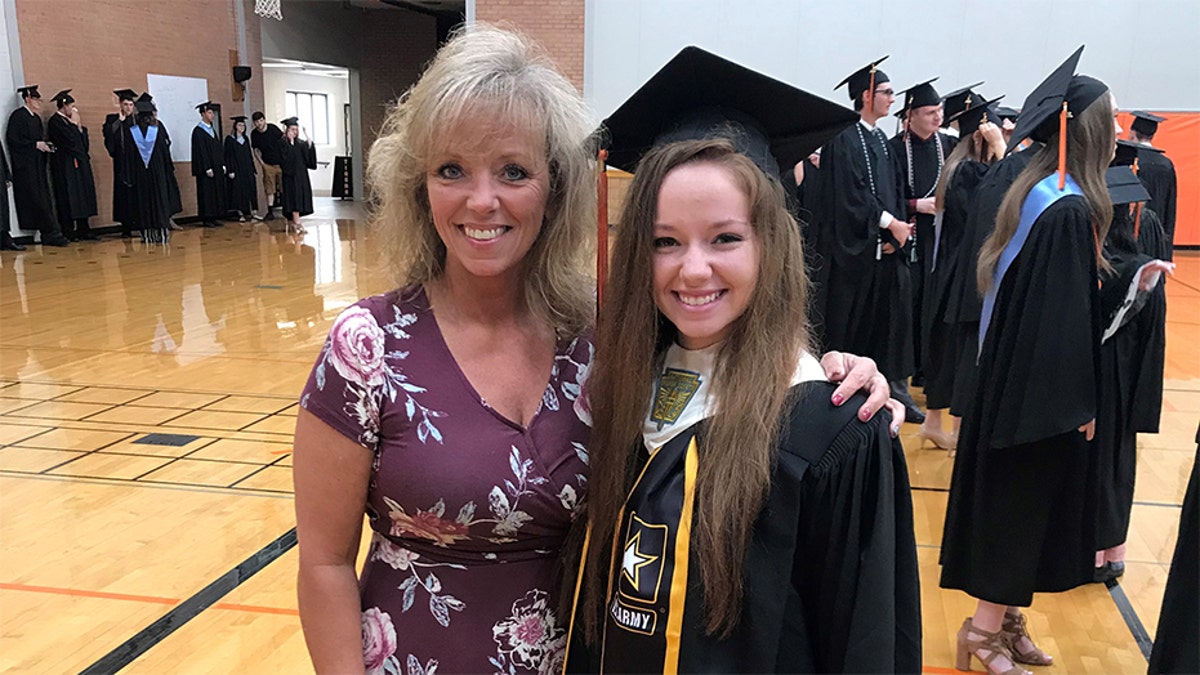 A Nebraska high school is speaking out and defending its actions after receiving major backlash on social media for denying a graduating senior's request to wear her U.S. Army sash during the graduation ceremony.
Megan Pohlmeier was planning on participating in her high school's graduation ceremony in May. To celebrate the occasion, the teen said she wanted to wear her Army sash, which was given to her by her recruiter at the Grand Island office in Nebraska four days before graduation, she told Fox News.
Pohlmeier said she called the school to see if she could wear the black and yellow sash during the ceremony.
"It was something I worked really hard to earn. They told me 'no' and did not really give me a reason," she told the Omaha World-Herald.
TEENS PROTESTING HIGH SCHOOL DRESS CODE FIGHT FOR RIGHT TO GO BRALESS, WEAR SHORTER SHORTS
Pohlmeier's father also tried calling the school, but Principal Thomas Szlanda told him the same thing.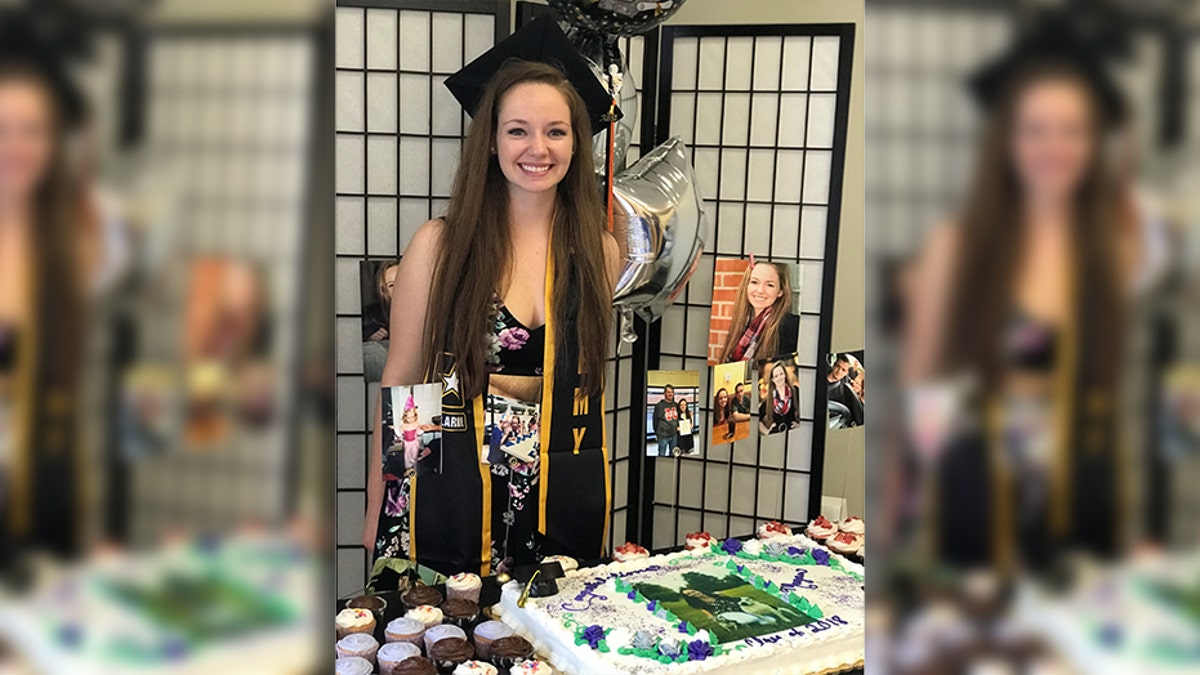 Despite being told no, Pohlmeier decided to wear her sash tucked under her graduation gown so she could take pictures with it after the ceremony.
However, Principal Szlanda saw the sash peeking out under the black gown and pulled her out of line, she said.
"He pulled me out of line and said, 'I talked to you and your father and you are not to be wearing that. If I see you wearing that again, you will not receive your diploma,'" she told the World-Herald.
Since the graduation, which Pohlmeier did participate in sans sash, her story has gone viral on Facebook with many calling the school's actions "unacceptable" and "disrespectful."
Now, Hastings Public Schools Superintendent Craig Kautz is defending his school's graduation accessories policy, saying "if we don't award it, you don't wear it."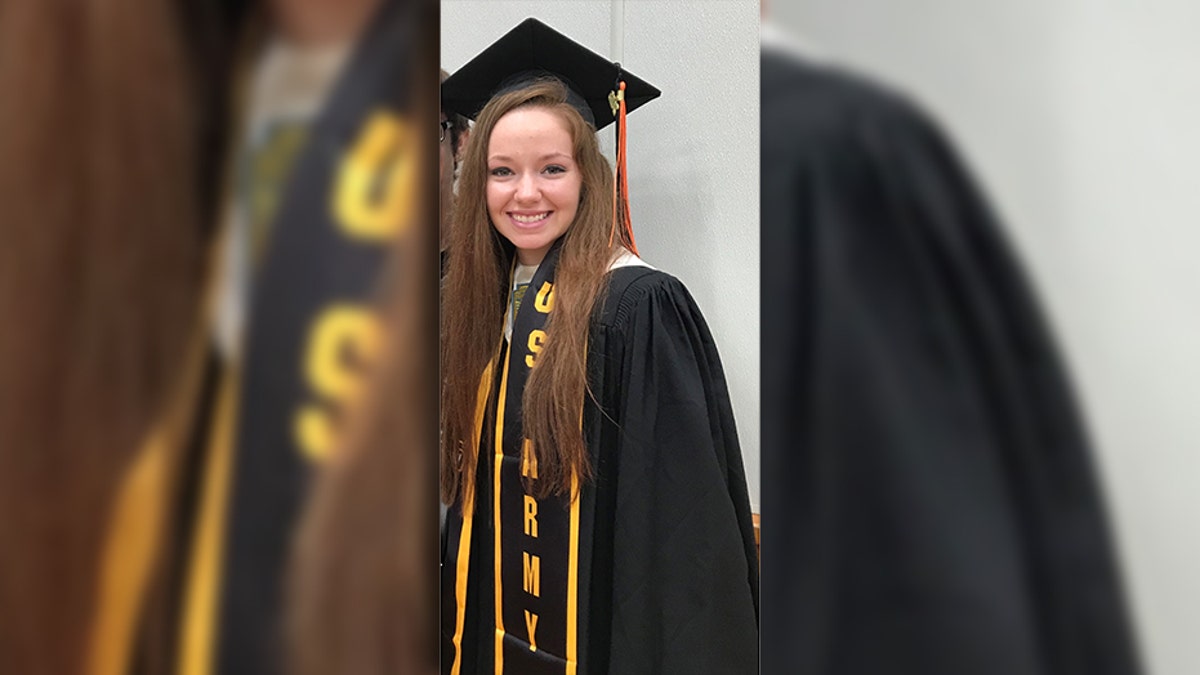 "The rule is in place to prevent student's writing the silly 'Hi, Mom' on the hat and goofy things. We're trying to keep our graduations somewhat dignified," Kautz told Fox News.
Kautz points out that the rule applies to every student -- despite the viral post on Facebook that claimed the school allowed other students to wear college sashes. Pohlmeier also confirmed that other students were not allowed to wear sashes from other schools.
"As far as us being unpatriotic, that's just not true. We say the Pledge of Allegiance every day, we play the National Anthem before every event," Kautz said. "We have a veteran's memorial in front of the campus with a flag that flies 365 days a year."
"To say we're unpatriotic means you don't know Hastings, Nebraska," Kautz told Fox News.
Kautz said he has watched video surveillance of the incident and feels that the principal did not react outside of the policy.
"At a certain point, I think, in all of the discussion that occurred, the principal was just saying, 'Get the sash off and get in the graduation line or don't go through the graduation ceremony,'" Kautz said to the World-Herald.
Kautz confirmed to Fox News the student would have been allowed to wear her sash tucked under her gown during the ceremony. He also said the student could have appealed the decision to him and the board of directors that were "standing within two or three feet of Megan and her father."
Pohlmeier told Fox News she was "never given an option to appeal the decision."
Pohlmeier did go on to graduate with her diploma.
"She earned her diploma, so we are not going to deny her that," Kautz said. "The only thing we would deny her is the ability to go through the graduation ceremony. Our graduation ceremony, as it states in our (student) handbook, is voluntarily. It is not something that is mandated to get the diploma."
FOLLOW US ON FACEBOOK FOR MORE FOX LIFESTYLE NEWS
Pohlmeier told World-Herald that she would like a direct apology from the school for the situation.
"It just should have been handled better," she said.
The school apologized on social media after the incident went viral.
"We are sorry (this) has generated the perception that we are not patriotic," the district stated in the post. "This could not be further from the truth. Our mission, in part, is to develop responsible citizens. We can not think of a more responsible citizen than the ones who select to or are chosen to serve the United States of America."
"If we did something wrong, we want to correct it. But to say we're unpatriotic is just not true," Kautz said.