Florida State University Robot Tries To Attract STEM Students, Does Tai Chi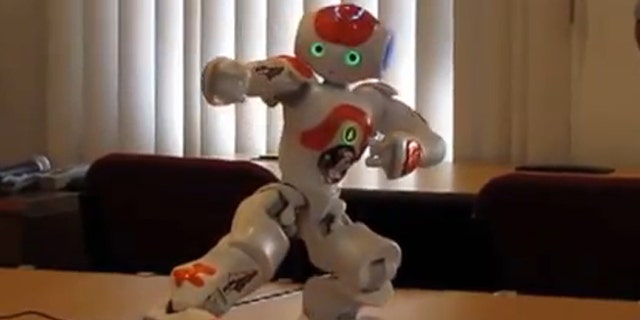 A robot has joined the immigration debate.
No, RoboCop hasn't joined Immigration and Customs Enforcement (ICE) nor has R2D2 become an advocate or opponent of the Dream Act.
Instead, two students at Florida State University's Panama City campus have programmed a nearly two-foot tall orange and white artificial intelligence agent, nicknamed Sam E. Nole after the school's mascot, to attract more foreign students to the campus' STEM — science, technology, engineering and mathematics — academic programs.
The STEM Act seeks to expand visa programs for foreign student planning careers in the sciences. There have been many congressional bills that have sought to expand the visa programs for these students.
"When people see something like … Sam E. Nole, people are interested," said Brian Hague, a senior at FSU Panama City and one of the robot's developers, according to the Panama City News Herald. "People want to figure out how to get him to do whatever crazy stuff they want him to do."
Sam E. Nole knows how to do a lot of crazy stuff: from tai chi, to the school's infamous "tomahawk chop" to the overhyped "Gangnam Style" dance. There is no word if the rhythmic robot is currently learning how to twerk.
The robot has multiple sensors around his body, including four microphones, two cameras, two speakers and three tactile sensors on its head that let him see the world around him.
"I am a very capable machine," the robot says. "Brian and Bipol [Alam, the other programmer] have been programming me for the past week and they can make me do some pretty cool things. Just imagine what I will be able to do in the future."
Ginger Littleton, the director of the FSU Panama City STEM Institute, said the robot aims to inspire high school and college students to study technology, math or science. The robot was acquired through a $50,000 donation from AT&T and costs about $16,000.
"The most fantastic thing he can do is to really inspire," Alam said. "He has done things that have made me smile, and it's odd that a robot, a droid basically, can make us human beings feel emotion towards it."
Alam added that Sam E. Nole has very human-like qualities and when he falls over he even says "ow."
Follow us on twitter.com/foxnewslatino
Like us at facebook.com/foxnewslatino