Domestic violence survivor torches wedding dress at garage sale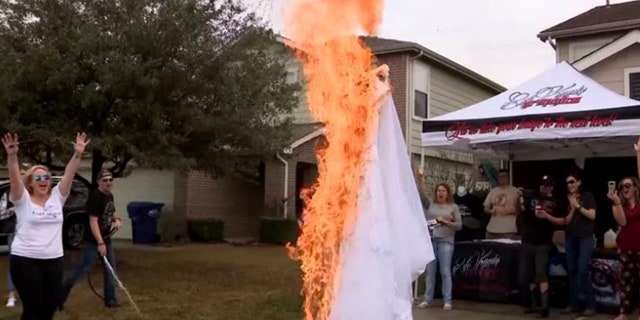 Last weekend, Briana Barksdale welcomed friends and fellow residents of Spring, Tex. over for a garage sale that was anything but ordinary — she was commemorating her divorce made official and celebrating her survival of an abusive marriage.
Barksdale not only sold all the possessions remnant of the relationship, but set her wedding gown ablaze.
"This is for every woman who has ever been in a relationship that was abusive, that hurt, that they shouldn't have stayed in, that they didn't know how to get out of," the 34-year-old mother of two told KHOU before dousing the gown with gasoline on a wooden pyre.
"Burn, baby, burn," the divorcee sang as the gown burst into flames.

'BREADCRUMBING,' 'BENCHING' AND OTHER MILLENNIAL DATING TERMS YOU OUGHT TO KNOW
"It was a really rough situation, it was a bad situation — there are still criminal charges pending, so I can't talk about a lot of it, but yeah, not a great guy," she told the outlet. "I ended up pretty much with everything, so I'm getting rid of the stuff that was ours and going on with mine."
According to USA Today, prices at the garage sale ranged from 50 cents to $30, as she sold everything from dishes to a computer to entire furniture sets. Family and friends applauded the symbolic closure of the event.
"I think it's a good release for her and she needs it to get over with everything she's been through," one customer told KHOU. Before Barksdale set the dress on fire, garage sale goers signed the gown, some with more colorful language than others against her ex-husband of 13 years, Mike.
THE STATES THAT SPEND THE MOST ON ENGAGEMENT RINGS
Barksdale told KMOV that her ex-husband cheated on her and was violent. Court records show that Mike is serving seven years of probation and community service after pleading guilty to the assault of a family member, the outlet reported.
"So I joke about it, Was it worth it? Absolutely. Divorce is expensive, because it's worth it," Barksdale quipped. "And so, will I be eating Ramen until I'm 50? Probably. But single Ramen is better than married filet mignon."
The Texas woman isn't the only funny lady to make recent headlines with to close a divorce with a grand gesture. In recent weeks, one Canadian woman threw a boozy "divorce party" and another New Zealand divorcee auctioned off her wedding gown to a strip club.
FOLLOW US ON FACEBOOK FOR MORE FOX LIFESTYLE NEWS
All in all, Barksdale wouldn't have it any other way.
"This is symbolic of freedom. This is symbolic of moving forward," she said. "This is symbolic of letting go of the past and moving forward to the future."