Dad of bullied child tells parents to 'educate your children'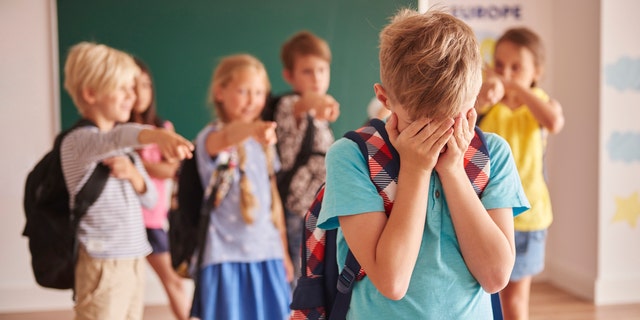 An Idaho dad is turning to social media to help protect his seven-year-old son from bullying.
Dan Bezzant's son, Jackson, has Treacher Collins syndrome – a rare condition that affects the development of bones and facial tissues.
The syndrome has affected Jackson's eyesight, hearing and has forced him to already undergo major surgery. And it has led to a lot of school bullying.
INSTAGRAM REMOVES PHOTOS OF BOY WITH RARE DISORDER, MOM CLAIMS
"Kids throw rocks at him and push him shouting these horrific words," Bezzant posted on Facebook of the daily abuse his son receives.
"He is called ugly and freak and monster on a daily basis by his peers at school," Bezzant wrote. "He talks about suicide…he's not quite 8! He says he has no friends and everyone hates him."
The poignant post was written after Bezzant says his ex-wife called to tell him about the cruelty their son was experiencing.
"When I was told about it," Bezzant told InsideEdition.com, "I was just in my car sobbing in the driveway."
But instead of pity or anger, Bezzant turned to action. In his Facebook post detailing the "constant barrage of derogatory comments and ignorance" that "Jackson has to endure," Bezzant asks parents to "take a minute to educate your children about special needs."
Since publishing his plea, the post has been shared over 37,000 times and liked nearly 40,000 times – and it's having a hugely positive influence on Jackson's life.
Parents in the community have responded with vows to look out for Jackson and make sure he's okay. Bezzant even set up a PO Box for people who want to sent mail to Jackson – several have posted on Facebook saying the plan to send letters.
FOLLOW US ON FACEBOOK FOR MORE FOX LIFESTYLE NEWS
Bezzant has also said he learned about two other children in Idaho with the same condition, and they plan to set up a playdate and lunch.
"I am receiving constant messages of people sending love and prayers for Jackson. All I am asking is that you teach your children about bullying and making sure that kids understand that people are built differently and God loves us all," Bezzant said to InsideEdition.com. "I hope it brings awareness to the topic."