Christmas, holiday parties may lead to 'parenting hangovers,' new poll says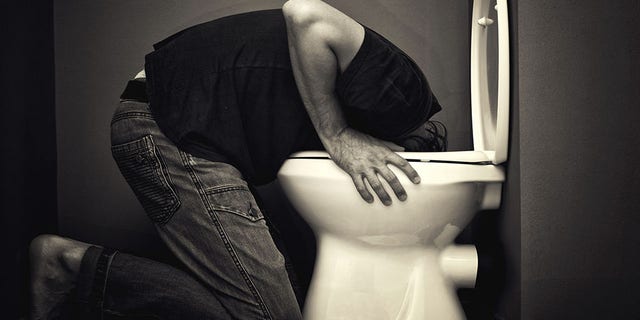 NEWYou can now listen to Fox News articles!
Parents of young children planning to take part in holiday festivities — such as parties — this year should be prepared to parent while hungover the following day, a recent poll from the University of Michigan's C.S. Mott Children's Hospital says.
The poll recently surveyed 1,170 parents with at least one child who is 9 years of age or younger. Of the respondents, 27 percent said they often drink alcoholic beverages during "special events," while 36 percent said they drink "sometimes" and 17 percent said they "rarely" drink at these events.
WHY YOU SHOULD SKIP THE WORKOUT IF YOU'RE HUNGOVER, ACCORDING TO EXPERTS
But while many of the respondents said they plan for "transportation and child care before a special event," a fewer number "consider how excess drinking may affect parenting the next day," a news release from the university states.
In fact, 24 percent of respondents to the survey said they are not likely to make plans "for alcohol limits or day-after child care," while 8 percent of parents who took part in the survey "reported a prior situation where they may have been too impaired from alcohol to fulfill their parenting responsibilities," though many of those same parents said this later led them to limit their alcohol consumption or plan ahead for their child's care to prevent a similar situation in the future.
The poll's authors warn that drinking too much could also affect their child's safety.
For instance, about 29 percent of parents said "they know of another adult who might have caused an unsafe situation for their child due to drinking alcohol on a special occasion," according to the survey, which explained that 61 percent of respondents said they were concerned the adult was too "impaired or hungover" to supervise their child, while 48 percent said they were concerned the adult was not capable of handling a "possible emergency" at that time.
Even fewer — 37 percent — said they were concerned that the adult drove with their child while "impaired." Twenty-eight percent expressed concern the adult was "violent or out of control in front of the child" while 7 percent said they were worried the adult injured the child.
RECORD-BREAKING HOLIDAY TRAFFIC IS EXPECTED THIS SEASON, AND THESE ARE THE WORST TIMES TO DRIVE IN IT
"Though rare, occurrences of this severity should prompt adults to step in and ensure the child's immediate safety, such as keeping the child in another adult's care until the drunk parent can sober up, and to urge the offending parent to make better choices in the future regarding alcohol use," the poll's authors wrote.
While the poll's authors noted "special events" — such as weddings and holiday parties — are an opportunity for parents to socialize with other adults, "advance[d] planning is necessary to ensure that children have appropriate care and supervision during and after the celebration."
"This should include strategies to avoid overindulging, such as alternating alcoholic and non-alcoholic beverages. Transportation plans should ensure that the parent arrives home safely and that the babysitter is not relying on an impaired parent for a ride home," they wrote. "If alcohol use might cause the parent to feel suboptimal the following day, childcare arrangements might involve the child staying overnight at a friend or relative's home."