Alexis Ren opens up about her eating disorder: 'I overworked myself'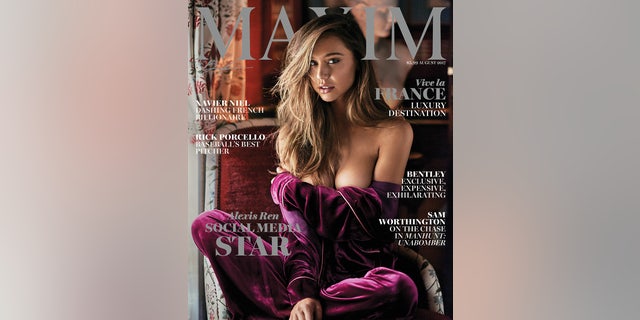 Alexis Ren may be best recognized for her massive social media following (9.4 million followers and counting on Instagram to be exact), but the renowned model insisted her life is anything, but glamorous.
The 20-year-old Maxim cover girl said she's in a better place since opening up about her eating disorder.
"I've gone through a lot as far as health," she explained. "I overworked myself to a point of malnourishment. I'm stronger, happier, and healthier than I've ever been… In the last six months I've opened up to my followers about my struggles in my day-to-day. I think being vulnerable to other humans is a form of strength."
Back in April, the Los Angeles native confessed on Twitter she was in "a toxic state of mind," suffered from food guilt, and over-exercise as a form of punishment. She was privately coping with the death of her mother, who passed away from breast cancer in 2014.
Ren relied on modeling to help her mask the pain, but she gained weight while abroad. Her modeling agency gently nudged her about the physical change.
"They were like, 'You did gain weight and if you could start working out a little bit more…' I just felt so out of control," she told Cosmopolitan in May.
Then she met and fell in love with model Jay Alvarrez. The couple became famous by documenting their lives on YouTube, prompting her health to worsen.
"I was scared of food," she admitted.
The couple confirmed their split last February. And fortunately, Ren got help for her disorder. She's now enjoying her blossoming career.
"People think I don't have substance and I'm just another pretty face," she told Maxim. "I have been through a lot of life experience for a 20-year-old. People tend to judge a book by its cover. I love being unexpected and gaining respect for who I am and not how I look."