17 Year-Old Reps US in Yu-Gi-Oh! World Championship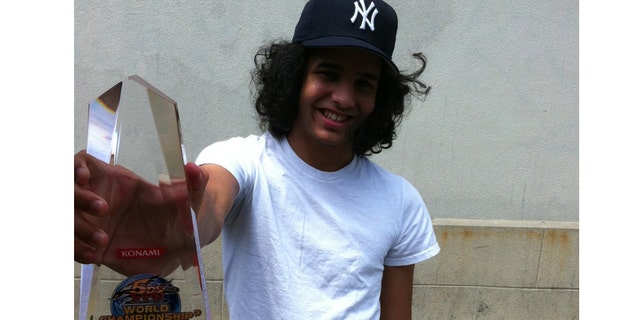 Inside an old black van in the Bronx seven years ago, Hansel Aguero began trading Yu-Gi-Oh! cards as a personal hobby.
Now the 17-year-old Dominican-American is set to represent the United States Aug. 13 and 14 in the Yu-Gi-Oh! world championship in Amsterdam. He'll be completing against the top 26 players in the world.
"I always knew he was a champion," said his mother, Oraliz. "I'm confidence he'll return triumphant. But no matter what happens, we're already so proud of him."
The young Latino, who started out trading on cardboard milk crates when he was 10, defeated 1,800 players last months during a national tournament in Pittsburgh, Penn., making it the best Yu-Gi-Oh! player in the United States.
Similar to Pokeman, Yu-Gi-Oh! is a card-based game where monster, trap and magic cards are traded and challenged for life points. A deck of cards organized the right way – with the right monster and spirit cards – can quash its opponents.
Aguero's brother, Johan, 22, said they worked for months picking out the right cards for the tournament – and once they were done, they knew it would be a winner.
"I had a feeling – I knew there was no way someone could beat those card. I told everyone I knew that he would be a winner," Johan Aguero said. "It's playing out exactly like I thought it would."
As a family – there are four brothers – they have collected over 10,000 cards. They are neatly stocked in the bottom drawer of Hansel's room.
Hansel Aguero, the son of Dominican immigrants, was a natural from the very beginning.
"We always knew he was good. When we played on Fordham (Road), he was always winning," Johan said. "But no one in the scene took us seriously at the beginning."
From the time they woke up, to the time they went to sleep, the brothers would play.
"We started playing at 10 a.m. and sometimes wouldn't finish till 3 a.m.," he said.
Now Hansel is vying for a trophy and top-shelf Yu-Gi-Oh! cards valued in the thousands. But already he's won something well coveted in the card-trading world: respect.
"Most people start playing in stores. We started playing in a van – and people would make fun of us. We felt disrespected," Johan said. "But now everyone wants to be his friend. People look up to him now, they treat him better."
Now all he needs is the championship trophy.
Follow us on twitter.com/foxnewslatino
Like us at facebook.com/foxnewslatino
Follow Carolyn on Twitter @salazarlatino