Pennsylvania teen marries high school sweetheart after finding out cancer is terminal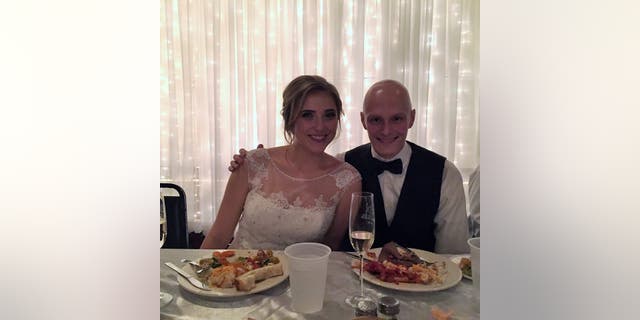 A Pennsylvania teen batting terminal cancer married his high school sweetheart last week, after countless members of the community stepped forward to make the 200-guest reception possible.
Luke Blanock, who has undergone 24 rounds of chemotherapy and more than 100 radiation treatments since being diagnosed with Ewing's sarcoma in 2013, was able to walk down the aisle with his beaming bride, Natalie Britvich on Feb. 19, WPXI reported.
"You can tell he's over the moon, very much in love," Rosemary Nikas, Luke's grandmother, told WPXI.
Blanock had been a standout basketball and baseball player at Canon McMillian High School in Canonsburg, and continued playing both sports while receiving treatment. However, two months ago doctors informed the 18-year-old that his cancer had spread and was terminal. He proposed to Britvich a month later.
"He said, 'I'm not marrying Natalie to make her a widow. I'm marrying Natalie to spend 50 years with her.' And that's great. That's how it should be," Nikas told WPXI.
Local businesses and members of the community offered services mostly at no cost to help the couple stay in budget.
"We pulled this whole thing together in a month, which is pretty incredible for a wedding this size," Ashley Cyprowski, the couple's wedding planner, told WPXI.
Blanock took to Twitter to share photos of himself and his bride, and the family thanked those who supported the couple in a post on their GoFundMe page.