Orlando shooting victim speaks of chaos inside nightclub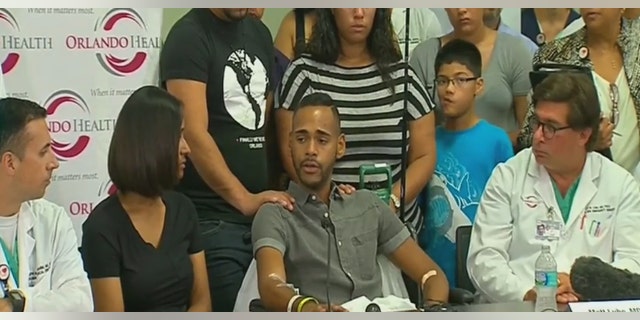 NEWYou can now listen to Fox News articles!
A victim of Sunday's mass shooting at an Orlando nightclub joined surgeons at a press conference at Orlando Health Tuesday, where he detailed the moment the terror began. Angel Colon, who was shot three times in the leg before the gunman returned and struck him again in the hand and hip, said the night had been drama free before the chaos unfolded.
"We were just having a great time, all there having a drink," Colon, 26, said. "Shortly after 2, we're saying our goodbyes, I'm hugging everyone, it was a great night."
"I was talking to the last girl and out of nowhere we hear a big shot gun, we stop what we're doing and then it just keeps going," he said. "We just grabbed each other and started running. I was shot about three times in my leg so I had fallen down. I tried to get back up, but everyone started running everywhere, I got trampled over and I shattered and broke my bones in my left leg so by this time I couldn't walk at all – all I could do was just lay down while everyone was running on top of me."
Colon described the moment he saw Omar Mateen shooting other victims who had already fallen dead on the floor.
"He [Mateen] goes into the other room and I could just hear more shotguns going on, I thought I was a little safe at this time because it's giving everyone time to tackle him down," Colon said. "But I hear him come back and he's shooting everyone that's already dead on the floor making sure they're dead. I was able to peek over, and I can just see him shooting at everyone. I can hear the shotgun get closer, and I look over and he shoots the girl next to me and I'm just lying there thinking 'I'm next, I'm dead.'"
Colon was hit by another bullet in his hand, and then another in his hip but remained still on the floor. A police officer dragged him through the club and across the street to safety at a nearby Wendy's where other victims had been taken.
"I look over and there's just bodies everywhere, we're all in pain," Colon said.
Colon was among 44 victims who were admitted to Orlando Regional Medical Center where six of those patients remain critically ill, five are in guarded condition, and 16 are considered to be stable. Nine patients who were brought to the hospital following the shooting were pronounced dead within the first few minutes.
Speaking to reporters at the press conference Dr. Michael Cheatham, chief surgical officer at Orlando Regional Medical Center, said that aside from those nine patients, no others have succumbed to their injuries.
"All the patients who since arrived at the hospital are still with us, they are steadily improving," Cheatham said. He added that more victims are expected to come forward as they recognize injuries sustained in the attack. Surgeons operated on 28 victims Sunday, followed by eight more Monday and have another eight scheduled for Tuesday.
Dr. Chadwick P. Smith was also at the hospital Sunday and called it "singularly the worst day of my career."
Surgeons described patient after patient being loaded into operating rooms while staff sorted victims based on the severity of their injuries.
"We're a busy level one trauma center, we're used to seeing gunshot wounds, we're used to seeing a multitude of injuries every night, but this was somewhat of a surreal experience," Dr. Will Havron told reporters. "We were just given patient after patient after patient, the OR would fill with a patient, we would proceed with operative intervention, whatever was needed, we would literally walk from that operating room to another operating room and do it again and again."