Nearly 100 nerve disorder cases linked to Zika in Colombia, health officials say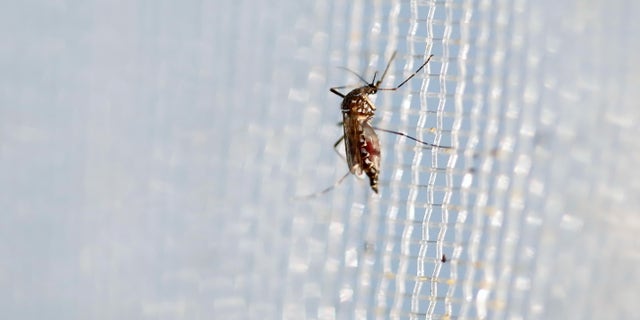 NEWYou can now listen to Fox News articles!
BOGOTA, Feb 9 (Thomson Reuters Foundation) - Nearly 100 Colombians suffering from the Guillain-Barre syndrome, a rare nerve disorder, also have symptoms of the mosquito-borne Zika virus, Colombia's National Health Institute has said.
Colombian health authorities recently announced that three people who had been infected with the Zika virus had died after developing the Guillain-Barre syndrome, the first time health officials had said the Zika virus could cause deaths.
"We have confirmed and attributed three deaths to Zika," Martha Lucia Ospina, head of Colombia's National Health Institute, told reporters during a news conference on Feb. 5.
"In this case, the three deaths were preceded by Guillain-Barre syndrome," said Ospina, an epidemiologist, adding that six further deaths were under investigation for a possible link to Zika.
Colombian Health Minister Alejandro Gaviria has said there was a "causal connection" between Zika, the Guillain-Barre disorder and the three deaths.
Guillain-Barre is a rare disorder in which the body's immune system attacks part of the nervous system and damages the nerve cells, causing muscle weakness and sometimes paralysis.
The symptoms can last a few weeks or several months and while most people recover fully from Guillain-Barre, some have permanent damage, and in rare cases people have died from the syndrome, according to the United States Centers for Disease Control and Prevention (CDC).
Reported cases of Guillain-Barre have increased as the Zika outbreak spreads across Central and South America. So far, the Zika virus has spread to more than 25 countries and territories in the region, according to the World Health Organization (WHO).
Brazil, Colombia, El Salvador, Suriname and Venezuela have all reported an increase in the number of cases of Guillain-Barre syndrome, just as French Polynesia did during large outbreaks of Zika there in 2013 and 2014, the WHO says.
Colombia reports an average of 242 cases of Guillain-Barre syndrome a year, but reported 86 cases in the five weeks to Jan. 30, 2016. People of all ages can be affected, but it is more common in adults and in males, the WHO says.
Much remains unknown about Zika, for which there is no vaccine.
Scientists are studying a potential - but unproven - link between the surge in cases of Guillain-Barre and the Zika virus, and are trying to determine if a Zika patient is more likely to develop the Guillain-Barre syndrome.
"We do not know if Zika virus infection causes GBS (Guillain-Barre syndrome). It is difficult to determine if any particular germ "causes" GBS," the CDC says on its website.
The cause of Guillain-Barre cannot always be determined, but it is often triggered by an infection, such as HIV, the mosquito-borne dengue virus, or influenza, according to the WHO.
A team of CDC experts is expected to arrive in Colombia this week for a three-week visit to investigate the possible links between the Guillain-Barre syndrome and Zika.
After Brazil, Colombia is the country most affected by Zika, with more than 25,000 cases so far, more than 3,000 of them involving pregnant women.
Although Zika usually causes mild, flu-like symptoms often lasting for up to one week, the virus has also been linked to thousands of suspected birth defects.
The WHO declared the Zika outbreak an international health emergency on Feb. 1, after a spike in Guillain-Barre syndrome cases and microcephaly, a neurological disorder.
The health agency cited a "strongly suspected" relationship between Zika infection in pregnancy and microcephaly, a condition marked by abnormally small head size in newborn babies that can result in developmental problems.
Brazil is investigating the potential link between Zika infections and more than 4,000 suspected cases of microcephaly. Researchers have identified evidence of Zika infection in 17 of these cases, in either the baby or the mother, but have not confirmed that Zika can cause microcephaly. (Reporting by Anastasia Moloney, editing by Tim Pearce. Please credit the Thomson Reuters Foundation, the charitable arm of Thomson Reuters, that covers humanitarian news, women's rights, trafficking, corruption and climate change. Visit news.trust.org)