'Miracle' twins head home after beating incredible odds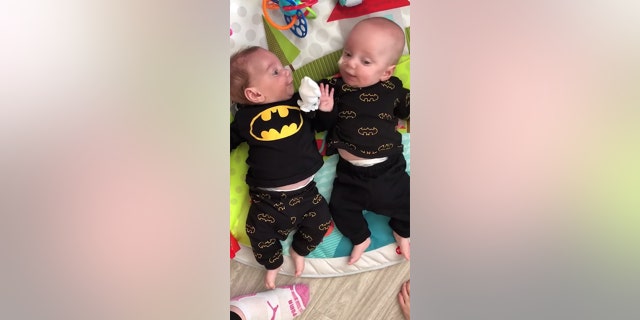 NEWYou can now listen to Fox News articles!
Twins born weighing less than 5 pounds combined have been allowed to go home for the first time after defying the odds to survive.
Jaxon and Axel Martin, five months, weighed just 2.9 pounds and 1.8 pounds when they were born three months premature to mother Michelle Martin, 31.
They were given just a one percent chance of survival after doctors detected they were suffering from twin-to-twin transfusion syndrome in the womb.
The rare condition causes the uneven flow of blood between identical twins, who share a placenta, resulting in one baby receiving excess support while the other is deprived.
MEN SEEING DRASTIC DROP IN SPERM COUNT, STUDY CLAIMS
It meant that Jaxon was overloaded with blood, which put pressure on his major organs, while Axel did not have enough nutrients or space to grow.
Martin also retained excess amniotic fluid in her uterus, and doctors performed a procedure to drain it in the hopes that her pregnancy would reach 28 weeks.
However, during her third procedure at 27 weeks, doctors noticed the larger twin Jaxon was in heart failure and Michelle underwent an emergency C-section.
The copywriter and her husband Chris, 29, saw the babies rushed into intensive care and were heartbreakingly unable to hold them for the first days of their lives.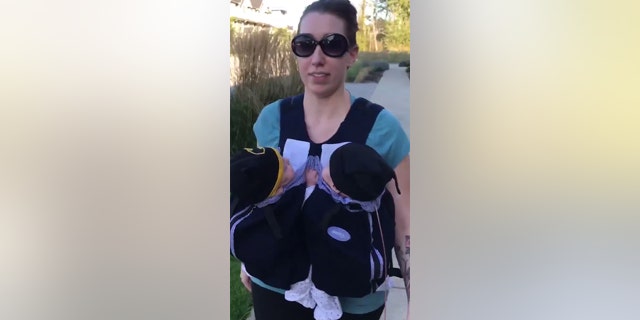 Axel was also fitted with a mask because he had lung problems, while Jaxon underwent three major brain surgeries.
But the tiny twins miraculously beat the odds to pull through and after five months in intensive care, were allowed to go home for the first time in September.
"Jaxon wasn't breathing when he was born and it took seven minutes to resuscitate him," Martin, of Surrey, British Columbia, Canada, said. "They were both incubated and placed on every life support machine they could have been. That first week was so tough. Each baby had serious brain bleeds."
"Jaxon's bleed was so serious, doctors asked us if we wanted to remove the life support," she said. "That was the worst moment of my life. I do think they're miracles. When I think of all the things they've been through and all the things that could have killed them I'm in awe."
RARE 'POLIO-LIKE' ILLNESS DIAGNOSED IN 6 MINNESOTA KIDS
Jaxon was discharged from B.C. Woman's Hospital and Health Center on September 7, and Axel came home on September 19.
The new parents said they worried those days would never come at all.
Now, the couple is adapting to life with the tots, who require specialist treatment including physical therapy and feeding tubes.
"It's awesome to be at home but it also has its challenges," Martin said. "The babies have feeding tubes which can be difficult and there isn't a whole lot of sleeping going on in our house."
"I always hoped it would be OK in the end and we took it day by day," Chris Martin said. "It's great that they are home. It's a lot of appointments and follow-ups. The lack of sleep is hard."
The Martins said the hardest thing is the uncertainty surrounding their children's brain injuries and how it will impact their future development.
"We're hopeful," Martin said. "Because a baby is always regenerating brain cells there is more hope than if an adult was to have this type of injury. We live in uncertainty because we won't know how they are affected by these brain injuries until they grow older."
"They may have cerebral palsy and developmental delays," she said. "They may never walk. Sometimes I think it would be good to just know, but then other times I think the uncertainty gives us hope."
LOUISIANA FIRE DEPARTMENT CELEBRATES BABY BOOM
"The wonderful nurses and doctors who cared for Jaxon and Axel are the only reason the twins survived and I have no doubt about it," she said.
Martin said she is inspired every day by her "miracle twins" whose personalities have started to develop.
"Axel is a real firecracker, all the nurses in the hospital said so," she said. "He never laid still and always had such a fighting spirit. He's a happy baby and quite mellow."
"Jaxon is a very social baby, probably because of all the attention he got in the hospital," she said. "He was the nurse's favorite. His odds of survival were so low, it's a miracle he's here."
"I just want them to have the best future and you have to hope that everything will be OK," Chris Martin said.