Instructional CPR kiosks make debut at major airports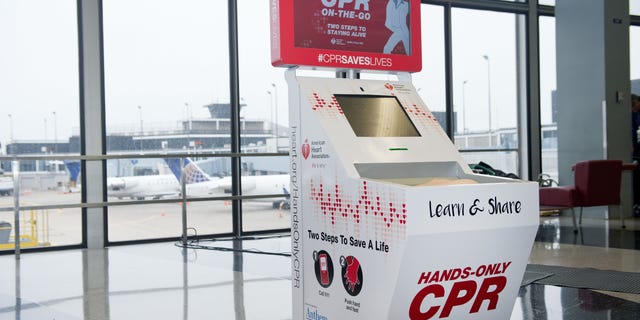 NEWYou can now listen to Fox News articles!
Airport travelers now have another way to pass the time during layovers and delays thanks to an interactive training kiosk offering lessons in lifesaving CPR skills. The kiosks debuted at five major airport hubs across the U.S. Wednesday.
Each Hands-Only CPR training kiosk, provided by the American Heart Association (AHA) together with the Anthem Foundation, features a touch screen with a video program that gives users a brief "how-to," followed by a practice session and a 30-second CPR test. Each is equipped with either a rubber torso or practice mannequin so users can receive feedback about the depth and rate of compressions and proper hand placement.
"Cardiac arrest remains a leading cause of death in the United States, and survival depends on immediately receiving CPR from someone nearby," Dr. Clifton Callaway, chair of AHA's emergency cardiovascular care committee and a professor of emergency medicine at the University of Pittsburgh, said in a news release. "Although in-person training is still the best way to learn high-quality CPR, the kiosk will provide additional training that could make a difference and save the life of someone you love."
More than 359,000 cardiac arrests occur outside of a hospital each year, with more than 20 percent occurring in public places, according to the news release.
"For those who suffer cardiac arrest outside of the hospital, only 10 percent survive – but effective bystander CPR provided immediately after cardiac arrest can double or even triple these chances," Dr. Craig Samitt, executive vice president and chief clinical officer at Anthem, Inc., said in the news release.
"That's why for the past four years we've been working closely with the American Heart Association to help educate people about Hands-Only CPR and we're excited to launch these new kiosks as an extension of this campaign."
Wednesday's debut of seven kiosks follows the successful launch of a life-saving pilot kiosk at Dallas/Ft. Worth International Airport in 2013. According to the news release, the Dallas-based kiosk has trained more than 25,000 travelers. The kiosks are now available at Chicago O'Hare International Airport, Indianapolis International Airport, Las Vegas' McCarran International Airport, Hartsfield-Jackson Atlanta International Airport and Baltimore-Washington International Thurgood Marshall Airport.
To learn more about the campaign, and other tips on Hands-Only CPR, click here.