Healthy Summer Meal Ideas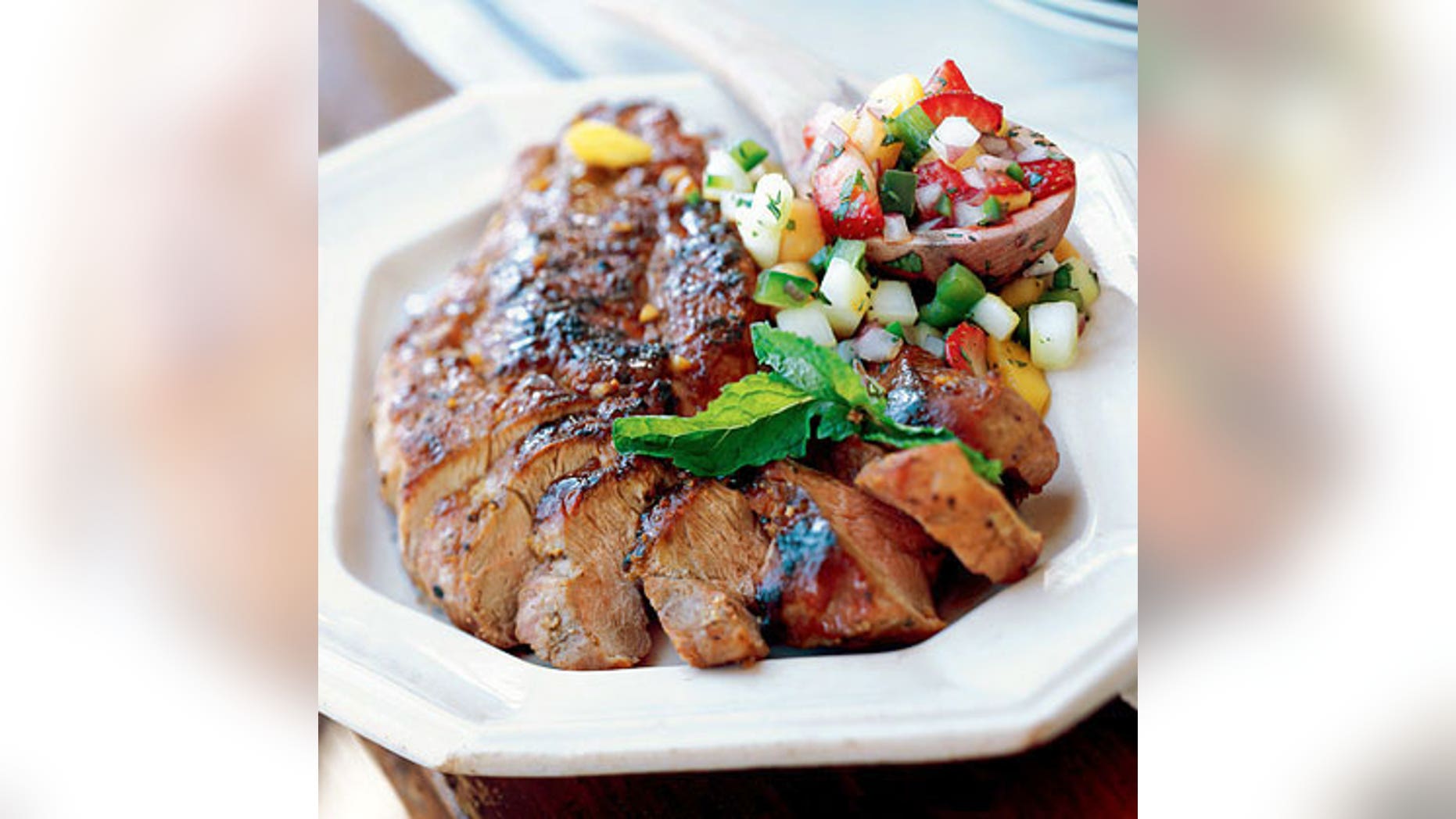 Summertime cookouts can be healthy when you serve a menu featuring lean cuts of meat, top foods with light and flavorful sauces, and serve with good-for-you salads and veggies
1. Tex Mex on the Grill
Flank steak and vegetable fajitas offer authentic flavor and cook up in minutes. Pair with Refried Beans and sliced papaya to round out your meal.
2. Pork Tenderloin With Spicy Guava Glaze
Rubbing lean pork tenderloin with a fragrant spice mixture before grilling infuses flavor into the meat. Then, instead of a traditional barbecue sauce, brush the pork with a sweet glaze of guava paste, vinegar, and jalapeño pepper to add a tropical note to your barbecue. To carry out your island theme, serve the pork with rice and a mango salsa.
3. Sizzling Grilled Steak
Satisfy the steak and potato crowd with this easy grilled menu that's ready in about 40 minutes. A California Cabernet Sauvignon is the perfect wine to pair with the steak, and it you want to offer an easy dessert, homemade Peach Ice Cream will make everyone happy.
4. Jerk Pork Tenderloin With Pineapple-Plum Relish
Jerk seasoning originated in the Caribbean and is used as either a marinade or rub for grilled meats. The blend of cinnamon, allspice, thyme, black pepper, and habañero pepper give the seasoning its characteristic sweet heat. The fruit relish balances the heat and is a colorful addition to the plate. Serve the pork and relish with steamed rice and fresh greens for a truly unique barbecue meal.
5. Kansas City Barbecued Chicken
Take a break from pork and sauce up some chicken with this sweet and spicy Kansas City-style sauce. This version has a nice balance of brown sugar and vinegar so the sauce isn't overwhelmingly sweet. Low-fat potato salad and crisp coleslaw make perfect accompaniments.
_________________________________________________________________________
More From MyRecipes.com:
Our Best Rib Recipes for the Grill
Cooking Pizza on the Grill
_________________________________________________________________________
6. Hoisin and Bourbon-Glazed Pork Tenderloin
Pork tenderloin is the leanest and most tender cut of pork–a 3-ounce portion has about the same amount of fat as a 3-ounce skinless chicken breast. Grilling tenderloin over wood chips and basting in a sweet-and-spicy glaze puts the flavor over the top. Invite some friends over and serve the pork with Tomato Relish, Spring Giardiniera, Rosemary-Roasted Mashed Potatoes, and Grasshopper Ice Cream Pie.
7. Beer-Can Chicken With Cola Barbecue Sauce
Cooking a chicken over a can of beer may seem kind of zany, but it really does add flavor to the chicken and helps keep it moist during grilling. To complement the hint of beer in the chicken, serve it with this unique sauce of cola, ketchup, and Worcestershire. You'll love this chicken with Sweet Potato Shoestring Fries and Fresh-From-the Garden Vegetable Salad.
8. Carolina Pulled Pork With Lexington Red Sauce
Carolina-style barbecue features a thin, vinegar-based sauce that gives the shredded pork a tangy kick. Vinegar-based sauces are typically lower in sugar than sweet, tomato-based sauces, and here, the sauce is brushed on a bone-in pork shoulder, also known as Boston butt. Complete the menu with fresh tomato slices and grilled corn.
9. Grilled Chicken With White Barbecue Sauce
Fans of white barbecue sauce love its tangy creaminess with just the right kick from both black and red ground pepper. This sauce is low in fat because it uses reduced-calorie mayonnaise, vinegar, and a splash of lemon juice. Create a hearty backyard menu by adding potato salad, a fresh lima bean-corn salad, and homemade ice cream.

10. Barbecued Pork 
If you're tired of the same ol' BBQ sauce, this pork is marinated and basted with a rich mixture of brewed coffee, molasses, spicy brown mustard, and vinegar. The coffee flavor is subtle, but adds a rich depth to the molasses and mustard. And as long as you're departing from tradition, why not replace baked beans with black beans and potato salad with grilled plantains?
11. Flank Steak With Radish Salsa
This lightened menu includes grilled favorites like flank steak and veggies in a balsamic mixture. Serve flank steak with a radish salsa on top of grilled Italian-Herb Bread for a filling meal. Round out the meal with slightly sweet tea and grilled banana splits for those with a sweet tooth.