Girl granted wish to be police chief made honorary Texas Ranger amid cancer battle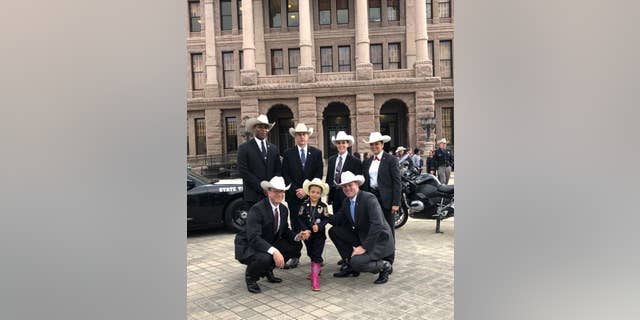 When Abigail Arias was made honorary police chief of the Freeport Police Department earlier this month, she touched the hearts of thousands with her pledge to "keep fighting the bad guys until all my cancer is gone." The determined 6-year-old also caught the attention of the Texas Department of Public Safety (DPS), which on Monday made her an honorary Texas Ranger.
"Her moral and physical courage serve as an inspiration to all Texans," Texas DPS wrote in a Facebook post. "Please join us in congratulating Texas Ranger Abigail Arias."
DEVASTATED MOM HEARS RECORDING OF SON'S DONATED HEART BEATING INSIDE TEDDY BEAR
Ranger Arias was first diagnosed with cancer two years ago after doctors discovered a tumor wrapped around her aorta and was in remission for five months after undergoing 80 rounds of chemotherapy. But late last year doctors discovered the cancer had returned in both lungs, and it didn't respond to treatment. In November they determined it was terminal and said they weren't sure how much time she has left, KHOU reported.
NORTH CAROLINA TEEN DIES OF SEVERE FLU-RELATED COMPLICATION, FAMILY SAYS
For her ceremony on Monday, Arias was clad in her custom uniform complete with a Ranger hat and pink cowboy boots. The Texas DPS said they would be sharing notes from Arias' first days on duty later this week.
CLICK HERE TO GET THE FOX NEWS APP
At her swearing in ceremony as police chief earlier this month, Arias told the news outlet that her job was to get the bad guys, like the cancer in her body.
"They beat up my body," she said. "So I want to help the bad guys go away and I want to help this cancer go away in like, 5 seconds."