Breaking shells for a cause: 'Egg-Crack Challenge' goes viral for diabetes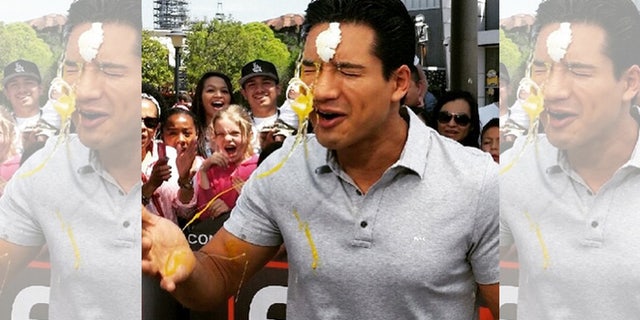 NEWYou can now listen to Fox News articles!
Step aside, "ALS Bucket Challenge." There is a new awareness campaign going viral.
The "Egg-Crack Challenge" is starting to gain steam online to raise awareness – and money – for juvenile diabetes and it's getting the attention of stars like Mario Lopez.
The "Extra" host accepted the challenge on Monday from MSNBC's "The Cycle" host Abby Huntsman and cracked an egg on his forehead while taping his daily show. He shared a video on Instagram.
Lopez then forwarded the challenge to his wife Courtney Lopez and longtime friends Eva Longoria and Joe Manganiello. None have responded to the challenge just yet.
In a comment to Huntsman's photo on Instagram, Lopez said it was his "pleasure" to participate.
"I wanted an ostrich egg but couldn't find one," he quipped in his comment.
The "Egg-Crack Challenge" was started by Maryland college student Will Hauver in response to the "ALS Ice Bucket Challenge" that caused a worldwide online storm last year, raising more than $115 million for the ALS Association.
In his video, more than six months ago, Hauver pledged to donate to ALS and cracked an egg on his head to spread awareness for diabetes.
In February, Hauver passed away due to complications from an illness, according to Buzzfeed.
To keep his memory alive, his friends from McDonogh School and Rollins College continued his "Egg-Crack Challenge" with any proceeds going to the Juvenile Diabetes Foundation.