5 foods to spiralize other than zucchini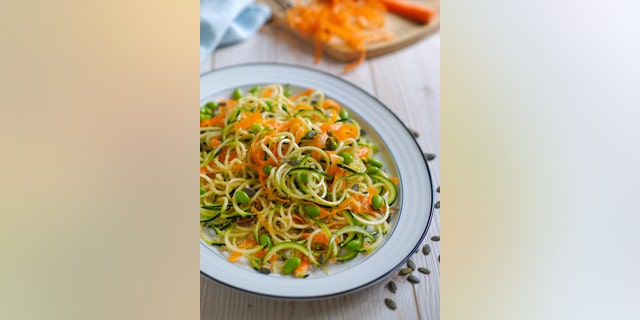 NEWYou can now listen to Fox News articles!
Spiralized fruits and vegetables are one of the latest health food trends and we love it. Not only does spiralizing fruits and vegetables encourage us to eat more of these two food groups, but the spiralized product can serve as a healthier replacement for some not-so-healthy favorites. Fruits and vegetables provide a wide array of essential vitamins and minerals, which are responsible for maintaining a host of bodily functions and as much as half, if not more, of your daily fiber intake. Without further ado, here are five veggies you can spiralize, besides zucchini!
Beets
Romaine lettuce, spinach, arugula…we all love the classic salad greens, but sometimes it's nice to change things up. Spiralized raw beets as a salad base provide a satisfying crunch, and their vibrant color is sure to draw you in. Red beets specifically are high in the antioxidant betalains, a group of substances that aid in the removal of toxins from your body. Moreover, beets are low calorie, fiber rich, and they don't have a strong taste on their own which makes them the perfect blank canvas for a salad topped with all your favorites.
Sweet potato
Spiralized sweet potatoes are a delicious way to healthify the popular fast-food favorite French fries. French fries are typically high calorie and high in fat, and dieters and like-minded health enthusiasts often try to avoid them. However, by subbing out white potatoes for sweet potatoes and baking the fries instead of frying them, you can easily cut out those excess calories. Sweet potatoes have less calories and less carbs and they are also an excellent source of vitamin A, a vitamin which is essential for vision and creating healthy new cells in your body.
Red onion
Low calorie and a punch of flavor? Sign me up! Spiralized red onions are an easy toss-in for most salads and they add a nice bite and tang, without having to add any high-fat, high sodium salad dressings. Red onions are also a natural source of the antioxidant quercetin, which has been found to possess cancer-fighting and anti-inflammatory properties. Another great way to incorporate red onions into your diet is by whipping up some savory, baked onion rings- a perfect side dish for any meal.
Carrots
Spiralized veggies are almost synonymous with veggie noodles. Zucchini noodles are a popular favorite, but for those who want a firmer pasta, spiralized carrots are the way to go. Carrots are another high fiber, low calorie substitute for the pasta component of your favorite dishes. Another great dish that can be made with spiralized carrots is waffles! Just mix spiralized carrots with a beaten egg and cook in a waffle iron. Sweet or savory, spiralized carrot waffles can satisfy a crowd or make the perfect breakfast for one.
Cucumbers
Talk about a hydrating powerhouse! Cucumbers are over 95 percent water and contain negligible calories, a true win-win. Spiralized cucumber is an easy way to add high volume to your salad, and since we often eat with our eyes, we feel fuller just by looking at how much food we get to eat. Or, nix the lettuce altogether and make cucumbers the star of your salad in a homemade, refreshing cucumber salad.