5 unexpected foods you can grill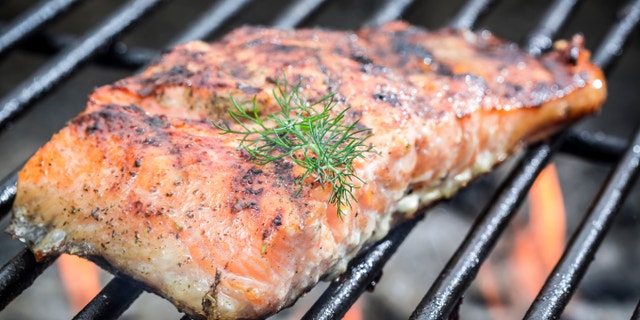 NEWYou can now listen to Fox News articles!
Step aside burgers and hot dogs! With barbeque season well under way, we could all use new and healthy grilling ideas. Call over your family and friends to show off these five unexpected foods that you can grill for your next barbecue!
Fish in aluminum pockets
We've all heard of grilling fish, but not quite like this. The opportunities are endless with this grilling technique. You can add a little chicken stock, lemon, and herbs to your fish to make it extremely flavorful without added calories. Take a sheet of aluminum foil, make a pocket to place your fish and put it in the center of the foil. Crimp the edges of the aluminum and fold the ends to seal the pocket. Once your grill is hot, place the fish (which is now inside of the aluminum pocket) on the indirect side of the heat source and close the top of the grill to allow steam to cook the fish. Not only will the fish be delicious, but an excellent source of lean protein as well.
Romaine hearts
Everyone puts out some type of salad at a barbeque. At your next one, set the trend and change it up! By simply grilling romaine hearts, natural sugars are released to created a smoky taste. Before placing the romaine on the grill, add a little olive oil, balsamic vinegar, salt and pepper to taste. Watch the romaine on the grill very carefully to make sure that the leaves of the romaine do not wilt. This is an easy way to get your greens in for the day in a less boring way.
Clams
Grilled seafood, especially shrimp, has become a barbeque classic. Most people do not realize how simple and quick it is to grill clams, though! The clams must be completely shut before you grill. Pull each clam off the grill individually as they open. It is very important to keep the clam juice inside of the clam as well. They can also be cooked in aluminum pockets with the same technique as the fish. This is the perfect fish to grill if you're tired of the plain oily grilled fish. Not only are clams a great source of omega-3, but studies show that consuming omega-3 can be helpful in achieving optimal heart health.
Edamame
Who needs the sushi restaurant when you can stay at home and use the grill? Edamame are an excellent source of protein and fiber with low levels of fat and sugar. Grilling edamame is a great way to bring out the natural flavor. Drizzle extra virgin olive oil and toasted sesame oil over the edamame. Lay out each individual one and grill each side until browned, which should be approximately five minutes. After they are finished, sprinkle with salt for taste and serve with low-sodium soy sauce. This is the perfect snack for anytime of the day and it's sure to be a hit with the grilling twist.
Pineapple
At most barbeques, there are desserts. This barbecue season, grill some pineapple to provide your guests with a tasty and healthy dessert choice! Pineapples provide a great source of Vitamin C, which help support a healthy immune system. Slice the pineapple and put on the grill. While on the heat, add a little bit of honey, lime juice and cinnamon. Be sure to watch the pineapple carefully because they only need to be on the grill for 2-4 minutes until they are golden and tender. Grilled pineapple has a great tangy flavor that will definitely leave you and your guests fulfilled.