10-year-old grows out hair for cancer patients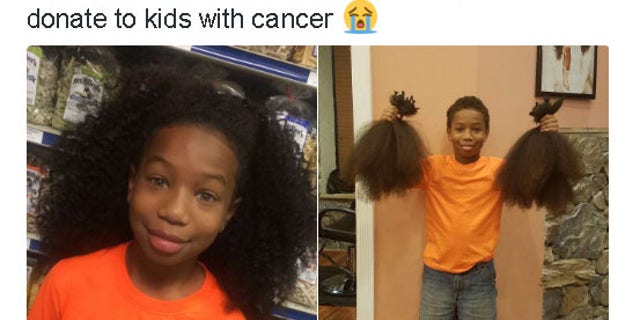 NEWYou can now listen to Fox News articles!
Two years ago, Thomas Moore saw a video on Facebook about a young girl who lost her hair while battling cancer. Inspired, the then-8-year-old decided to forgo haircuts to grow enough hair to make wigs for the girl.
Moore didn't set a goal of how long he would grow his hair, but "just wanted it to be long enough to make the girl feel happy," his aunt, Amber Ray, told Buzzfeed News.
"It started off just fine when his hair was shorter," Ray told Buzzfeed. "But as the afro grew, they had to cornrow it to keep it nice and tame."
On Sept. 11, Thomas got his first haircut, and his aunt's photos of the event have been retweeted more than 61,000 times.
After the haircut, which removed about 16 inches in length and enough for three wigs, Thomas said "he felt good about it and hoped it would make other people happy," Ray told Buzzfeed.
The girl who first inspired Moore, Kyssi Andrews, was diagnosed with a rare kidney cancer, Wilms' tumor, in May 2012 when she was 3 years old, according to the Kyssi Andrews Foundation for Pediatric Cancer. She died on June 7, 2015.