Disabled 8-year-old hunter asks thieves to return stolen equipment: 'I want my stuff back'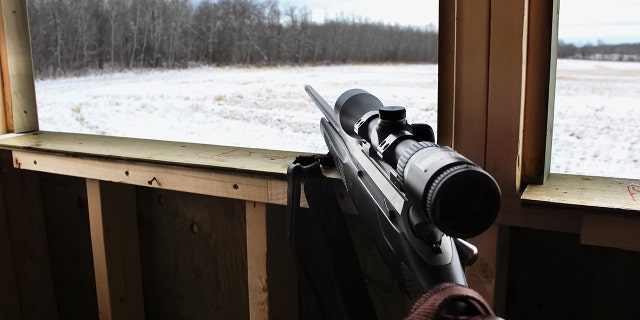 A disabled 8-year-old boy in Forrest City, Ark., is asking the thieves who stole his custom hunting gear to bring it back.
Jayce Collum, who was partially paralyzed in a 2015 car accident, returned home from a stay in the hospital on Friday only to learn that his specially made hunting stand was robbed, WREG reported.
MISSOURI POACHER MUST WATCH 'BAMBI' AS PART OF HIS PUNISHMENT, JUDGE RULES
Jayce's grandfather, Glenn Shepherd, told the outlet he built the stand for his grandson to give Jayce the same opportunities as other children.
According to Shepherd, the thieves "pried the door open and ransacked" the hunting stand — making off with a custom stand that was bolted to the floor — and now Jayce isn't sure he'll have all the equipment he needs for an upcoming hunt.
"They stole the deadshot and all the things I had to help me hunt," Jayce told WREG.
"I want my stuff back and the people who did it to turn themselves in," he later added.
ILLINOIS HUNTER BAGS MAYBE ONE OF THE 'LARGEST BUCKS EVER SHOT IN AMERICA'
Jayce's family has contacted the Arkansas Fish and Game Commission, and they say that no matter what, Jayce isn't going to miss out on his hunt.
"You can't hold him back. And we wouldn't want him to be held back. Because we want him to have the same opportunity that every other kid has," Shepherd said.
Commenters on Facebook, too, have offered to help Jayce replace his equipment.
"What does this child need? I'll help get it," one user wrote in response to WREG's Facebook post.
"How can people help?" another asked.
"Stealing is never OK but stealing from a kid? That's low," said another commenter.
FOLLOW US ON FACEBOOK FOR MORE FOX LIFESTYLE NEWS
A representative for the Arkansas Fish and Game Commission confirmed to Fox News that the department is assisting with the St. Francis County Sheriff's Office in its investigation.