US team wins top prize at prestigious Bocuse d'Or chef competition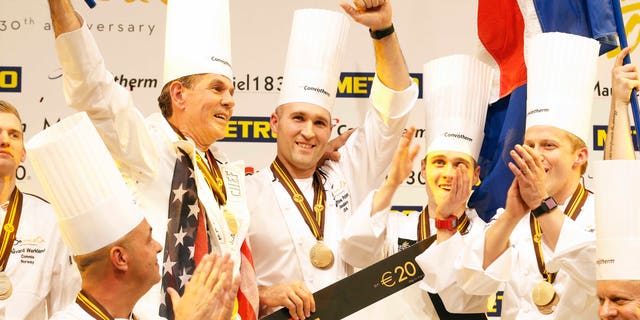 For the first time in the iconic cooking championship's history, Team USA has captured the top prize at France's Bocuse d'Or.
The American team was led by two chefs from Thomas Keller's lauded restaurant Per Se -- executive sous chef Mathew Peters, and commis chef Harrison Turone, who is just 21-years-old.
"It's a true sense of national pride right now," Keller told press after the win was handed down Wednesday in Lyon, France. "This victory isn't just about us. It's about the people that came before us."
In total, Team USA competed with 10 chefs and helpers to prepare the final plates. Norway, last year's winner, finished in second place while Iceland finished third.
JACQUES PEPIN BLASTS MODERN REALITY COOKING SHOWS AGAIN
This year, teams were tasked with reinterpreting "Poulet de Bresse aux Écrevisses," a classic Lyonnaise dish chicken and crayfish. According to the New York Times, the American version featured chicken with morel mushroom sausage, braised wings, a wine glaze and a lobster-infused sauce Américaine. It was served with a chicken liver quenelle with foie gras, corn custard, black-eyed peas and toasted pistachios, as well as lobster tail with Meyer lemon mousse. Garnishes included preparations using carrots, Vidalia onions, black truffles, carrots, peas and potatoes.
In another first for the competition, a vegan preparation of the dish was made with vegetables, fruits, grains and legumes. The Americans final vegan dish featured asparagus with cremini mushrooms, potatoes, a custard made of green almonds, Meyer lemon confit, a Bordelaise sauce and an almond-vegetable yeast crumble made to mimic the taste and texture of Parmesan cheese.
FOR THE LATEST FOOD FEATURES FOLLOW FOX LIFESTYLE ON FACEBOOK
Founded by chef Paul Bocuse in 1987, Bocuse d'Or—which is held every two years-- is widely considered to be the Olympics of the food world. Over the past three decades teams from Europe have dominated the top spots but last year, Philip Tessier of Northern California's French Laundry, captured the Silver Bocuse. This year, Tessier helped coach Team USA.
A real life "Iron Chef" throwdown, the competition takes place over two days. Twenty-four teams from around the globe had just over five and a half hours to cook their dishes.
To prepare for the competition, Peters and Turone spent months training with Keller, Daniel Boulud and Jerome Bocuse. Team USA is funded by the nonprofit ment'or Foundation, also founded by chefs. According to the Times, about 300 Americans attended the event.
Though the culinary competition is well-known in high end restaurants, Keller hopes Team USA's historic victory will bring more attention to Bocuse d'Or and inspire more American talent.
"This victory belongs to every American," Keller said. "We're bringing recognition to the work being done in this industry.
The Associated Press contributed to this report.