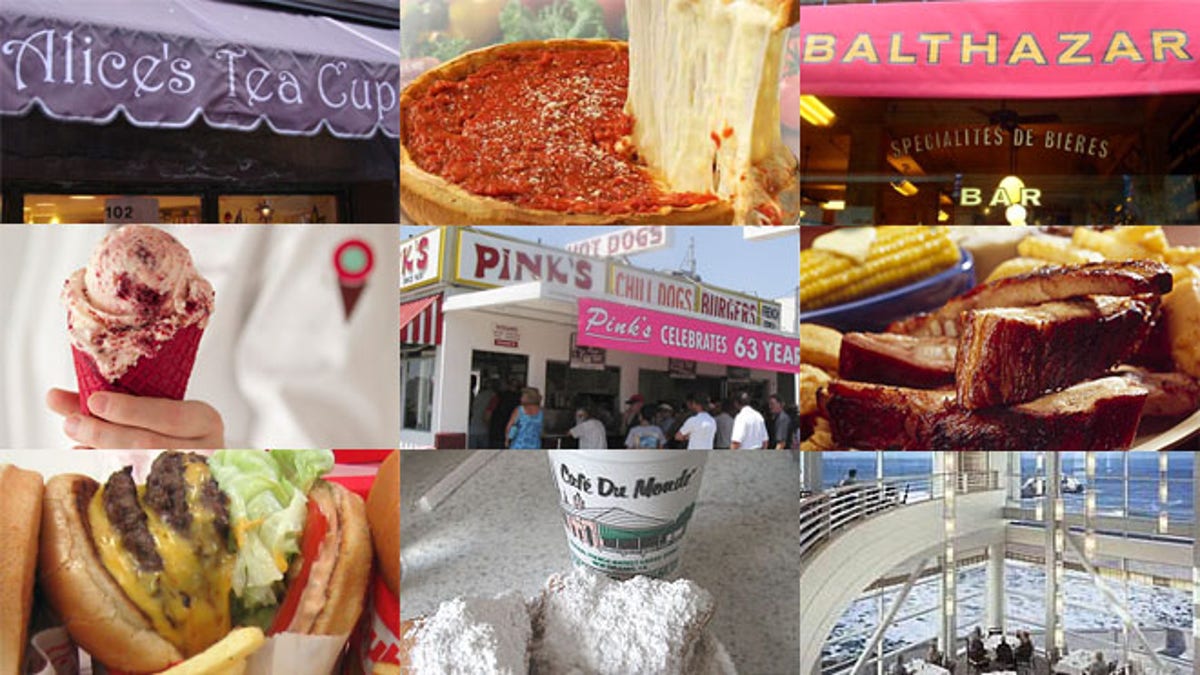 When it comes to travel, there are many wonderful things that a simple vacation can do for you, including helping to boost your mood and physical health as you enjoy discovering a new place, sightseeing and immersing yourself in a unique culture. But did you ever stop to think about how a vacation can help re-energize your palate?
That's right. Vacations can do more than just help you experience a new place and enhance your well-being; they can also help awaken your tastes for new flavors. Like our minds, our taste buds also need time to explore and discover foreign places. So why not reward yourself with some of the best flavors life has to offer, all while feeding your need to travel at the same time? The good news is that you don't necessarily have to spend a fortune and travel far away to experience delightful culinary treats from around the world; many of the best eats can be found right in your own backyard.
Hungry yet? A foodie trip can make for one of the best weekend getaways, just be sure to pack an appetite. Check out my top foodie destinations listed below:
New York – As one of the most culturally diverse cities in the world, New York City really has it all when it comes to cuisine, so don't get stuck on just fine dining. Visit the Union Square Greenmarket to experience one of the best farmers markets in the country. After a locally grown, organic lunch, you can take advantage of some of the tastiest restaurants and best chefs in the world. New York has everything from an exquisite dining experience at Le Cirque to good ol' comfort food at Southern Hospitality. The city is also known for some of the best French brasseries outside of Paris, with the likes of Balthazar, Rouge Tomate, and The Odeon. Or take advantage of top sushi eateries such as Sushi Samba and Bond Street, indulge in world-famous pizza at Lombardi's Pizzeria, take the kids to Alice's Tea Cup, or get a classic two dollar New York hot dog at Gray's Papaya.
Click here for our New York City vacation guide.
Chicago – The Second City has plenty of places to keep foodies busy, but one thing really comes to mind when Chicago is mentioned – pizza. This city has perfected its stuffed and deep dish pizza making skills, which will make any food enthusiast smile. Be sure to try out the famous Giordano's, often chosen as the best pizza in America. Of course, the city has much more to it than just its pies, like the famous sushi restaurant Japanois Chicago or the award-winning world famous Alinea. But let's not forget its steak houses – another cuisine that Chicago chefs pride themselves on. There's pretty much a steak house on every block in the downtown area, but some of the best include the historic Chicago Chop House and Chicago Firehouse.
Los Angeles – The al fresco L.A. food scene is not only healthy and fresh, but diverse with authentic cuisines ranging from Asian to Latin and American fusion. Try the famous beachside-eatery Moonshadows, dine with the stars at the famous Mr. Chow or the Ivy, or at master chef Wolfgang Puck's Cut and Spago. LA also has many amazing spots that are quite budget-friendly including the classic West Coast hamburger joint In-N-Out Burger or the legendary Pink's Hot Dogs on Hollywood Blvd. To get your dessert fix, stop by celebrity-favorite Sprinkles Cupcakes or Diddy Riese cookies and ice cream.
San Francisco Bay Area – Arguably one of top foodie destinations in the world, Northern California boasts innumerable wineries, ocean accesses, and a strong multicultural presence to tantalize your taste buds with a variety of sights and smells. In San Francisco, eat authentic Chinese cuisine in Chinatown, or sample fresh produce, locally made cheeses and hand crafted deserts at the historic Ferry Building Marketplace. Get an Irish coffee at the Buena Vista Café or go Italian at any of the good restaurants lining Columbus Street of North Beach, where Little Italy is. French inspired restaurants Michael Mina and Gary Danko are on the destinations of major foodies. Don't forget sunset aperitifs or breakfasts at The Cliff House or Murray Circle Restaurant at Cavallo Point in Sausalito, where the views are as good as the food. And of course, don't forget about the wineries of Napa and Sonoma.
Click here for our vacation guide to California wine country.
New Orleans – This southern hotspot is one the most unique foodie destinations to visit. With its European, Southern and Creole influences, the city has crafted a cuisine that truly is one of a kind. Get your fill of Cajun cooking at the historic Antoine's, which is the oldest family run restaurant in the U.S. and also the inventor of several well-known dishes, like the Oysters Rockefeller. But to start your day, make sure to stop by the original French Market Coffee Stand, Café Du Monde. If you're in the mood for seafood, try Acme Oyster House. For a romantic meal, visit Bayona, a well-known cottage in the historic French Quarter. Commander's Palace serves legendary cuisine in the Garden District, Emeril's NOLA Restaurant is not to be missed, and Muriel's Jackson Square Bistro is said to be haunted!
Miami – With its close ties to Cuba, Miami is the best spot outside of the Caribbean island to sample Cuban-inspired flare, and you'll do it all while soaking up the Florida sun and swimming in crystal clear waters. Be sure to visit Bongo's Cuban Café for an authentic Cuban experience – this famous restaurant not only serves stellar dishes, but turns into a night club with plenty of Latin rhythms as the evening progresses. And like L.A., Miami is also known for its frequent visits by celebrities, so to do a little spotting and dine on a little sushi at Nobu, which is famous for its rolls and its scene. For a more casual vibe check out Joe's Stone Crab or Shorty's BBQ for yummy food at cheap prices.
On a final note, to help you save money while traveling to your favorite foodie destinations, keep these quick insider tips in mind: travel midweek, always look for extras or upgrades that are available with your travel reservation, and use online resources, like Travel-Ticker.com, to do the deal digging for you.