The most delicious deep-fried treats from this year's state fairs
Summer is state-fair season across America, and for millions of people that means prize-winning livestock, rides, crafts, and some of the most bizarre foods you'll ever get the opportunity to try.
For instance, the Wisconsin State Fair offered up "Three Little Pigs Ravioli," which is made with a bacon "noodles," filled with pork, and doused with bourbon BBQ jam before getting covered in cheese.
"It's amazing!" declared Sarah Ledden of Green Bay, Wisc. "It's crispy with a sweet side."
You can also dine on the "Hot Beef Sundae" at the Indiana State Fair. It's a succulent dish of mashed potatoes covered with beef, cheese and corn, which is then drenched in gravy and topped with a cherry tomato, of course.
DYING DAD'S RECIPE FOR FRIED MEAT MADE DAUGHTER A MILLIONAIRE
But most classic state-fair fodder seems to come in two forms; deep fried or on a stick. And sometimes both.
Cheesy fried olives on a stick are one the of the delicacies you'll find at the Illinois State Fair, along with bacon on-a-stick, cheese curds, and something called "Elvis On A Stick," which consists of a deep fried banana which is battered, slathered with peanut butter, and covered with bacon.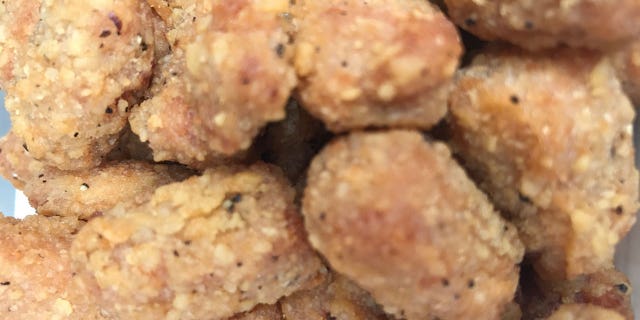 "It's just so incredibly good I can't stop thinking about it," said Barbara Joytle, who quite noticably all-shook-up about the dish.
And it's not just Elvis or olives you can eat on a stick; basically all the basic food groups are offered on thin wooden eating utensils, as they make things easier to chow down on while walking around the park.
There's bread on a stick, salad on a stick, and, for the main course, alligator on a stick. And to top it all off, chocolate-covered bacon brownies on a stick for dessert.
TACO BELL TESTING BURRITOS SPRINKLED WITH POPPING CANDY
But as everyone knows, food tastes better when it's fried, and there are probably more deep-fryers per capita at state fairs than anywhere else.
"Spam cheese curds" are one of the most popular deep-fried delicacies at the Wisconsin fair. Vendor Matt Duren claimed them to be a "best seller," and Jenna Delfor stopped eating for a few seconds to declare them "addicting."
Other options include Cajun dumplings, deep fried butter, deep fried eggs and deep friend pickles covered with ranch sauce.
They're not for the faint of heart.
FOOD ON A STICK IS PART OF A SUMMER TRADITION
Even produce finds its way into the hot oil. Carrots, corn, strawberries, pineapple, pear and peaches were all served up after swimming in the grease.
But what really gets mouths watering are all the sweet treats — most of which are battered up and dunked.
It all began years ago with the Twinkie, when a sweet-toothed entrepreneur decided to see how the golden cake would taste deep-fried. It later proved to be so popular, it heralded everything from deep-fried Oreos to Snicker bars and cupcakes.
"If it's sweet, we deep-fry it" said a smiling Brooke Kozelou of 3B concessions, which was set up at the Wisconsin State Fair.
Here, the vendor's most popular treat is the enchanting "Unicorn," which is basically a cake filled with cotton candy cream, topped with butter and doused with edible glitter.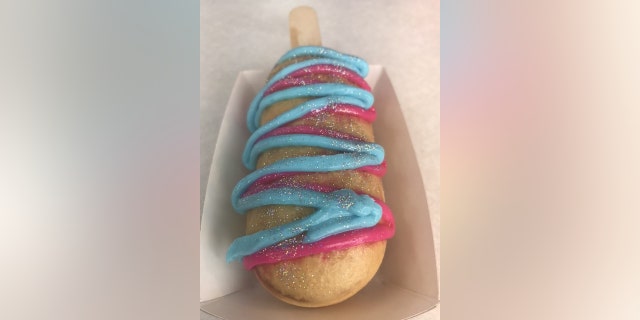 It's safe to say these interesting edible oddities likely didn't exist when the very first State Fair opened in Syracuse, N.Y., in 1841. At that time, mostly beef and fresh produce were served.
But fair cuisine has come a long way since then.
At Ohio's State Fair, food isn't just consumable, it's also art. There's a very competitive food sculpting contest, where entrants are given specific fruits and three hours to transform them into masterpieces.
FOLLOW US ON FACEBOOK FOR MORE FOX LIFESTYLE NEWS
The largest State Fair in the country, in terms of attendance, occurred last year in the state where everything is bigger; Texas. In 2016, more than 2.5 million people walked through the gates.
The smallest fair was in Nebraska, where just about 360,000 entered the corn-dog-and cotton-candy-haven last year.
And some of the hungriest fairgoers are in Indiana, where they consume approximately 14,000 pounds of pork chops, 56,000 rib-eye steaks and 20,000 tons of ice cream per season.
Only in America.