The bourbon that you can't get your hands on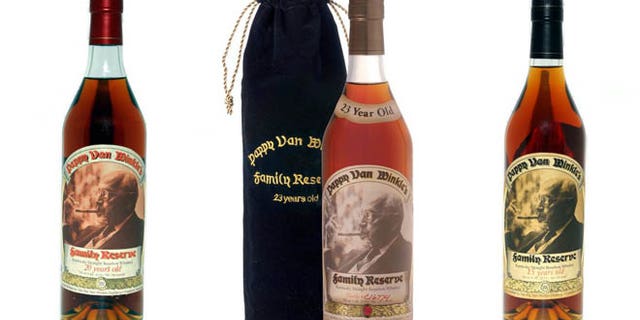 Pappy Van Winkle bourbon may as well be liquid gold.
The hot present this holiday is this rare, small-batch whiskey from the Kentucky-based Old Rip Van Winkle distillery. The barrel-aged spirit has gained a cult following, and -- while demand has exploded -- supply has remained the same: a mere 7,000 cases a year.
In New York, one bottle essentially has waiting lists upon waiting lists. One Ohio liquor store owner says she calls customers on the waiting list even before the whiskey hits the shelf.
While the distillery suggests the 10-year, 15-year and 23-year bourbons sell for $40, $80 and $250 respectively, bottles regularly go for $500-plus on eBay.
You can search OldRipVanWinkle.com to see if a retailer near you carries the bourbon, but even the website acknowledges that your efforts may be in vain.
"Due to the extremely limited nature of our products we cannot guarantee that retailers will have inventory at any one time," the website says. "This list is comprised of retailers who have requested that they be added to our site."
So, what's the deal with Pappy Van Winkle?
For one, the bourbons are made with corn, wheat and barley, rather than the traditional blend of corn, rye and barley. This so-called "wheated" bourbon is said to have a softer, smoother taste. It also doesn't help that store owners are encountering more people who don't know anything about Van Winkle except that others want it.
Word of mouth, celebrity chef fans and bourbon blog chatter have contributed to the cult following of this aged bourbon.
But is it really that good? Mark Casey, the creator of the forthcoming documentary "Chasing Pappy," told the Post about his first experience with the bourbon.
"[It delivered] everything I like about bourbon, only richer and more saturated," he said.
Others, however, haven't been swept away in the hype.
"It's a good bourbon, it's not a life-changing experience," Paul Bressler, the spirits buyer at 67 Wine and Spirits on Manhattan's Upper West Side, told the Post.