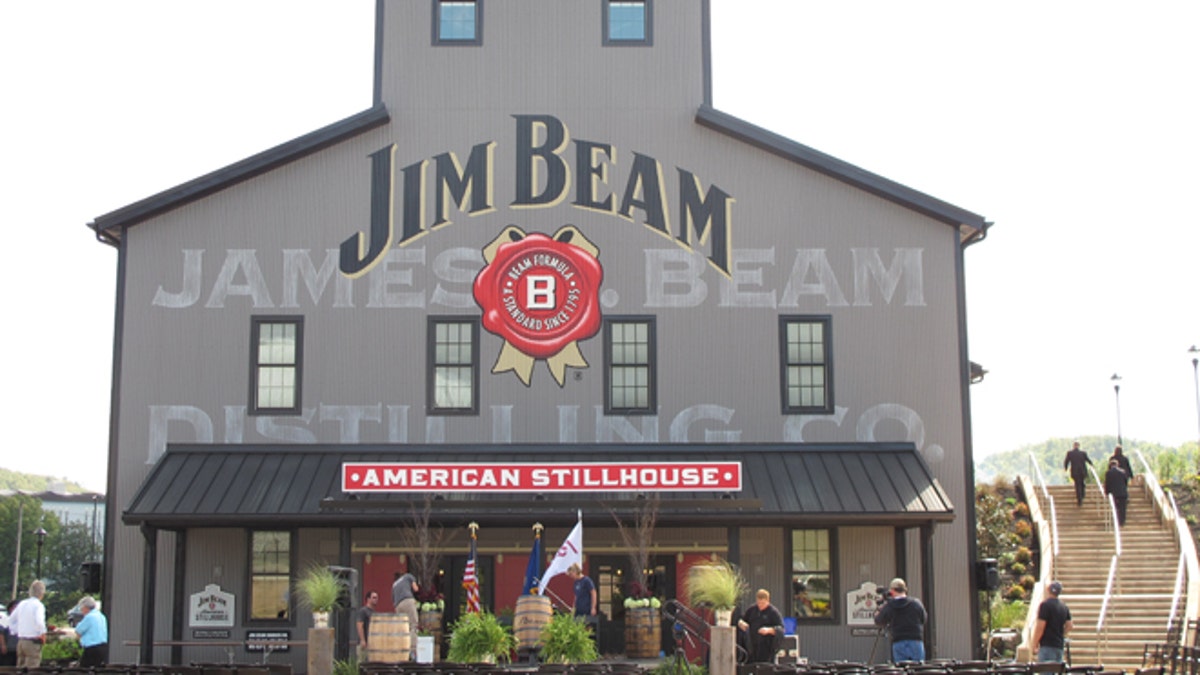 CLERMONT, Ky. – Bourbon fan Tim Allen started his day of sightseeing by sipping whiskeys crafted at a Jim Beam distillery. Where else are pre-lunch nips more commonplace than in Kentucky bourbon country?
"That's smooth as silk," the North Carolinian said after sampling Jim Beam Black, a bourbon aged for eight years before bottling. "If it were close to five o'clock, I would have to do something with that."
Hospitality is overflowing in the once-stodgy bourbon industry, with whiskey makers pouring big money into tourism.
Allen and a buddy from his college days, Woody Parker, were visiting Beam's new $20 million visitors center, which opened earlier this fall. Four Roses, another bourbon maker, opened a new visitors center in September. Two more distillers, Wild Turkey and Heaven Hill, are also planning new attractions.
The facilities are outgrowths of the success of the Kentucky Bourbon Trail, which attracted 2 million visitors in the last five years and a half-million in 2011. Eighty-five percent of trail visitors are from outside Kentucky, according to Eric Gregory, president of the Kentucky Distillers' Association, reflecting the growing popularity of the Bluegrass state's staple spirit, made in the rolling hills of central Kentucky.
Beam's new center, an eye-catching replica of a 1930s stillhouse, is three times the size of the old tourist center, which has been converted into a tasting room. Called the Jim Beam American Stillhouse, it traces the origins of the world's largest bourbon-maker to Jacob Beam, who set up his first still in Kentucky in 1795. It features an original staircase from a historic Beam distillery, and the elevator resembles a giant still.
It's the starting point for an hour-long tour that offers an inside peek at mashing, distilling, barreling, storing and bottling lines, a process that takes years to produce Beam bourbons sold around the world.
"When you go through our tour, you're going to use all your senses — sight, sound, smell, taste," said Jim Beam master distiller Fred Noe, a great-grandson of Jim Beam. "People want to see what it's all about — hands on. And that's what we've got here."
Visitors can peer into fermentation tanks in which cooked grains and water form an oatmeal-like mash, a key part of whiskey-making. In warehouses where whiskey ages, there's the aroma from the "angel's share," the portion of bourbon lost to evaporation while in the barrel.
For Massachusetts visitor Sylvia Smith, touring the Beam distillery evoked fond memories of her father, who enjoyed sipping Jim Beam bourbon with his brother-in-law every Saturday after working on their farm.
"They would have what they called a 'board meeting,'" said Smith, who toured the distillery with her husband. "It was really going to my uncle's bar in his cellar and having a few drinks and man time."
Bourbon production has risen more than 115 percent since 1999, with the popularity of pricier small-batch and single-barrel brands leading the way along with growing international demand. Kentucky produces 95 percent of the world's bourbon. The state has more barrels of bourbon aging in warehouses than it does people.
Wild Turkey, another iconic brand, will open a $4 million visitors center next spring, offering striking views of the Kentucky River below the distillery's grounds near Lawrenceburg. The new center will be nearly eight times larger than the current facility.
"This new visitor center will essentially serve as the 'University of Bourbon,'" said Jimmy Russell, Wild Turkey's longtime master distiller.
Heaven Hill Distilleries Inc., whose brands include Evan Williams bourbon, already has a visitors center in Bardstown, but it's building an attraction in downtown Louisville that will feature a small distillery along with exhibits chronicling Kentucky's long whiskey-making tradition. The nearly $10 million attraction's centerpiece will be a five-story-high Evan Williams bottle towering over the lobby.
"We feel confident that it will pay off by building awareness of our brands and company" as well as the overall bourbon category, said Heaven Hill spokesman Larry Kass.
Four Roses Distillery, also near Lawrenceburg, recently opened a new visitors center to promote the 124-year-old brand made at its Spanish Mission-style distillery. The new center and gift shop were part of a $2.4 million expansion.
The Woodford Reserve Distillery near Versailles plans renovations to its visitors center next year and has hired more tour guides.
Visitors to the popular Maker's Mark Distillery near Loretto can dip their own bottles in the distinctive red wax topping every bottle of the premium bourbon.
Alltech's Lexington Brewing & Distilling Co. recently started making its Town Branch bourbon at a new $9.2 million distillery in the heart of Kentucky's second-largest city. The distillery includes a visitors center.
The distilleries are within easy driving distance of thoroughbred farms, another signature Kentucky industry. Some people combine bourbon tours with visits to farms or to Churchill Downs in Louisville or Keeneland at Lexington when there's live racing at the tracks.
Sometimes visitors get to meet the master distillers — the men responsible for making the bourbon — if they're not on the road promoting the brands.
"One of the best parts of my job is sharing my love for bourbon," Russell said.
At the Jim Beam's distillery at Clermont, visitors might see Noe taking a break, sitting on a rocking chair outside his office just up a ridge from the visitors center. Like his counterparts at other distilleries, he relishes the chance to talk about whiskey making.
"I really am a live, breathing person, and not some marketing tool that somebody just made up," Noe said.
___
If You Go...
THE JIM BEAM AMERICAN STILLHOUSE: 526 Happy Hollow Rd., Clermont, Ky.; http://www.americanstillhouse.com or 502-543-9877. Monday-Saturday, 9 a.m.-5:30 p.m.; Sunday, noon-4:30 p.m. Closed Sundays in January and February and major holidays. Guided tours, $8. Self-guided tours, free.