Maker of Town Branch joins Kentucky Bourbon Trail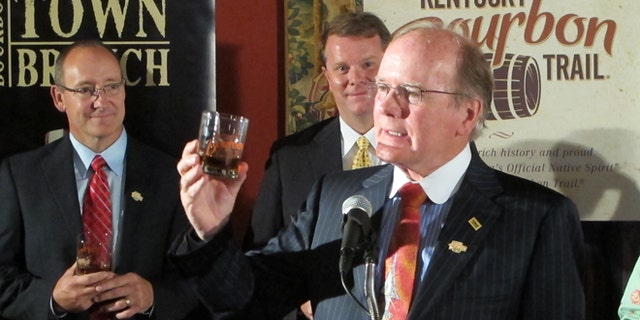 LEXINGTON, Ky. – Kentucky's age-old bourbon sector welcomed a big-city newcomer to an exclusive club on Thursday, adding Lexington's first new distillery in more than a century to the popular Kentucky Bourbon Trail of such venerable names as Jim Beam and Wild Turkey.
Alltech's Lexington Brewing & Distilling Co., maker of Town Branch bourbon, will join the Bourbon Trail with its planned opening of a new $6 million distillery next month. The company, which also produces beer and malt whiskey, has been making its bourbon for several years across the street at another facility.
Town Branch is made in small batches and its sales amount to drops in the bucket compared to Jim Beam. But Alltech's new limestone distillery close to downtown Lexington will take its place alongside the world's best-known bourbons as part of the trail that has matured into a popular tourist attraction in Kentucky.
"Life is about excitement and life is about passion, and we are very passionate to be part of the Kentucky Bourbon Trail," said Pearse Lyons, Alltech's founder and president.
The occasion was marked with a toast from Lyons and sips of Town Branch. The brand is named after the stream that runs under downtown Lexington, where many original distillers drew their water supply. It purportedly inspired the term "bourbon and branch" for a bourbon mixed with water.
With glass still in hand, Lyons then led a tour of the visitors center and new distillery. The 20,000-square-foot distillery features glass walls on three sides to showcase two copper stills and several fermentation tanks. Two of the tanks are open at the top, allowing visitors to see and smell the bourbon being made.
The Bourbon Trail was created in 1999, inspired by the tourism and marketing inroads made in California's wine country and Scotland's whiskey trails.
The trail meanders across scenic parts of small-town central Kentucky. The stops are at such signature distilleries as Four Roses and Wild Turkey near Lawrenceburg, Heaven Hill at Bardstown, Jim Beam at Clermont, Maker's Mark at Loretto and Woodford Reserve near Versailles.
Kentucky Gov. Steve Beshear said in a statement that Kentucky bourbon is a "red-hot industry," and predicted that adding a Lexington stop on the Bourbon Trail would attract even more visitors to check out a signature Kentucky product.
Distilleries along the trail have recorded more than 2 million visits in the past five years, including 450,000 last year, according to Eric Gregory, president of the Kentucky Distillers' Association. Visitors have come from all 50 states and more than 50 countries.
Kentucky produces 95 percent of the world's bourbon supply, and the industry is enjoying boom times. Kentucky distilleries are investing nearly $220 million in equipment, aging warehouses and other facilities. Bourbon makers are exporting nearly 30 million gallons of whiskey to 125 countries.
Bourbon production has risen more than 115 percent since 1999, with the popularity of pricier small-batch and single-barrel brands leading the way.
Kentucky has more barrels of bourbon aging in warehouses than it does people. And the industry pumps an estimated $2 billion into Kentucky's economy each year.
"A healthy, thriving bourbon industry is good for our economy, good for our communities and good for our commonwealth," said Jeff Conder, board chairman of the Kentucky Distillers' Association and a top executive at Beam Inc.