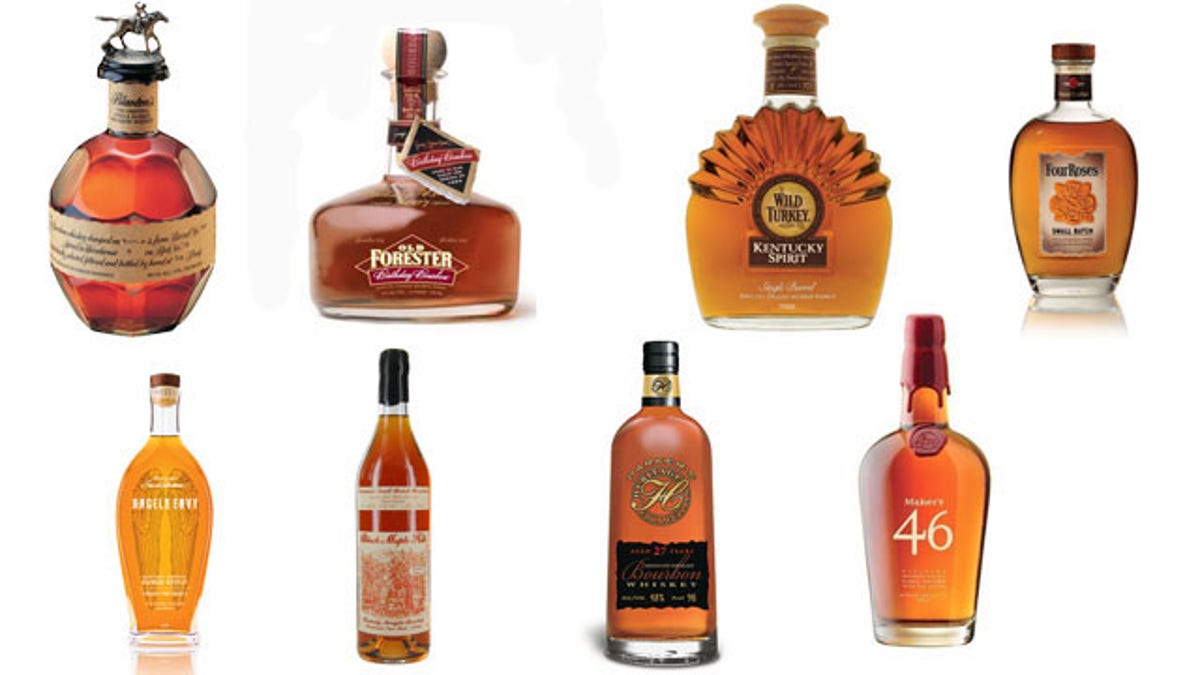 While some will happily argue over and dissect the differences between single-malt Scotch whiskies, we have a taste for Bourbon. Maybe it's because this brown liquor is strong but sweet, and makes us feel better about ourselves. Perhaps it's because it's an American whiskey that binds us to our pioneer forefathers. Could its brown sugar, vanilla and caramel flavors make it a psychological dessert substitute with an adult kick? Whatever the reason, we're always happy to try new varieties, and share the results with you.
Expand your knowledge by checking out our selections of the best this misunderstood spirit has to offer. We can't say we've tried every Bourbon out there, but these are our ten choices at different price points among the many we have had the pleasure of sippin'. Who knows... our favorite Bourbon of all time could be resting comfortably in a charred oak barrel right now high in a Kentucky warehouse, waiting to be discovered! In the meantime, enjoy our selections of top ten Bourbons.
Parker's Heritage Collection 27-Year-Old Small Batch
$200
Remember the 80s? While we were all wearing leg warmers, jazzercising and listening to Flock of Seagulls, Parker Beam was smart enough to put Bourbon into oak casks and let it age gracefully, unaffected by Y2K. If you've heard the name Beam associated with Bourbon before, that's no coincidence; James Beauregard Beam, better known as Jim Beam, was his grandfather's brother. This sixth-generation Master Distiller who oversees the popular Evan Williams and Elijah Craig brands hand-selected Bourbons from his vast 700,000-barrel inventory to undergo a lengthy oak aging process. The oldest-known entry on our list is a 96-proof super-premium Bourbon that retains the same kick as younger whiskeys. Featuring flavors of vanilla, toffee and apricot, Parker's Heritage Collection 27-Year-Old Small Batch is a strong yet balanced beverage. Warning: if you drink too much, you may long to don a Members Only jacket and play with a Rubik's Cube.
Read an in-depth spirit review of Parker's Heritage Collection 27-Year-Old Small Batch.
Blanton's Original Single Barrel
$45
"8-year-old"..."12-year-old"..."27-year-old"... Whiskey shelves are filled with bottles bearing numbers that imply the older the liquid, the better. But Blanton's shares their philosophy with R. Kelly: "Age Ain't Nothin' But a Number." The Buffalo Trace Distillery product provides no age declaration on its distinctive parchment-like equator label that surrounds the multifaceted, squat globe bottle. There are still plenty of numbers listed: "This barrel dumped on 3-15-11 from barrel No. 142 stowed in warehouse H on Rick no. 16. Individually selected, filtered and bottled by hand at 93 proof." Although that sounds über-specific, to be fair, all of the bottles are from warehouse H, and they're all 93 proof.
The Blanton family made Bourbon before the Civil War, but their breakthrough came in 1984 when they introduced the first single barrel Bourbon. Along with variations between bottles caused by each individual barrel being bottled unblended, there are also eight different racehorse and jockey poses on the stoppers. (Collect them all!) When we first pulled our stopper, its toffee-caramel aroma actually caused our spouse to declare, "That smells good!" The reddish-amber Bourbon has a lovely jolt of orange zest and burnt sugar on the palate. Exuding flavors, one sip feels like it fills our entire mouth.
Wild Turkey Kentucky Spirit
$50
The Dirty Bird...The Screaming Eagle... The Kicking Chicken... The flagship Wild Turkey Whiskey has been acclaimed in movie and song for its bad-boy ways, and has enough nicknames to fill a small phonebook. But we were impressed with its lesser-known cousin, Kentucky Spirit, which shares the same 101-proof strength.
The Kentucky product has some similarities to Blanton's: it's a single barrel Bourbon which bears the number of the barrel, warehouse and even the rick (barrel shelf) where it was stored on each distinctive bottle. Legend has it that Master Distiller and Bourbon Guru Jimmy Russell, who has worked for the distillery since 1954, personally selects the barrels that will be used in the specialty product. There's brown sugar and nutmeg on the nose, citrus on the palate, and a zesty finish. But what makes Kentucky Spirit truly stand out is its viscosity; one sip of this amber potion and our lips are coated with sweet goodness. Hirsute men should prepare for sweet and sticky mustaches.
Pappy Van Winkle's 23-Year-Old
$250
Tracing its history back four generations to the pre-Prohibition whiskey distilled by family patriarch Julian "Pappy" Van Winkle, Sr., Old Rip Van Winkle Distillery has deep roots in the Kentucky Bourbon trade. Now overseen by Pappy's grandson, Julian III, and his son, Preston, the family-owned and -operated business continues to craft quality small-batch Bourbon in the classic Van Winkle vein. The confluence of the distillery's deep respect for tradition and flair for modern flavor is perhaps best evinced in Pappy Van Winkle's 23-Year-Old, a rich Bourbon aged in charred white oak barrels. Substituting wheat for the rye used in Pappy's original recipe, this small-batch Bourbon exhibits a sweeter, smoother taste and complex flavors of honey and toffee.
Four Roses Small Batch
$35
Despite a history dating back to 1888, the iconic name, and its popularity, Four Roses stopped selling Bourbon in the US for forty years. The whiskey was so popular in Asia that Kirin, the Japanese beer maker, bought the company in 2002 and started selling Bourbon stateside. The Kentucky-based distillery combines its two mash recipes with five yeast strains to produce ten different Bourbons. All ten are used in their signature Bourbon, only one goes into their single barrel product, while Four Roses Small Batch uses four different whiskeys. We find Four Roses Small Batch to be understated, with a very subtle aroma. It feels stronger than its 90 proof on the palate, but can still be enjoyed neat. We taste sweet oak along with caramel before experiencing a long, clean, vanilla finish.
Old Forester Birthday Bourbon
$38
A typical bottle of Old Forester Bourbon contains whiskey from a number of different years. But their Birthday Bourbon is actually vintage-dated, like a bottle of fine wine. In fact, the Bourbon is all from one specific day of production, making this beverage impossible to duplicate. This particular year's model was distilled in the spring of 1997, aged for a dozen years in oak, and then bottled in 2009. There is brown sugar on the nose, and oak and plenty of alcohol on the palate of this 97-proof dynamo.
This potent potable marks the kind of birthday where cigars are lit, not just candles. Also like wine, we recommend letting this open up a bit before sipping. Old Forester is the only Bourbon to be produced before, during and after Prohibition, but the Birthday Bourbon series didn't begin until 2002. The product, which is produced in different strengths in different years, celebrates the birthday of the dearly departed George Garvin Brown, the founder of Old Forester, the first man to bottle Bourbon, and the Brown of liquor giant "Brown-Forman." It's someone else's birthday, but you get the present!
Woodford Reserve Seasoned Oak Finish
$90
Unlike many other storied Bourbons, Woodford Reserve has only been around since 1996. Despite its youth, we're big fans of the brand. The Official Bourbon of the Kentucky Derby always makes us feel like we're in the winner's circle. But every once in a while, the distillery — based in Woodford County, Kentucky — puts out a limited edition that surpasses the original. Our favorite Woodford Reserve's Masters Collection, the fourth released, is a bold and spicy concoction. As per its name, it is finished in seasoned oak barrels that have been exposed to the outdoors for three to five years — as opposed to the standard three to five months — resulting in a complex flavor profile that combines hints of wood and pepper with smooth and satisfying caramel. The 100.4-proof Seasoned Oak Finish Bourbon is also noticeably stronger than the distillery's classic 90.4-proof product, providing a substantial bite while still finishing smoothly.
Read an in-depth spirit review of Woodford Reserve Seasoned Oak Finish.
Maker's 46
$35
Maker's Mark doesn't play by the rules: while other businesses expand their product lines to foster growth, Maker's Mark produced only one Bourbon for more than five decades, figuring there was no room for improvement. While nearly all Bourbons proclaim they are a "whiskey" — spelled with an "e" — Maker's Mark's squarish bottle sealed with trademarked red wax utilizes the Scottish spelling, "whisky." Although Maker's Mark's makers (say that five times fast!) finally broke down and released a second Bourbon, they're still sticking with the bedeviling spelling.
With the introduction of Maker's 46, the esteemed Kentucky distillery is (quite literally) spicing things up. Borrowing a winemaking process that involves adding staves of seared French oak to the barrels during the aging process, Maker's 46 features a ramped-up flavor intensity and an increased alcohol content (94 proof) when compared with the classic variety (90 proof). On the palate, the Bourbon's spicy blend of vanilla and caramel flavors shine through.
Read an in-depth spirit review of Maker's 46.
Black Maple Hill 16-Year-Old Small Batch
$125
We'll start with our only complaint: a sealer wax and short cork combination that makes getting to the juice difficult, but the effort pays off handsomely. There is controversy over where this super-premium Bourbon is actually distilled, but few dispute its exalted position in the pantheon of brown liquor. Once we won our battle with the top, we enjoyed the smell of victory with molasses and brown sugar on the nose. On the palate, Black Maple Hill is sweet as Bourbons can be, but in a masculine sort of way, like maple syrup enjoyed by a lumberjack. It has a supple mouthfeel, filling the mouth with sweet and satisfying honey-tinged flavor, and a finish that seems to never end. It's so smooth, there's no need for ice. Despite its 95-proof strength, there's not a hint of burn even when enjoyed neat. We can't wait to meet her 21-year-old sister.
Angel's Envy
$43
In Bourbon making parlance, "angel's share" refers to the portion of whiskey lost to evaporation during the aging process. After crafting his latest Bourbon, seasoned whiskey producer Lincoln Henderson (formerly of Woodford Reserve and Old Forester) declared his new concoction "Angel's Envy," claiming that the heavenly beings would no doubt want even more of this divine drink. The Bourbon starts with corn and rye, is aged in American white oak barrels for four to six years, and then aged for three to six additional months in port casks. Displaying a luminous gold-copper color, this newcomer to the Bourbon world exhibits a light, playful flavor on the tongue followed by a long finish with hints of orange zest, making it both seductive and accessible to those wary of whiskey.
MORE ON GAYOT.com: