The best fall beer festivals in the US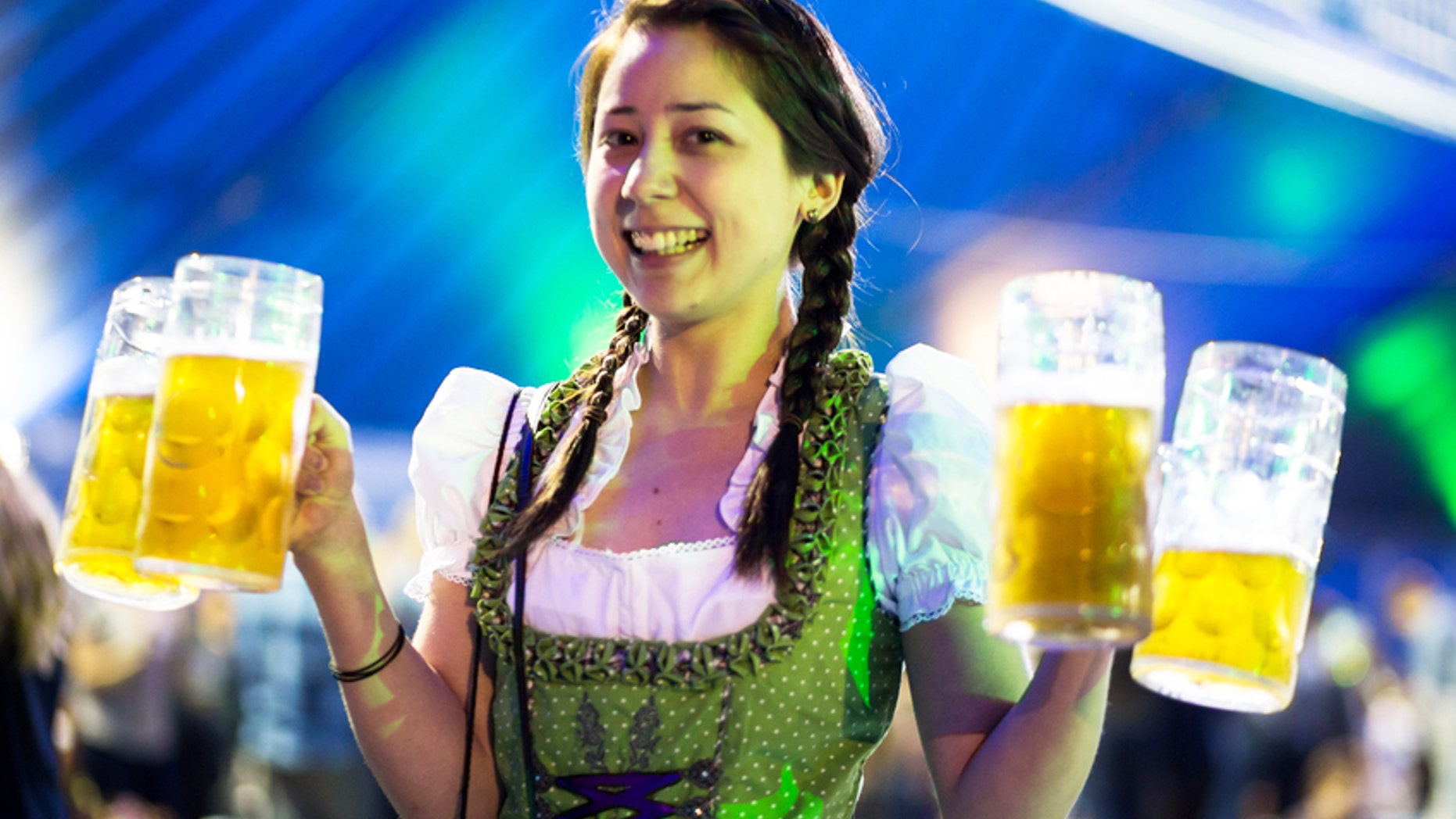 Prost!
That means cheers in German. Time to bring out the dirndl and lederhosen.
Oktoberfest may a storied German tradition but today there are hundreds of fall beer fests across the U.S., too. Many don traditional costumes for these all-out beer balls— but you can also learn a thing or two about German culture.
The first Oktoberfest was held in 1810 in honor of the Bavarian Crown Prince Ludwig's marriage to Princess Therese von Sachsen-Hildburghausen. The festivities began on Oct. 12, 1810 and ended with a horse race. As time went on, the festival became longer and was moved up to September so the German people take advantage of better weather.
Today, Munich's world famous Octoberfest, begins Sept. 17  and goes through Oct. 3—and it's the world's largest.
But if you don't have the dough to fly overseas, don't worry. In the states, beer lovers have their pick of celebrations, from small or big, with music, craft beers, local food trucks, or activities for the kids. BeerFestivals.org lists well over 100 through just before Thanksgiving.
If you want the most bang for your beer buck, head to Colorado this fall.
The Cenntential State is home to 312 licensed breweries that brew more beer than any other state. The Great American Beer Festival in Denver Oct. 6-8 is one of the premier U.S. beer festivals with a competition bringing together 800 brewers and some 3,800 beers. Additionally, there are 150 beer festivals throughout the state, including the  22nd annual  Breckenridge Oktoberfest  Sept. 9-11 where, they say, "Munich meets the mountains" with more than three dozen German food and brew vendors, German themed games, Oompah and polka dancing  and the chance to see the yellow Aspens in all their fall  glory.
Here are 10 more fall beer fests guaranteed to please:
Cincinnati's Oktoberfest Zinsinnati USA  (Sept. 16-18)  bills itself as America's largest Oktoberfest  with nearly 650,000 people attending every year. It was named by USA Today as a top 10 Oktoberfest in the country. Revelers can try upwards of 40 craft and specialty brews, chow down on bratwursts, potato pancakes and pickled pigs feet and cheer on the dachshunds who compete in the Running of the Weiner.
Oktoberfest By the Bay (Sept. 23-25 on San Francisco's Pier 48) may have one of the most picturesque locales with nonstop music, traditional Bavarian dancing and German food and bands. Kids are not permitted Saturday and Friday nights.
Hunter Mountain Oktoberfest (weekends from Sept. 24- Oct. 16) in the Catskill Mountains north of New York City doesn't charge admission and is entirely kid friendly. Take the chairlift up Hunter Mountain for the best view of the foliage.
The Brewgrass Festival in Asheville, NC is celebrating its 20th anniversary Sept. 17 and is the place for those who love bluegrass and banjos with their craft brew-- over 55 breweries will be serving up local, regional and national craft beers.  Post a photo on Instagram with the hashtag #MayorofBrewgrass20 showing why you (or a pal) should be chosen to be the festival's Mayor, to receive a unique VIP experience.
The Fresh Hop Ale Festival (Oct. 1) in Yakima, WA is the place to sample seasonal brews in the state that grows one of the country's largest hop crops. You can even enter your own home brew. Don't worry if the lines are a little long to get in – you'll be jamming out to music as you wait to enter.
New Mexico Brew Fest (Oct. 1) in Albuquerque promises complimentary tastes from 20-plus breweries, and food trucks serving everything from German bratwurst to New Mexico's famous green chili cheeseburgers.
New Ulm. MN Octoberfest(Oct 7-8 and Oct. 14-15) is the state's biggest Oktoberfest—in one of the most German cities in America. Modeled after Munich's famous Octoberfest, you'll find plenty of polka bands and kegs of locally brewed Schell's beer tapped every night.
New Hampshire is home to two popular family-friendly beer festivals Columbus Day Weekend when the leaves are spectacular -- Loon Mountain White Mountain Oktoberfest presented by Sam Adams  (ready for a root beer keg toss and pumpkin painting?) and the King Pine Brew Ha Ha Beer Festival that celebrates craft beer at the Purity Spring Resort in Madison. Expect plenty of activities for the younger set, too..
WURSTFEST in New Braunfels, TX (Nov. 4-13) in the heart of Hill Country, celebrates German culture mixed with Texas fun. The festival includes carnival rides and games for the kids. Children 12 and under are admitted free. Try German brews, local Texas beers and plenty of other domestic brews.